Product Description
10 kv dry type phase shift rectifier transformer
Rectifier transformer is a transformer which includes diodes or thyristors in the same tank. Voltage regulation may also be included. Rectifier transformers are used for industrial processes which require a significant direct current (dc) supply. Typical processes would include dc traction, electrolysis, smelting operations, large variable speed drive trains, etc.
Features
- Enables control of power flow between two large independent power systems
- Able to change the effective phase displacement between the input voltage and the output voltage of a transmission line
- Help to balance the loading when power systems are connected together in more than one point so that loops exist
- Help protect from thermal overload
- Help improve transmission system stability
Application
- Load sharing of parallel line
- Boost transmission capacity without violating the N-1 criterion
- Boost system reliability
- Remove bottle necks in the grid caused by bulk power injection
Technique Specification
1. Phase power range: 600KVA/1250KVA/2000KVA/Custom.
2. Reactive Strength: Winding-winding, Winding-ground 2000VAC/50Hz/60S. Free of arcing breakage
3. Insulation Resistance: Winding-ground 500VDC,insulation resistance ≥100MΩ
4. Protection class:IP00 or as customer required.
5. Insulation class: F
6. Environment exists without gas, steam, chemical deposition, dust or dirt that will affect transformer's insulation seriously, explosive or corrosive medium is not allowed.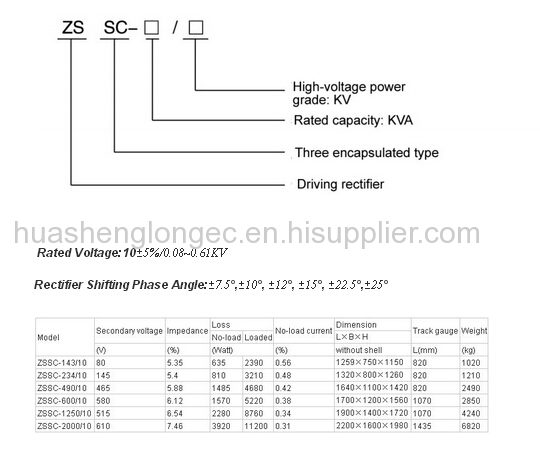 Note:The above data is just for the products that we ever produced for our old customers and we can design and produce as the customers' request and specifications.
Transformer is a very specialized product , even a small mismatching would influence the using effects. In order to help our clients make the best use of it , please provide the below basic requirements when ordering:
1. Capacity/Power
2. Input & Output voltage
3. Single/Three phase
4. Vector Group/ tapping range/ frequency
5.short-circuit impedance
6.Cooling Type/Protection Grade

Packaging & Shipping
Packing: security export wooden packing or as the customer request

Delivery: 4-30 days upon receipt od the payment or as the order quantity by air,sea,train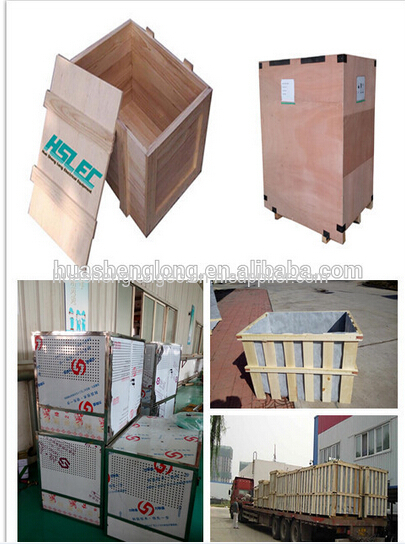 Company Information
Founded in 1992, Qinhuangdao Huashenglong Electrical Equipment Co., Ltd.(HSLEC),a specialized
provider for peripherals equipments of inverters and converters, such as line reactor, braking resistor, EMI filter, resistor, energy saver device,brake unit, etc. is the most standard manufactor with a complete range of specifications. Products are applied to all series of inverters, converters and Servo such as Schneider, Siemens, ABB, Fuji,LG.GE,etc.
With the standard of ISO9001:2008, CE approved products, our dedicated team set the highest standards in safety, reliability, durability, cost-effectiveness and environmental-consciousness. With separate R&D
department, experienced engineers and skilled technicians, we can offer customers seamless solutions to fit their development plans.

Factory Workshop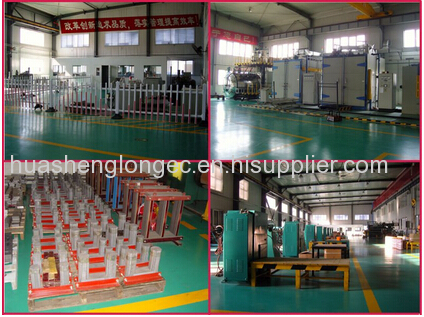 Product Certificates
Our Services
HSLEC offers a complete range of services for the care and maintenance of transformers, from carrying out external evaluations and field-testing to undertaking full relocation projects.
Before –Sales

Everpower excels at helping customers find ways to reduce cost. Using computer programs design calculations enable millions of interative calculations converging to a very optimum design.

After-Sales

1. Transformer Accessories :

Everpower provides a complete line of transformer components and accessories, which they are available in stock and

can be ready to ship for emergency needs.

2. Everpower offers a full range of after sales service:

Tracing the quality of the product; site installation and commission; training customer staff ;periodical customer visit, and so on.

Warranty Policy

1. The guarantee of the individual transformer to be supplied shall be for 12 months from the date of delivery against any delivery manufacturing defect on account of improper design, bad workmanship or poor quality of raw material used etc. and any such defects occurring within the above period will be repaired/replaced by us free of cost, provided the maintenance of transformer are done as per relevant specification.

2. All claims under this warranty must be submitted in writing to HSLEC within 30 days of the occurrence,Upon receipt of such notice,HSLEC shall promptly repair or replace the defective GOODS or part thereof without any cost.

3. The warranty shall be void if (a) the equipment is damaged by the customer, is improperly used, is subjected to an adverse operating environment, or is operated outside the limits of its electrical specifications; (b) the equipment is repaired or modified by anyone who is not familiar with this product. or (c) has been used in a manner contrary to the product's operating manual or other written instructions.

HSLEC is one professional manufacturers and exporter of power distribution transformers in China. All facilities are ISO 9001 certified and all products are manufactured to the highest quality standards, comprehensively fulfilled the requirements of international standard specifications and their stringent requirement.


HSLEC Holds decades of experience and unique technology & designning, Everpower has grown in geographical reach, market size and product range. Today it stands as one of the most professional and trusted brand name among all the customers. For more information on HSLEC and its products and services please click one of the following links:http://www.hslec.com/