1.High temperature Nitinol Bar
2.Dia6.0~45mm x L
3.Af=55'C, 65'C, 80'C~110'C
4.Smooth surface
5.For industry used


The reverse martensitic transformation Af= 80+/-5°C
Atom %Ni - 50.0-50.2
Mass %Ni - 54.9-55.1
Balance - Ti
In the aggregate 100%
Base impurity (O, C, N, H) content must be less then 0,25%
-Material test certificates offered according the standard EN 10204 B3.1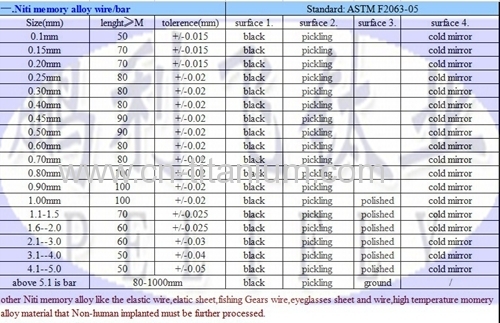 4.Application: ASTM F2063 Superelastic Dia10mm Nitinol Bar rod
cell phone antenna, children's toys, experimental materials, glasses leg, women bra, Women's Sports Central,arch wires, instruments, and medical equipment, such as surgical stitching wire,
birth control loop and other areas of high-quality memory alloy wire.
ASTM F2063 polished nitinol dental implant wire
5.Standard:
ASTM F2063-05 Q/XB1516 Customer specified or Industry Standard
Alloy

Chemical

composition

Af

(Fully annealed)

Min. elongation to failure [%]

Max. Residual

elongation

after 6%

strain [%]

Main Applications

Specifications

Superelastic

Ni-Ti alloy

TiNi-SS

Ti-50.8at%

-5°C ± 5°C.

10

0.1

Eyeglass Frames, Cellular Phone Antennae, Bra Underwire

Q/XB1516.2

Q/XB1516.2

TN3

TNC

TiNiVAl

TiNiCr

-40°C ~50°C

10

0.1

Body temperature

Ni-Ti alloy

TiNi-YY

Ti-50.7at%Ni

Functional Af=33 ± 3

1

5

0.1

Implantable devices,Bone staples

Vascular Stents

ASTM 2063

Ti-Ni-01

55.6~55.8 wt%Ni

20 - 40

15

0.1

Guide wires, Stents

Orthodontic Arches

Q/XB1516.1

High temperature Ni-Ti alloy

Ti-Ni-02

54.8~55.5wt%Ni

45 - 95

10

0.1

Implantable active devices, Surgical tools, Thermostats Coffeepots

Q/XB1516.1

TiNiCu

TiNiCu

As-Ms ≤ 5

10

0.1
NiTi memory alloy wire/NiTi memory alloy bar
Our company specializes in the R&D and manufacture of NiTi memory alloy products,
which are mainly used in medical devices and spectacle frame.
NiTi memory alloy wire has superelasticity and memory function.
In the appropriate oxidizing environment also has high strength, no magnetic, excellent corrosion resistance, good biocompatibility.
It can change shape in a certain temperature.
It is widely used in chemical,medical,aviation,spacecraft,navigation,industry,communication,manufacturing and the other areas.
Our customers spread over North America, South America, Europe, Southeast Asia.
And we have established long-term relationship with some company in Germany, the United Kingdom and Japan.
We are an ISO9001:2000 certified company,we have the sophisticated production equipment, first-class laboratory equipment,strong technical support, the most strict quality management system and quality control system to provide the best quality products to our customer.