Two even machine impact mill soft material grinding machine

Working principle:
impact pulverizer is adopting The high-speed rotation body's hammer, vane, barred body to impact the crushed materials, with help of the direct impact of the materials in the rotation body,high –speed impact of the high-speed materials ,shear grinding from the rotaion body and stator or the wall pressure, to achieve the prupose of ultrafine crushing for the materials.
Application:
apply Ultra-fine grinding process of soft objects whose Moh's hardness is under 3.5
Characteristics of the equipment:
1, the crushed size range is finer than the normal equiement, High speed impact mill machinery is built in the Efficient turbine classifier
2, can eject the standard fine powder on time to avoid overfine, can produce the product with Defect distribution steep,the product fineness is adjustable d97=10~74um
3. The crushing chamber is equipped with automatic slag discharge device which can eject the Hard grinding particles and impurities itselft.
4, can scatter the united materials
5, Mass flow of air means the cooling grinding,Can be used for heat sensitive material processing ,No accumulation problem
6, Totally Closed negative pressure operation,No dust pollution
technical parameters:
| | | | | |
| --- | --- | --- | --- | --- |
| model | Max feed size | discharging size | production capacity | Installed power |
| JSDL-CJM66 | <2-5mm | 1-100um | 60-300kg/h | 10-18kw |
| JSDL-CJM132 | <2-5mm | 1-100um | 250-800kg/h | 15-37kw |
| JSDL-CJM180 | <2-5mm | 1-100um | 450-1000kg/h | 25-54kw |
| JSDL-CJM330 | <2-5mm | 1-100um | 850-2000kg/h | 35-86kw |
| JSDL-CJM660 | <2-5mm | 1-100um | 2100-4500kg/h | 60-182kw |
| JSDL-CJM1500 | <2-5mm | 1-100um | 3100-8000kg/h | 120-360kw |
Flow sheet: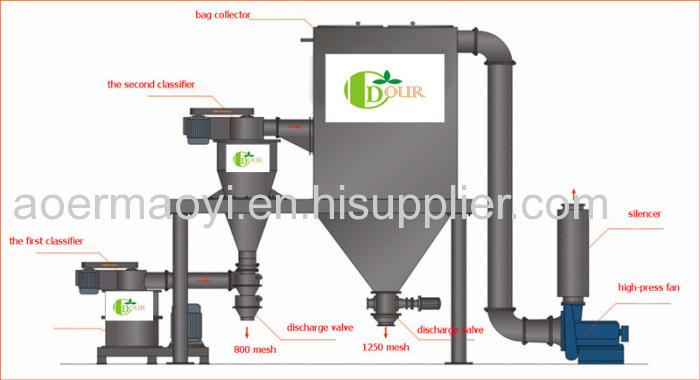 Factory picture: