| | |
| --- | --- |
| Model | NW-RO-C04 |
| Discription | 6 stage domestic RO water purifier with dust proof case |
| Capacity | 50GPD ( 50 gallons per day) |
| Flush type | Manual flush |
| Power supply | 220V/110V 50/60HZ |
| RO Membrane | Vontron brand |
| Housing | Double O ring housing |
| Pump | Grand Forest Brand |
| Fitting | Quick fitting |
| RO Faucet | D-01 faucet ( plastic handle faucet) |
| Pressure tank | NPTK-3G-B ( 3 gallon plastic pressure tank) |
| Unit packing | 41*35*54CM |
Our Services
Natture Water not only manufactures a variety of complete Reverse Osmosis and Water Purification Units for residential and commercial applications, but also manufactures custom designed systems for special applications. In addition , full ranges of R.O. and Water Purification components are available for clients that produce their own systems, We carry all R.O. components, from auto-shut offs to UV in lines and everything in between.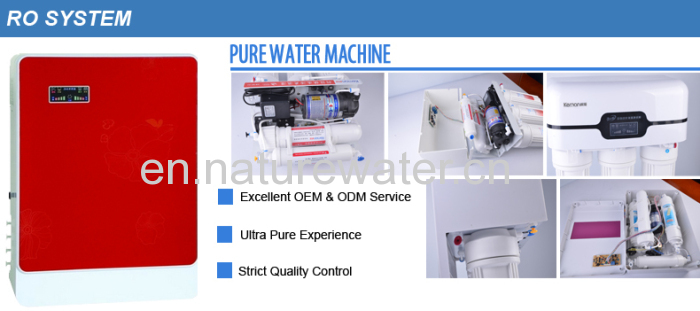 We also offer all kinds of OEM/ODM services. At present, we export products to North America, South America, Europe, South East Asia and Middle East etc. We have established long-term, stable and good business relationships with many manufacturers and wholesalers around the world.
Production Flow
Quality is always the first consideration of our company, this is our insistence and promise to our customers as well. Our quality control procedure starts with quality material selection, quality inspection of components, assembly quality control and finished product testing. The products are manufactured with the most advanced technology and facility to ensure maximum reliability.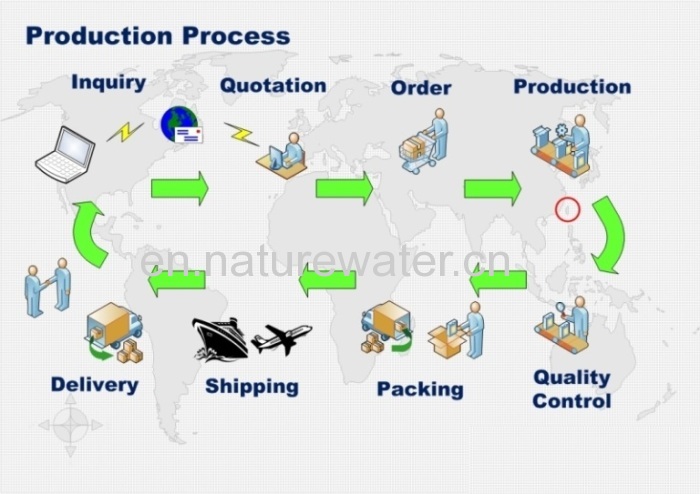 We have our own factory for filter cartridges and filter housings. Our double O-ring filter housings can withstand water feed pressure up to 500 PSI and will not be broken. The quality is reliable!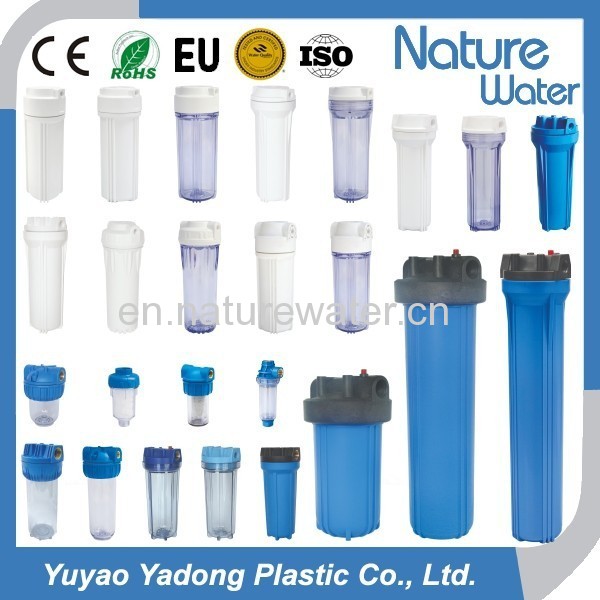 Yuyao Yadong Plastic Co.,Ltd will continue to provide the best quality, innovative technology and satisfied performance to customers all over the world, and makes every effort to provide you with the best products available. If you require additional information, please feel free to contact us by e-mail or fax. We look forward to working closely with you in the near future.


Technology
What Is Reverse Osmosis
Reverse Osmosis, also known as Hyper-filtration by the industry, represents state-of-the-art in water treatment technology. Reverse Osmosis (RO) was developed in the late 1950's under U.S. Government funding, as a method of desalinating sea water. Today, reverse osmosis has earned its name as the most convenient and thorough method to filter water. It is used by most water bottling plants, and by many industries that require ultra-refined water in manufacturing. Now this advanced technology is available to homes and offices for drinking water filtration.
How It Works
In short, it is the process by which water molecules are forced through a 0.0001 micron semi-permeable membrane by water pressure. Long sheets of the membrane are ingeniously sandwiched together and rolled up around a hollow central tube in a spiral fashion. This rolled-up configuration is commonly referred to as a spiral wound membrane or module. They are available in different sizes for processing different quantities of water. Typically, a module for home water treatment is as small as 2" diameter and 10" long, while one for industrial use may be 4" diameter and 40" long.
For the membrane to be usable it must be in some type of container (membrane housing) so pressure can be maintained on its surface. It is this pressure that supplies the energy to force the water through the membrane, separating it from unwanted substances. The most amazing aspect of RO is that the substances left behind are automatically diverted to a waste drain so they don't build up in the system as with conventional filtering devices. This is accomplished by using a part of the unprocessed water (feed water) to carry away the rejected substances to the drain, thus keeping the membrane clean. This is the reason to why RO membranes can last so long and perform like new with minimum maintenance even after years of operation.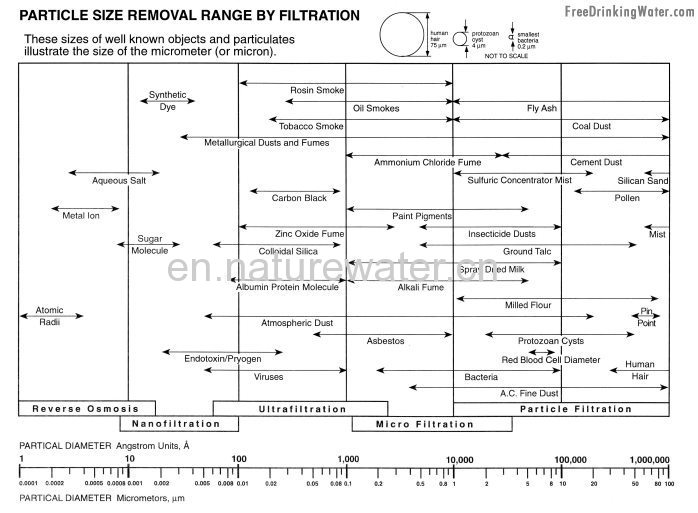 Trade Shows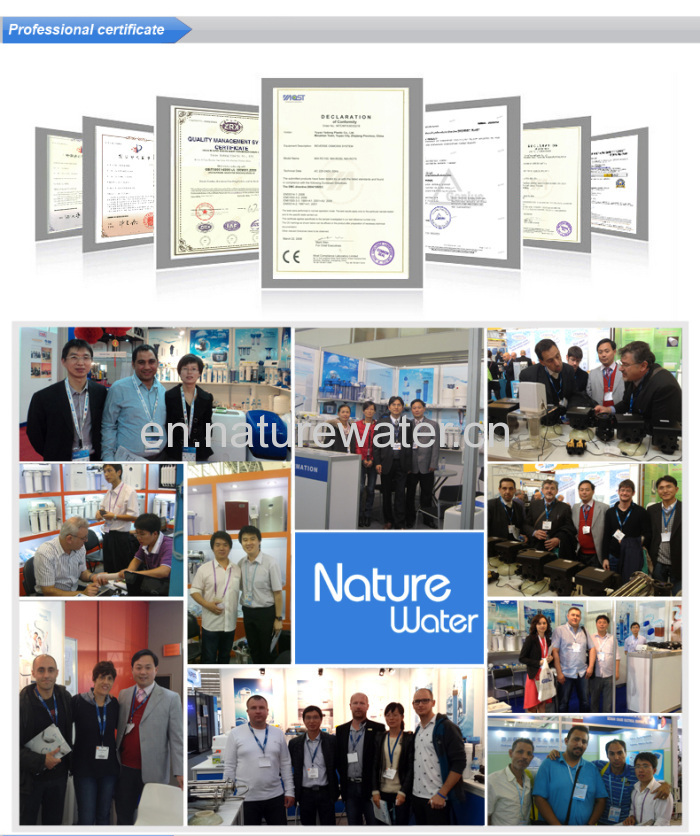 Packaging & Shipping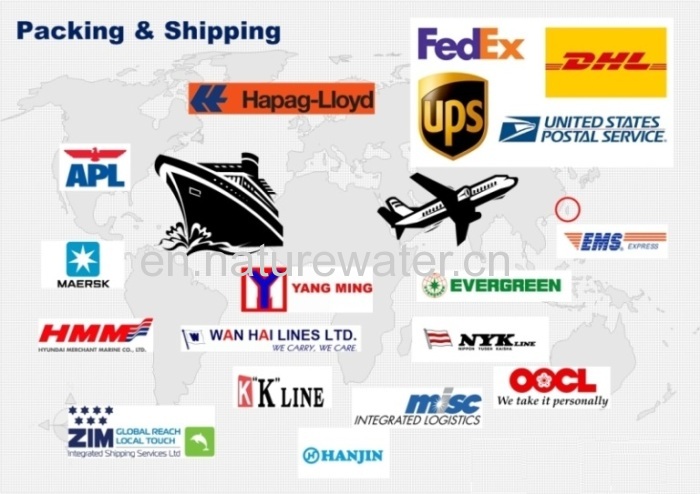 FAQ

1, Q:Are you manufacturer ?
A:Yes, we are the manufacturer with continuous and improved R&D, production, sales and service supply.
2, Q:What's your main products ?
A: Our products is water softeners, control valves, RO water purifiers, housing filters ,all kinds of filter components and so on
3,Q:Can I get your price list ?
A: Yes, sure. In order to send you our available offered price, please choose the products and let us know the product model and requirement in detail.
4,Q: What's your after-sales policy( The terms of guarantee) ?
A: Different products, different guarantee policy.
The time of quality guarantee: 1-3 year
5, Q: What's your payment policy?
A: Samples(Less than 4000USD): 100% in advance via T/T or West Union
Formal order: 30% payment in advance via T/T as deposit payment and balance payment will be done against the Copy of B/L
L/C payment is also available
6,Q: Can I get your products with our logo and design ?
A: Most of products are OEM or ODM with your logo and brand not including the control valves( Keman brand valve)
Any other questions, Please feel free to contact us through 7*24H online service or send us inquiries by mail.
If you have any questions about our products ( water softener, control valves, home water filter , RO system) or our service, please feel free to let me know, we will reply you within 1 working days.