EPS roof panel shape moulding machine with vacuum SPZ100-200T
1) Mold dimensions: 1200 x 1000mm
2) Product dimensions: 1050 x 850 x 350mm
3) Connected load: 10.6kW
Max. Product dimension: 1850*1600*350mm,
Steam consumption: (10-13)steam of 1Tmaterial
Various applications in agricultural and elctronic parts packaging. Such as fish box. ICF. Insert, decoration parts. Helmet. Model. Etc.
The EPS shape moulding machine has many improvements compare to the basic type shape molding machine and the features are as follows:
1. Machine structure:
A, All frame are welded by 16/20mm steel plate with high machine legs, greatly improve machines' stronger;
B, High machine legs made by strong "H" type profile. Which is easy for operator to collect products;
2. Filling system: Adopt normal pressure\vacuum and high pressurized filling, hopper controlled by level sensor with double rotation chamber discharge, and 44 filling outlet;
3. Steam system: Adopt balance PID control valve with Germany gauge, greatly improve accurate steam, and reduced consumption;
4. Cooling system: Big vacuum pump with vertical tank, equip with vertical vacuum cooling water spray on the top, steam outlet has air\water separator, all these keep very high efficiency;
5. Drainage system: Increased large inlet and outlet of mould, adopts 8- 1" outlet for steam, keep fast cycle time, 8-2" outlet for drainage system, keep fast drainage; And 6" big drainage pipe controlled by butterfly valve, greatly increased fast steam and fastdrainage operation;
6. Control system:
A, Adopts PLC(Japan Mitsubishi) and touch screen (French Schneider) with easily operation;
B, All electronic components adopts famous brand(Schneider, Omron, Germany gauge), greatly increased stable;
C, The air cooling\steam\de-mould\pressure of filling controlled by long-distance adjustable and balance valve control.
CE certificate, ISO9001:2008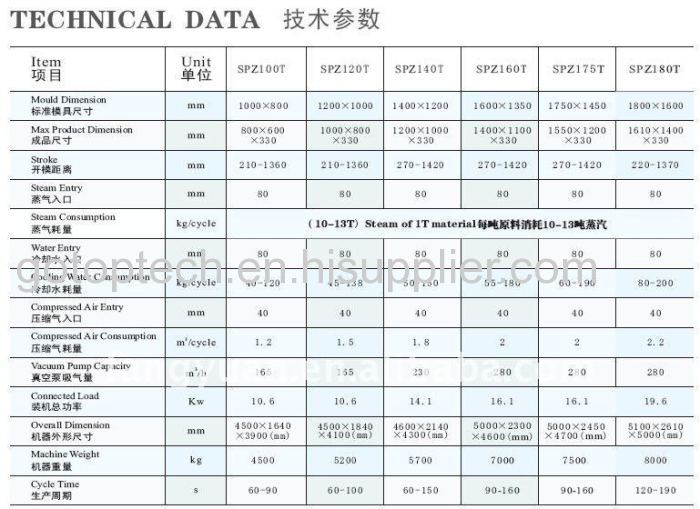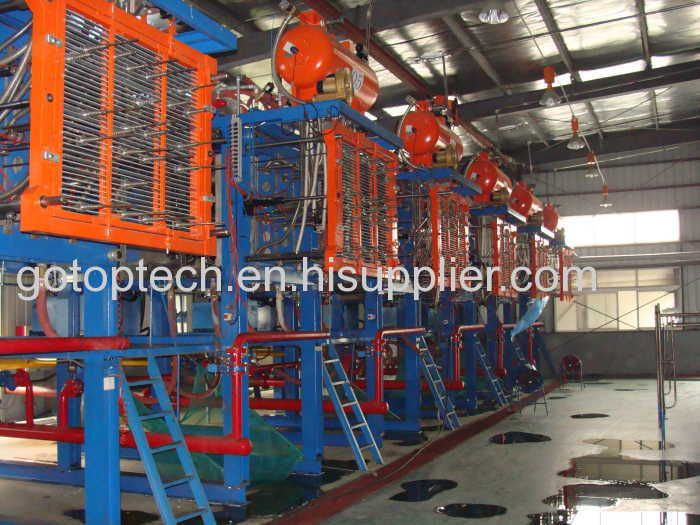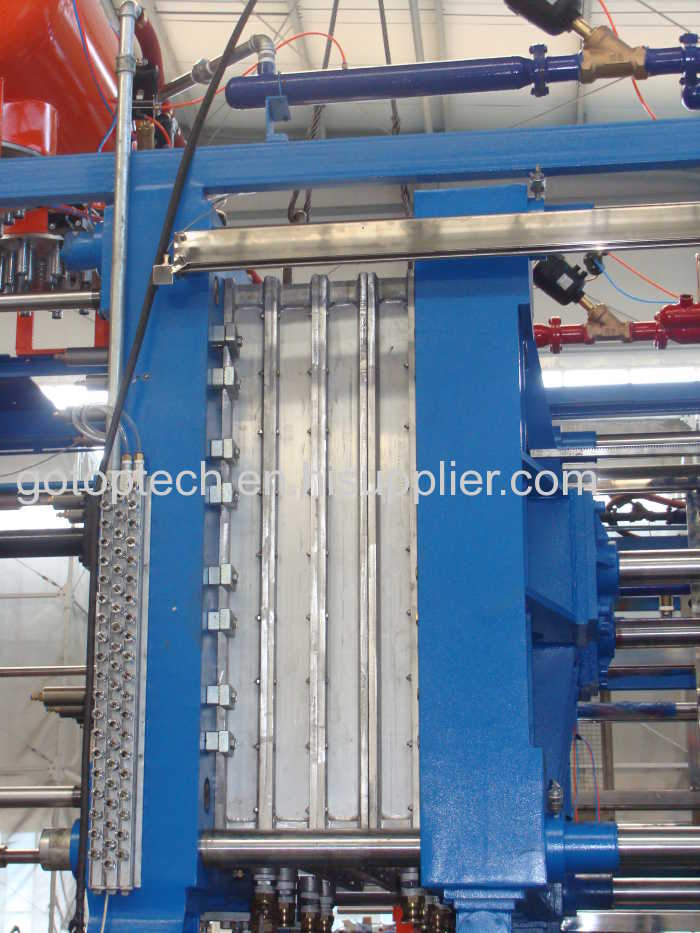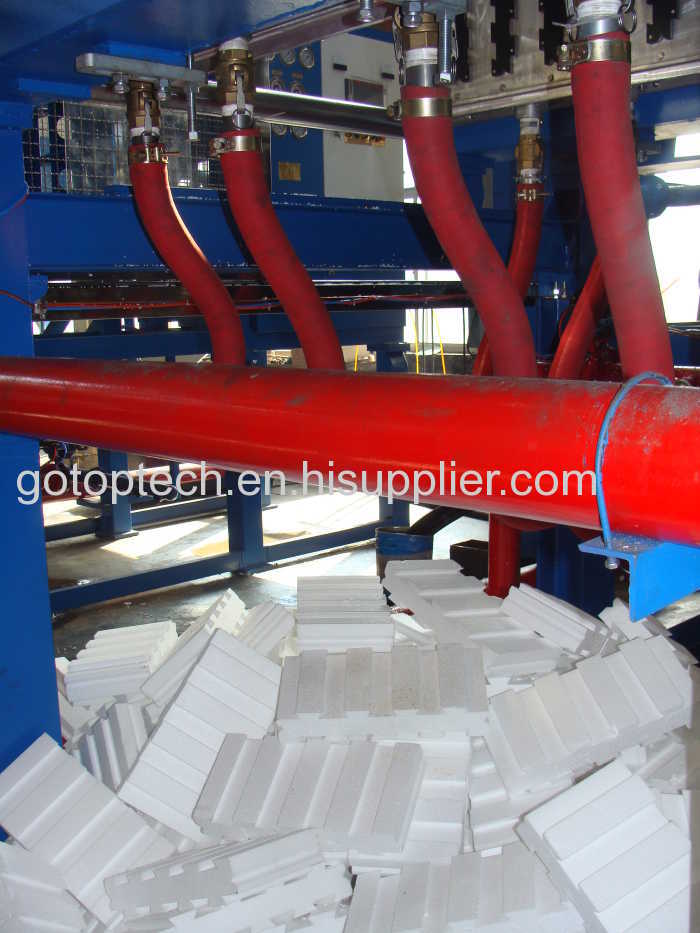 Reference Topic: HOW TO SAVE COST FOR THE EPS PLANT(expandable polystyrene product plant)
Cooling water system of EPS packaging factory
Separate the cooling water for mould with the water for vacuum. Using a high efficient vacuum system, the machine should mainly rely on vacuum cooling while considering water cooling as subsidiary, which will greatly increase the efficiency.
1. Adopting high temperature cooling water (50-55 degrees) to cool the mould, yet cold cooling water (25-35 degrees) for vacuum spray and vacuum pump. Different water temperatures will not only increase the service life of mould and vacuum pump, but also improve the cooling speed a lot because vaporized high-temperature water absorbs the heat as well in vacuum environment.
2. High efficient vacuum system
It adopts the theory of central vacuum system that vacuum kept in the pipe constantly. When cooling is required, hot air inside the mould will be sucked out quickly, at the same time the vaporization of the high-temperature water also takes plenty of heat away, which enables the mould to be cooled down speedily. The heat taken by the vaporization of 1KG water is equal to the heat taken by 7KG cooling water of 25 degrees spraying onto the mould.
Suggestion from us:
1. Three separate water pools in combination with primary and secondary cooling towers to control three different water temperatures.
Hot pool: 65-75 degree. Water used for the boiler can be taken from here via filter. It should be cooled by the primary cooling tower then transported to the mould cooling pool.
Mould cooling pool, temperature could be 45-55 degree, used for mould cooling. It is suppose to be delivered to vacuum cooling pool via secondary cooling water tower.
Vacuum cooling pool: temperature is between 25-35 degree, used for cooling vacuum tank spray and vacuum pump.
You are recommended to use central vacuum system if there are more than 3 machines in your factory.
Central vacuum system gives expression to high economical efficiency for more than 3eps shape molding machines, power saving at least 40%, and greatly improvement of the production. We recommend one-by-one connection (modular type) but relatively independent central vacuum system. Every set of central vacuum system could support utmost 5 machines, and every single vacuum system is connected to main pipe, which besides is separated by manual butterfly valves. Therefore the vacuum stays equally in every section, and the plant would never be interrupted as a matter of vacuum problem.