1. Product Name: Vidalia Chop Wizard As Seen on TV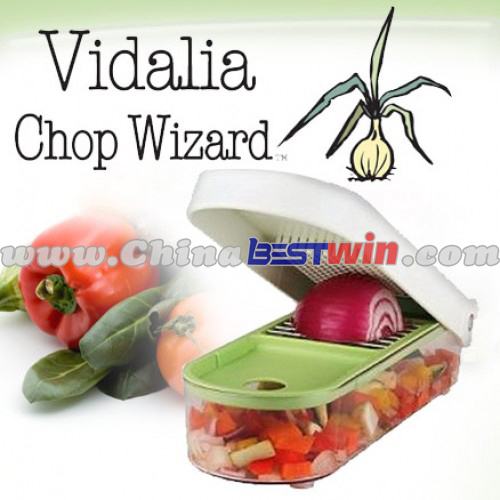 2.Description:
1) This product can chop or dice fruits, vegetables
2) Chop an onion with one swift motion - no smell, no tears
3) Chop peppers, carrots, and mushrooms - have stir-fry in a flash
4) Cube fresh tomatoes perfectly for homemade salsa or an omelet
5) Chop apples, melon, strawberries, and pineapple for delicious fruit salad
6) Easy - foods are chopped with one swift motion, saving you precious time, and transfer directly into the catch bowl without making a mess of the counter
7) Catch container locks into place underneath the blades and doubles as a measuring cup
8) Safe - fingers stay away from blades and less handling of the food means less germs
9) chop wizard Dishwasher safe for easy clean up This product is a compact countertop chopper.
3.Why do you choose the Vidalia Chop Wizard?
The Vidalia Chop Wizard As Seen On TV is the fastest, safest, and easiest way to chop or dice fruits and vegetables. Simply place the item on top of the stainless steel blade grate and with one swift motion, swing the top lid down.
All your chopped veggies and fruit are sent cleanly into the clear compartment underneath. Stand it on its side, and it works as a measuring cup with marks up to 2 cups. Blades never need sharpening. Dishwasher safe
Q: Can I get some samples?
A: Yes, some sample orders welcome.
Q: Could I use my own logo or design on goods?
A: Yes, Customized logo and design on mass production are available.
Q: Can I choose the color?
A: Yes, Customized color is available.