1.Product name: Solar Powered Lighted Address Plaque Home Street Numbers LED Light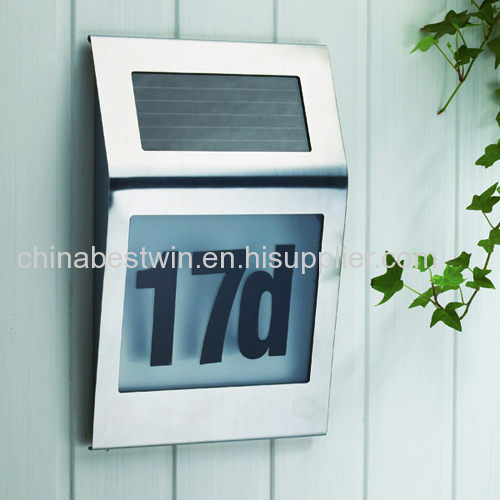 2.Product Description
Battery:1pc 1.2V AA NI-MH/NI-CD/Button battery
LED:1pc
Pack: white box/color box/mail box
Show off your home address in style with the BTR Architect Solar Address Sign. This stylish LED house sign displays you
r house number on its frosted glass diffuser in large characters for everyone to see. Plus, it automatically lights up at the
onset of darkness to keep your house number visible at night.
A cost-efficient way of making house numbers more visible at night
Elegant and timeless design
Turns itself on once its turns dark
Housed in a sleek and durable stainless steel frame with silver finish
Two rechargeable 600 mAh Ni-Mh batteries included and serve as the product's power source
Built-in solar panel on top of the product automatically charges the batteries during the day
6-8 hour running time when the batteries are fully charged
Very easy to setup because it's completely wireless
Comes with multiple letter and number options (See What's Included Tab for more information)
With this solar address sign for houses, you can ensure that your home address will remain visible day or night. With your
house number written on its frosted glass diffuser in large characters, it'll be hard for anyone to miss it during the day.
And come nighttime, this solar powered lighted house number sign will self-activate to keep your house number visible during darkness. This solar house address sign will come in handy for many
occasions, but most especially when you're expecting guests that know your address but are not familiar with your
neighborhood. And because it doesn't use electricity, it operates at practically zero cost. Built with a waterproof design,
this solar address light sign is perfectly safe for outdoor use.