Sandwich Panel Composite Machine, XPS steel sandwich panel production line
Our sandwich panel production line is designed especially for XPS foam board and colored steel. The line produces sandwich panel using color steel on the two surfaces and core material of XPS foam board. The finished product is mainly applied as steel structural wall panel, roof panel and cold storage panel.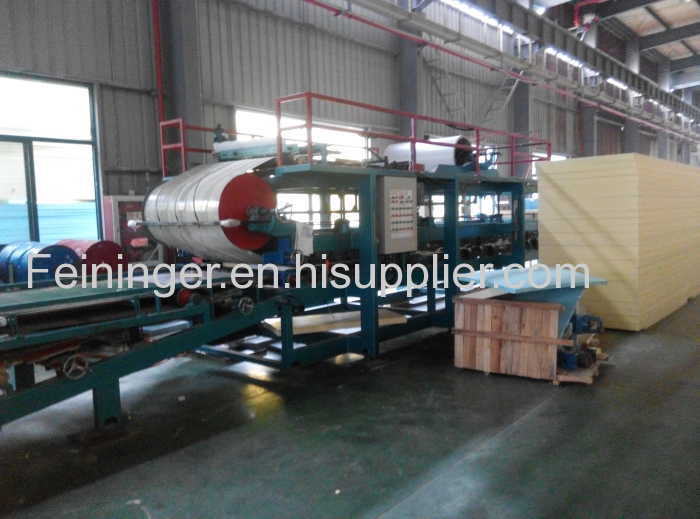 Description:
XPS Sandwich Panel is a kind of light weight energy saving wall material taking calcium sulfate board as face panel, xps (extruded polystyrene) as core and forming by one time compound. It can widely be applied to wall materials of various high and low buildings such as: bank, office building, hospital, school, hotel, shopping mall, amusement hall, old house reconstruction, residence and workshop.
The panel specification could be custom made as per different requirement. They could be transported, installed or uninstalled fast and easily. T panel, wall panel and L panel could be applied freely to reach a scientific design, simple and practical as well as cost saving purpose.
1. Outer materails specification,
1) Two sides: painted steel sheet, stainless steel sheet or hot-galvanized steel sheet for customers' option
2) Thickness(mm): 0.32~1.5mm
3) Color: According to customer requirement, default is milk white.
4) Width: 980mm, 1180mm
5) Length:According to customer requirement, the max length is 8700mm.
2. Sandwich core: Polystyrene (XPS)
Density: 30-50(kg/m3)
Thickness(mm): 50mm, 75mm, 100mm, 120mm, 150mm, 200mm
3. Fireproof:According to customer requirement, we have B1, B2, B3 grade
Feininger XPS sandwich panels are widely used in:
1. Hotels and restaurants
2. Food production and processing: meat production and processing, dairy production, beverage production and ice processing
3. Hospitals: pharmaceutical processing and logistics, blood banks, epidemic prevention station and medicine
4. Farmers market: fruits and vegetables preservation, poultry and fish
5. Institutions, supermarkets, offices and enterprises
Product Features:
Good thermal insulation, light weight, high compressive strength, corrosion resistance, anti-aging and nice appearance. Lower thermal conductivity value, quicker cooling compared with other cold rooms, it can save 20%-30% energy.
Panel types:
Stainless steel (single sided or double sided), color painted steel (single sided or double sided), aluminum foil (single sided or double sided)
Certificates: