40w led road lamp all in one integrated solar led street light with CE RoHS
1.LG LED Chips
2.CE, RoHS, ISO9001 ISO14001 certificated
3.More than 50,000 hours lifespan
4.3 Years Warranty
5. Solar Street Lights


Overview
A new revolutionary product combining solar and LED technology. The best solution for all these areas that
doesn´t have electric supply, remote places with no good communications, and all the areas with electricity supply but with good climatology. The system charges the battery during the day and illuminates at night.
Due to the use of LED technology, it is able to maximize all the solar energy and illuminate the environment with radiant light.
Application
Garden, Residence, Courtyard
Areas with difficult communications
All areas with good climatology
Areas with no electrical supply
Specifications
Model
ZGSM-PVLD40
LED Number
20units
Nominal Power
40W
Battery Spec.
33AH/12V
Solar Panel Spec.
Monocrystal 73.5W /18V
LED Brand
LG
Luminous Flux
4400lm
Light type
1s,2s
CCT
3000K.4000K.5000K.5700K
Charge time
5-6 hours
Worktime at Energy
-saving Model(25%)
more than 35 hours
Discharge Temperature
-20℃~+60℃
Charge temperature
<60℃
Switch Lights Sense
Threshold
on<=10lxs,off >=15Lxs
mounting height
6-7m
space between light
25m
Pole Diamerter Fixture
40-60mm
warranty period
3 years
Packing Details
Fixture Dimension
1289 x447 x88 mm 50.7x17.6 x3.5 inches
Fixture Weight
15.0 kg /33.1 lbs
Packing Dimension
1330 x505 x145 mm 52.4 x19.9 x5.7 inches
Packing Weight
20.0 kg /44.1 lbs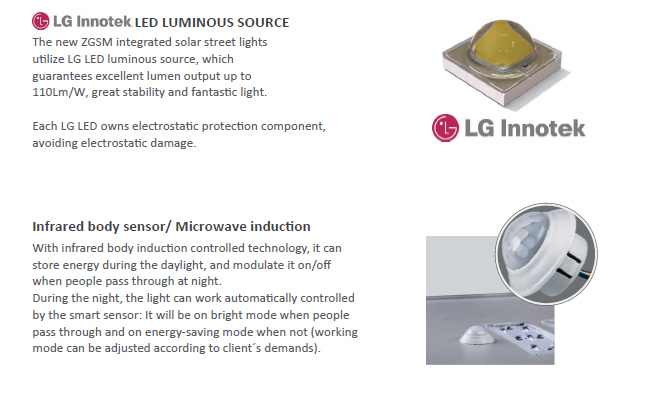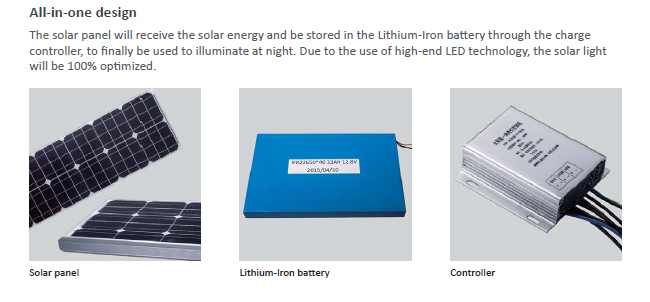 Advantage Of Lithium-Iron Battery
One important advantage over other lithium-ion chemistries is thermal and chemical stability, which improves battery safety. LiFePO4 is an intrinsically safer cathode material than LiCoO2 and manganese spinel.The
Fe-P-O bond is stronger than the Co-O bond, so that when abused, (shortcircuited, overheated, etc.) the
oxygenatoms are much harder to remove. This stabilization of the redox energies also helps fast ion migration.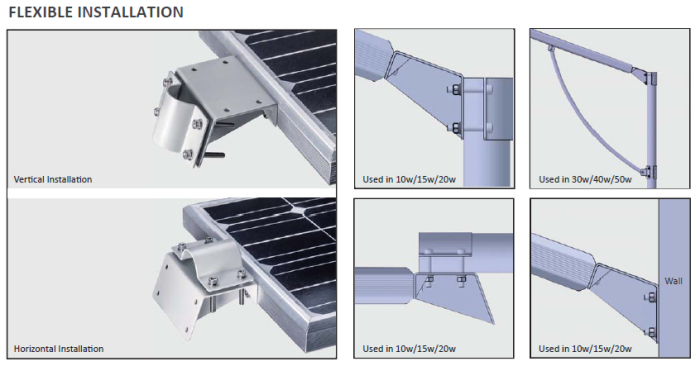 AFTER-SALE SERIVCE
Hangzhou ZGSM Technology Co., Ltd ("ZGSM") warrants this ZGSM-branded hardware product against defects in materials and workmanship under normal use for a period of THREE (3) YEAR from the date of purchase. ZGSM provides free repair or replacement within warranty period. ZGSM shall charge against defeats by abnormal storage, useage, connection or change the structure or any commponents of the product.