Dequalinium Chloride CAS: 522-51-0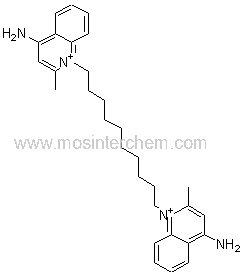 | | |
| --- | --- |
| Molecular Formula: | C30H40Cl2N4 |
| Molecular Weight: | 527.5714 |
| Melting point: | >300℃ |
| CAS Registry Number: | 522-51-0 |
| EINECS | 208-330-9 |
Nature:
White or milky white powder, no smell, taste bitter, easy to dissolve in boiling water, in case of light easy to degenerate.
Introduction:
Dequalinium is a quaternary ammonium cation commonly available as the dichloride salt. The bromide, iodide, acetate, and undecenoate salts are known as well.
Uses:
Broad-spectrum antibacterial medicine for acute sore throat, oral disinfection, etc..
It is a topical bacteriostat. It is used in wound dressings and mouth infections and may also have antifungal action. It may cause skin ulceration.
Fluomizin, vaginal tablets containing 10 mg dequalinium chloride, are used for treating vaginal bacterial conditions (i.e. Bacterial Vaginosis).
The dequalinium dication is symmetrical, containing two quaternary quinolinium units linked by a dodecylene chain.
Dequalinium salts may be used to treat malaria. As dequalinium chloride, it can be used in lozenges to cure sore throats however while this is effective in vitro, it is not effective in cases of streptococci infections