PVC Imitation Marble Decorative sheet Making Machine(PLC Control)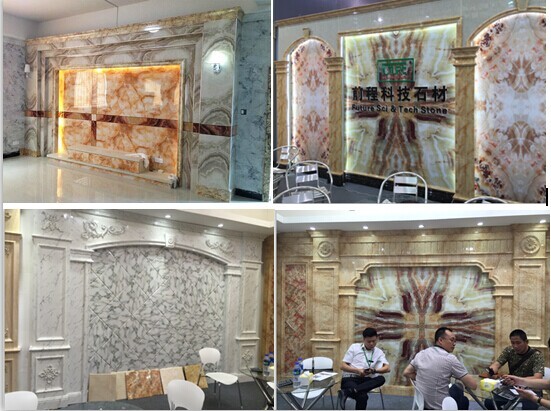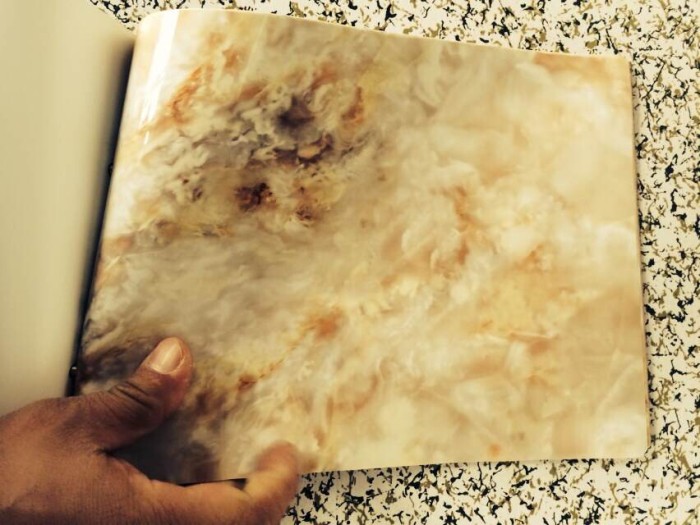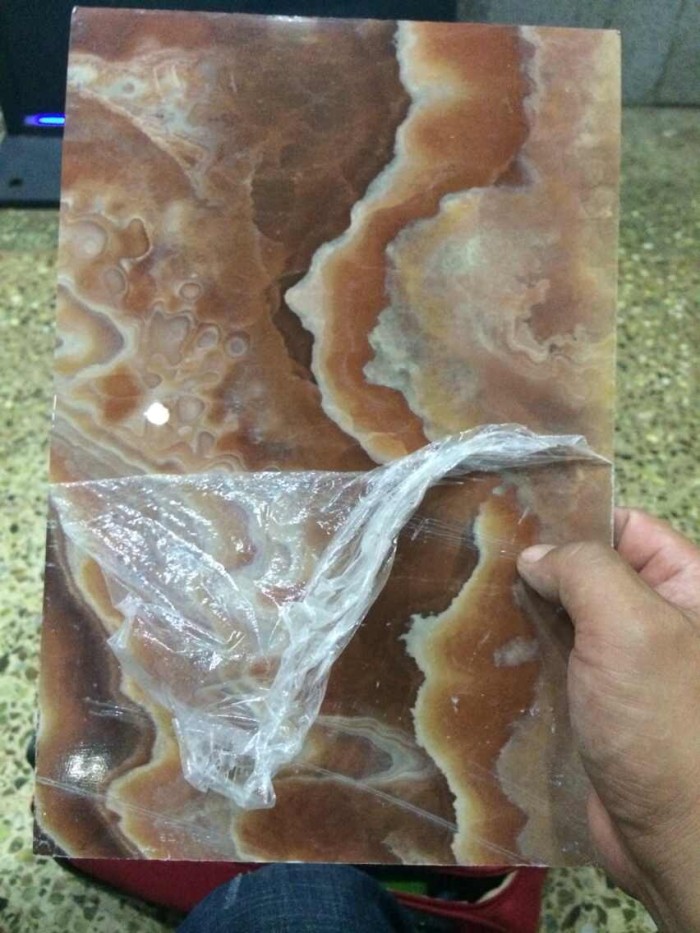 Application
PVC Imitation Marble Table Top/Decorative wall panel making machine
PVC imitation marble profile widely used for decorative,such as tile,table top,waist line, door window line, sunshade arc, stair lintel, publicity column frame, frame lines, etc., can be used in high-grade hotels, shopping malls, residential, villa, KTV etc. Building decoration.If you're going to be hone or business place luxury building decoration, imitation marble lines are good options.
PVC imitation marble sheet extrusion machine
Process flow:
Mixer→Spiral loader→SJSZ80 double-screw extruder→Mould→Three-roller calender(online laminating)→Cooling group rollers→Hual off→Transversal cutter→Edge cutter→Conveyor→UV treatment
Other auxiliary equipment(optional):
Name Quantity
SRL-Z type of hot/cool mixer 1set
Crusher 1set
Miller 1set
Air compressor 1set
The difference between pvc artificial marble sheet and real marble sheet:
Real marble will suffer sulfur dioxide and the price is higher.In addition,the surface of artificial sheet could be changed according to customer's request freely.In addition,it is very important that the intallation is very easier and save a lot of labor cost.
PVC is economic and evironment friendly.It will take more market share gradually.
*The lamination is achieved online and don't need any glue or other laminator.After producing this board,if you use UV machine,it would make the board much harder and brighter.
Specification :
| | | | |
| --- | --- | --- | --- |
| Item | SJSZ 65/132 | SJSZ 80/156 | SJSZ 92/188 |
| Screw Diameters(mm) | 65mm/132mm | 80mm/156mm | 92mm/188mm |
| L/D Ratio | 22:1/25:1 | 22:1/25:1 | 22:1/25:1 |
| Output(Kg/h) | 160-200 | 250-350 | 400-500 |
| Main Driving Power(kw) | 37 | 55 | 110 |
| Heating Powder(Kw) | 4 zones, 20Kw | 5 zones, 38Kw | 6 zones, 54Kw |
About BOYU Plastic machinery co ltd
WUXI BOYU Plastic Machinery Co., Ltd., located in Wuxi city of Jiangsu Province, China, is a professional manufacturer of PVC Celuka Foam Board production line. With more than 10 years' research and development, WuXi BoYu now are proud of these production lines: PVC/WPC (Wood Plastic Composit) crust foam board extrusion line, PVC crust foam board extrusion line, PVC wood plastic foam board extrusion line, PVC building board extrusion line and PVC free foam board extrusion line,PE/PP WPC Profile Extrusion line ,PVC Wood sheet/board/profile extrusion line ,PVC imitation Marble sheet/profile extrusion line and so on .
Our main products:
1, WPC/PVC foam board extrusion production line;
2, WPC/PVC hollow board extrusion production line;
3, PVC imitation marble extrusion production line;
4, WPC(PE/PP/PVC+wood) profile extrusion production line;
5, PVC ceiling panel profile extrusion production line;
6,Plastic auxiliary equipment.
Pre-sale service:
To provide information and market research,to provide consultation,to provide many kinds of conveniences and market service,etc. Products: PVC Foam Board Machine...
The main purpose of pre-sales service is to help customers make the project planning and system requirements analysis. Make our products maximum to meet clients' requirements. Also play the greatest overall economic benefits of customers' investment.
After-sale service:
To install products and test products freely for customers.
To provide the formulas and technologies of relevant products and the information of chemical materials manufactories.
To direct technology aspect of relevant use according to customers' requirements
To provide technical training for clients' employees.
To be responsible for maintenance service, door-to-door service under the necessary circumstance.
Technology support:
To provide installation and test for the machine.
To provide formulas and technology of relevant products.
To provide information of chemical material manufactories.
To provide technical training for clients' employees.