Heavy Duty Electric Punching Machine (SUPER600)


PRODUCT DESCRIPTION


SUPER 600 semiautomatic book binding machine brings greater efficiency to big sized and high speed bookbinding machines.
Our semi-automatic punch machine is made especially for industrial use of paper punching jobs.
Excellent design, hi-tech technology and performance efficiency is what makes this machine complete.
Suitable for note book making , book binders and industrial binding ,facyory use
this machine is simply perfect for application like spiral punching, wire binding, calendar punching, file punching, etc.
This paper machine is made with steel body and operated by the foot pedal.

USER


SUPER600 is a heavy duty electric punching machine, which can be used in industry, notebook producing factory ,enterprise and large organizations with firm design. With handsome and commodious appearance, The working platform is also large enough for you to work comfortably.
SUPER600 has advanced motor reducer and special-made mechanical clutch. Motor can run continuously and punching controlled by foot pedal which is easy and safe for operation.
Interchangeable die is easy and fast, which can punch various holes.Closing double wire is also available by changing punching dies into closing die and can close any size of double wire .


FEATURE

Heavy duty electric punching machine
Easy operation by foot switch. Comfortable operation.
24 hours continuous working
Exchangeable punching dies for all loose-leaf binding system.
Changing of dies is quick and easy.
Punching margin is adjustable from 2mm to 6mm
double wire closure is available by changing into closing die.
This machine can used with calendar:
Electrical calendar binding machine with CE approved

This machine should add the oil and can make you use it for a long time,when you first using the machine,please add the oil to 200ML,after that please add the oil from 30ML to 50ML,according to the workload every month.


TECHNOLOGY DATA


| | |
| --- | --- |
| Type | punching machine (can do wire binding) |
| Mode | semi-automatic |
| Punching thickness | 5.0 mm |
| Punching width | 600 mm |
| working height | 33'' (840mm) |
| Punching speed | 60time/minute |
| Power | 110/220 V AC 60/50Hz |
| Motor | 1500W |
| Dimension | 1000X640X1110 mm |
| Weight | 270kg |

DETAIL

part:


1.Choose the cutting die according to the binding hole.
2.Adjust the guiding rule to set reference point on the sheets, then please fasten the guiding rule.
3.Depth margin adjustment. The width of the margin is determined by the shape of the depth-margin bar that is inserted into the slot under the right side of the mold. It consists of A and B (show as below).
4.Try to punch with one sheet at first, until the margin and the hole are ok(,then start to work .It can punch about 50 sheets and 20 sheets PVC .

OUR CERTIFICATION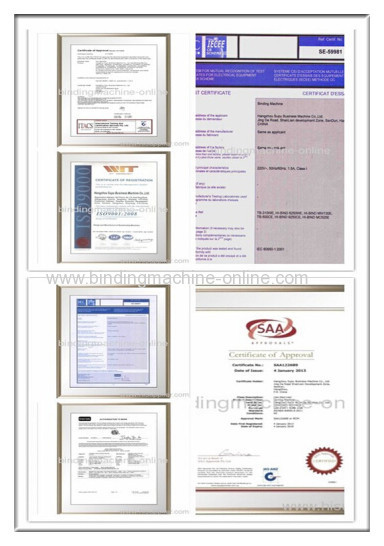 We can also supply comb binding machine, wire binding machine, spiral binding machine, punching machine and multifunction binding machine, perfect binding machine and creasing machine.