High Speed PP-R/Glass-fiber Composite Pipe Production Line/Composite Pipe Making Machine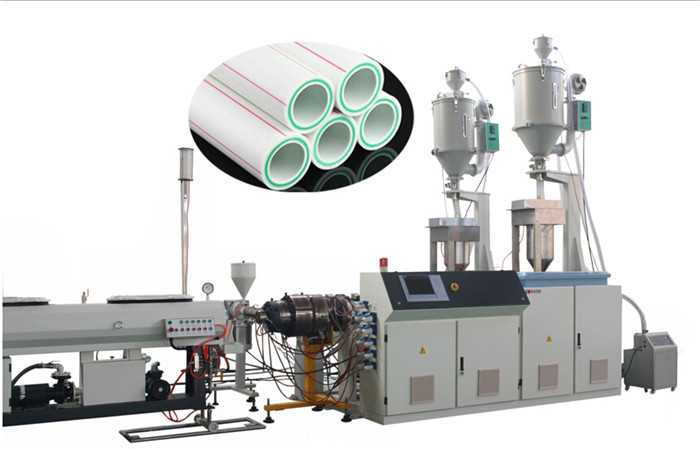 KAIDE factory has focused on plastic pipe extrusion technology for more t han 20 years, especially for multi-layer composite pipe line and high speed pipe line. It's the birthplace of China first high speed plastic pipe production line!
This high speed PPR/Glass-fiber composite pipe line is further optimized based on our previous high speed pipe lines and composite pipe lines. The production speed can reach to 28m/min for pipe size φ20×2.3mm, which greatly improves production efficiency, and reduces the labor cost and production cost, such as water and electric consumption.
Features of Pipe Production Line:
1)High precise control system of pipe weight per meter is applied in this line. It is used for measuring & calculating and precise control of pipe weight per meter and its extrusion output, to realize the constancy of pipe weight and line running according to set parameters. The application of this system can shorten the start-up time and improve the produced pipe quality, and save raw material.
2)It adopts the specialized high efficient wear-resistant extruder for glass fiber reinforced plastic material, which ensures high speed extrusion and guarantee the long service life of extruder.
3)The special designed adjustable co-extrusion die head, our company exclusive patent product, can ensure even thickness of three layers, and get ideal thickness quickly. Each layer thickness can be adjusted freely; no need to adjust the extruder's rotating speed.
4)The haul-off machine adopts structure of high speed multi-group roller clamping type, which completely overcomes the vibration & skip problems in the traditional mode, and also ensures high-speed stable pulling.
5)Compared with common PPR pipes, these pipes have advantages, such as, high anti-compression strength, small temperature deformation, small vertical shrinkage rate, which completely solves the deformation problem of PP-R pipe while conveying hot water.
6)It adopts original imported new generation PLC control system and Multi-point closed-loop control system, which ensure the high speed synchronous control and reliable operating of the whole production line.
7)This line can also produce three layer HDPE pipe with high speed.
Technical Date of Pipe Production Line:
| | | | | | |
| --- | --- | --- | --- | --- | --- |
| Model | Screw Diameter | L/D | Production Scope | Production Speed | Nominal Power |
| SJ-65 | 65/45mm | 33:1 | 20-63mm | 12m/min | 104kw |
| SJ-60 | 60/65mm | 36/33:1 | 20-63mm | 20m/min | 165kw |
| SJ-75 | 75/65mm | 36/33:1 | 20-63mm | 30m/min | 258kw |