Name :
Waterproof LED Toroidal Transformer 100% copper Lighting Transformer 220v 12v 18w with plug for Swimming pool
Certification:
1.We have abtained VDE,UL,CE,ROHS,ISO9000
We guarantee quality is the first:
220v 36v 24v toroidal transformer winding machine for underwater LED; 105VA 350va 700VA ac plug toroidal transformer for swimming pool; 105VA 350va 700VA ac plug toroidal transformer for swimming pool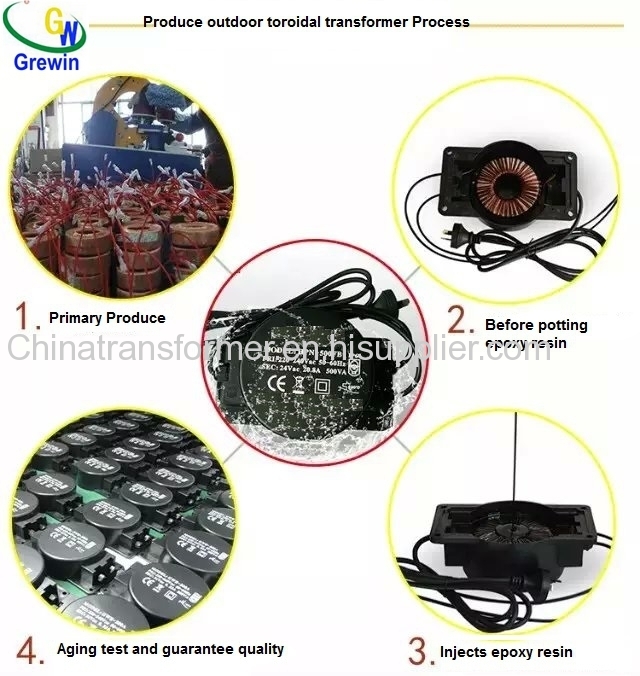 waterproof Transformer's Dimension Sheet:
(Note:Rated 105VA-1000VA for devices 105VA-1000VA watts or less,
GWET-105 means 105VA size )

Waterproof toroidal Transformer's Spcification: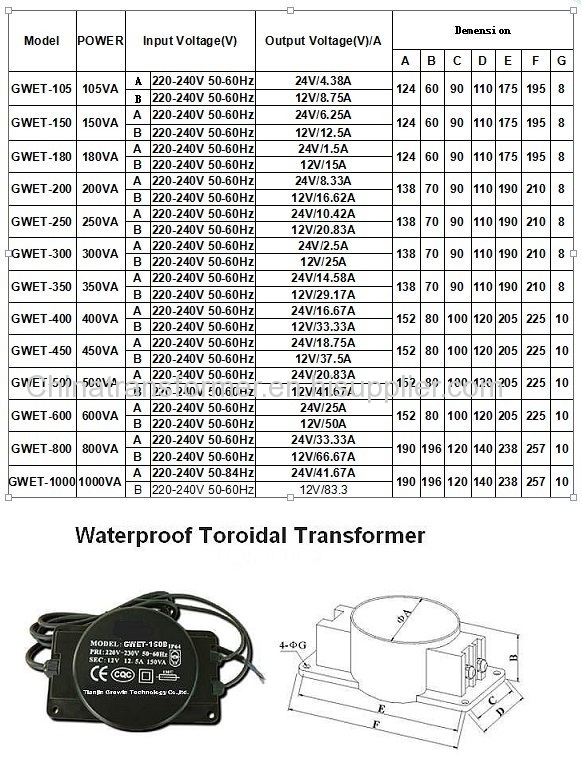 1).WORKING AND SAFETY PROTEETION
Eiectrostatic Shield Magnetic Shield
√ TemperatureProtection OverCurrent Protection

2).INSULATION
Insulation resistance test(type test):Pri.~sec. 500V DC 100 MΩMIN.
HI-POT TEST(100% test):Pass ourdielectric strength test, without any breakdown
Pri.~sec. AC 3.8kV for 5 seconds (leakage current 5mAMAX)

3).TEMPERATURE RISE
Ta=25℃Test by resistance method At rated load
PRI.& SEC. WINDINGS'TEMPERATURE RISE 75℃MAX.

4).MAJOR MEASUREMENT FACILITIES:
HI-POT TESTER: CJ2670
INSULATION-RESISTANCE METER: ZC-7
VOL TMETER: T19-V
DC-RESISTANCE METER: QJ44
AMPEREMETER: T19/1-A
5). MAIN PARAMETERS:
Input Voltage:AC 220V 230v 110v (Define the voltage)
Output voltage:AC 12V / 24V (Define the voltage)
Power range:105VA-1KVA

6) Waterproof toroidal Transformer's materials:
* Annular core: Cold rolling directional silicon steel
* Insulation protection: Mylar
* Core Insulation: Polyester 7C
* Primary/Secondary Winding: Enamelled copper wire
* Terminal cannula: PVC canula
* Termial uderlay: Polyester 19C
* Temperature Protection: Thermal Switch
* Pri.Insulation: Polyester 7C
* Insulation protection: Mylar
* Coating insulation: Polyester 5C
* Lead: UL WIRE
* Potted resin: Potted resin
* Body: PP+GFRP
7)Standard conditions and components:
* Transformer should meet "Short-circuit-proof safety isolating transformer (inherently
or non-inherently) IEC 61558-2-6:09"

* Thermal Switch 17AM 211 120°C Sensata Technologies or equivalent (UL E15962)

* Thermal Fuse A7-5A-F 5A/138°C Aupo Electronics or equivalent (UL E140847)

* Transformer is double insulated (Class II) with Insulation Class B 120°C

* Insulation tests 500VDC 100M ohm min and 4kV for 5 seconds at 5mA max leakage current
8)Application: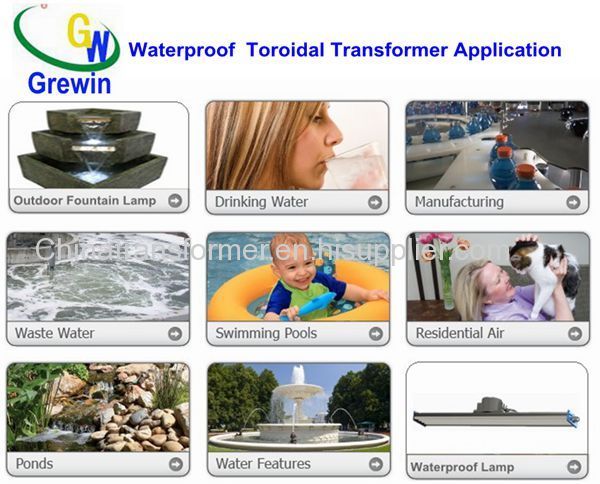 Garden light
LED underwater lamp
LED Ground light
Outdoor power Supply
Humidifier
Swimming pool
9)Advantages:
100% copper wire made
Toroidal style
plastic cover :ABS fire Material of withstand high temperatures
Epoxy resin
high performance insulation
Anti-corrosion, waterproof performance
OTHER RELATED UNDERWATER TOROIDAL TRANSFORMERS: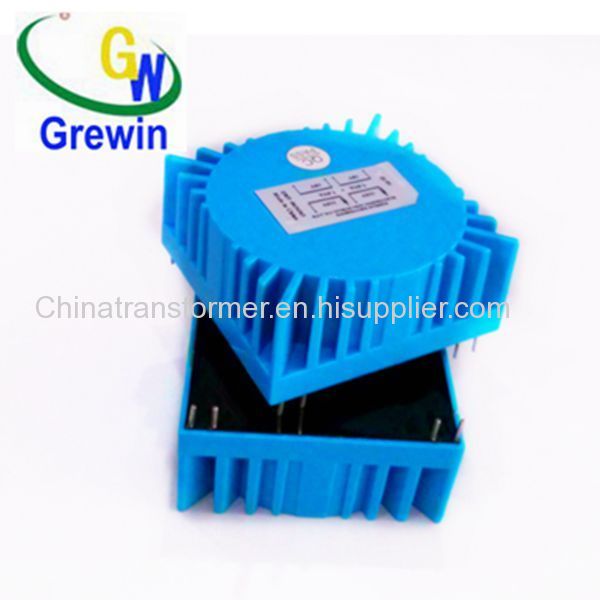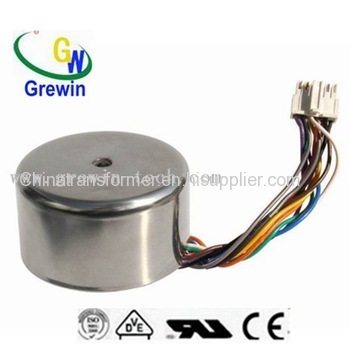 About Outdoor waterproof Transformer with plug:
1.Grewin' s garden waterproof transformers are light weight, highly energy
efficient water-safe making them ideal for outdoor lighting & Christmas lights.
2. Splash Proof protection from water in all direction
3.Approved safe with IP64 Rating for outdoor use
4.Fully water proof fuse designed to eliminate the possibility of an electrics shock
(as defined in IEC standards 65 and 257)
5.Included is a special safety fuse which eliminates the possibility of electrocution.
How to design Transformer ?

Transformer capacity is rated in Volt-Amps (VA) which is generally the same as
wattage (Watts).Most loads are labeled with their proper operational voltage (Volts),
current (Amps), frequency (Hz), and wattage (Watts or VA).
When you need to design a transformer,we must know the mainly below parameters
to be customized:
GREWIN's Custom Toroidal Transformers
| | |
| --- | --- |
| *Input volts: | |
| *Frequency: | |
| *Output volts: | |
| *VA rating: | |
| *Lead length:(inches) | |
| Maximum height: | |
| Maximum diameter: | |
| *Quantity required: | |
| Additional comments: | |
Dual 110V Power Transformer:

For the international market request, these types of the GREWIN Transformers are designed
into dual primaries for 110V. No matter what about your local voltage is 110V or 220V, you
should use them. Below are the methods for using:
1. If you are using 110VAC(such as Taiwan, US), Please parallel the two primaries 110V. Please
pay attention to the terminals of 110V must be short circuit, and the terminals of 0V must be
short circuit.

2.If you are using 220VAC(such as Hongkong, China Mainland, Europe), Please series the two primaries. Please pay attention to one terminals of 0V must be short circuit with another
terminals of 110V.
WHY CHOOSE US?
1. Quality and honest first!
A. Flexible service for diffierent transformers with high efficiency performance.
B. Over 40 years experience of transformer designing and producing.
C. 100% test of every single product we produce from incoming material checking.
D. UL, CUL, CE, ROHS, ISO9001:2008
E. We offer custom-made transformers, OEM and ODM are welcome
F. We deliver the quality you expect at consistently competitive prices
G. Transformer quality lifetime:10 Years.
H. Specialty Sales service:5 -10 Years
I.Transformers Test: 100% test before the shipment.

GREWIN has various kinds of state-of-the-art equipment, which are used in production, sampling and testing. Our equipments enable us to produce good quality products
efficiently.
Over 50 sets toroidal/annular/ ring coil winding machines, 3 EI type transformer lines, 2 sets of vacuum annealing furnaces, A set of nitrogen and hydrogen production equipment as below:
. Automatic Winding Machine
. Semi-automatic Winding Machine
. Toroidal Winding Machine
. Insert Lamination Machine
. Wave Soldering Machine
. Plastic Termal Ultraviolet Machine
. Domino Ink Jet Printing Machine
Transformer Multitester for High & Low Frequency
Layer Insulation Withstand Voltage Tester
The following picture showed you about all finished toroidal transformer production
line and package with export standard carton and strong pallets:
About us:
Tianjin Grewin Technology Co.,ltd. has always placed great emphasis on our core
business philosophy "Quality and Honesty First ". .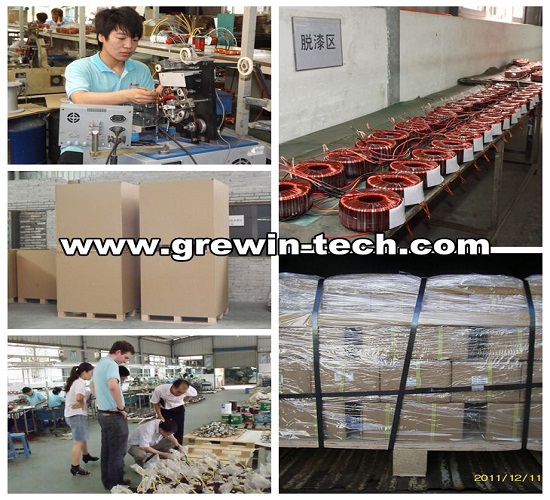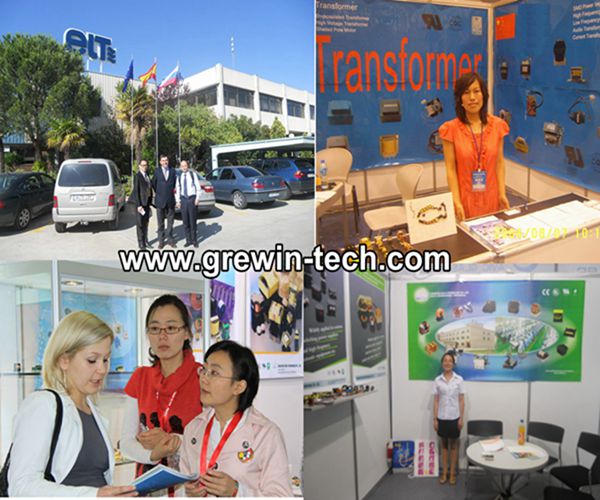 6. Below is our toroidal transformer's catalogue with much advantages in our market:
1.Flow chart of trading activities:
| | | |
| --- | --- | --- |
| NO | Step | Days need |
| 1 | Request for quotation | 1 day |
| 2 | Making quotations | 1 day |
| 3 | Offer and counter offer | 3 days |
| 4 | Sending and receiving samples | 3-10 days |
| 5 | Sample confirmation | 3 days |
| 6 | Placing a firm order | 1 day |
| 7 | Paying and receiving the down payment | 1-4 day |
| 8 | Factory production & Quality inspection | 15-20 days |
| 9 | Paying and receiving the balance | 4 days |
| 10 | Delivery of goods | 1 days |
2.Acceptance of the Conditions:
All orders accepted by GREWIN are subject to the general sale conditions herein set forth, which are understood and accepted by the Purchaser when passing the order and/or upon receipt of GREWIN invoices. Other conditions as well as any verbal agreement are considered valid only if specifically confirmed by GREWIN in writing.
3.Payment terms:
(1). T/T 100% or 50% deposit by T/T in advance, balance amount to be paid 7 days before delivery.
(2). By irrevocable L/C at sight, to be issued immediately against confirmed order.
(3). Payment by T/T, if order amount is less than USD 20,000.
4.Sample terms:
(1). Samples will be sent subject to advance payment to cover the courier charge and samples charge.
(2). You are pleased to instruct your courier company to pick up samples in our TianJin, China office at your expenses. For pick-up details, please advise your courier company to contact us.
(3). Delivery time 3-10 working days.
Contact Information:
cathy Li

Tianjin Grewin Technology Co.,Ltd.
Mail:cathy(at)grewin-tech.com
Skype: grewin.ella