SJ20GH Oil purifier parts
IMPELLER(2) 352385001
Manufacture: MITSUBISHI
The SJ20GH oil purifier is not only used in fuel treatment and lubricating oil, but also in the field of power plants and other industrial
SJ-G Oil purifier specification
| | | | | | | | | | |
| --- | --- | --- | --- | --- | --- | --- | --- | --- | --- |
| Model | SJ10G | SJ20G | SJ30G | SJ50G | SJ60G | SJ70G | SJ100G | SJ120G | SJ150G |
| Throughput*(L/H) | 1,150 | 1,750 | 3,200 | 4,900 | 5,700 | 6,950 | 10,000 | 11,600 | 14,600 |
| Motor Output(KW) | 3.7 | 5.5 | 5.5 | 7.5 | 11 | 11 | 15 | 15 | 18.5 |
Feature
* Adopt G-HIDENS system
* Adopt solid of revolution with separating property
*Adopt clearer facility with high deslagging
*With system graphic control panel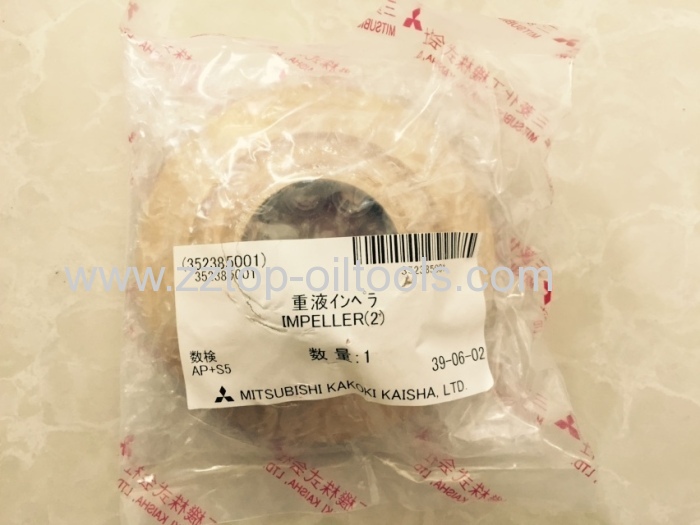 ZZ TOP OIL TOOLS is the professional manufacturer for the drill stem testing tools and surface testing equipment. All the DST tools are conformed with NACE MR 0175 with traceability,and the DST tools can be worked in H2S & CO2 above 175 F and full H2S, also with the skilled and experienced engineers, we can design the drill stem testing tools as per customer's well condition. Moreover, we supply the training in our factory and operation instruction at the well site. The DST tools are exported to USA, Colombia, India, Pakistan, Iran, Brazil etc. and enjoy the good reputation from the customers.
As the manufacturer, we produce below items:
-DST tools- Full bore retrievable packer, circulating valve, select tester valve,safety valve etc.
-Surface well testing equipment - Flowhead, SSV, ESD,Separator etc.
-Wellhead equipment such as BOP, X-mas tree, Choke manifold, kill manifold, drilling spool, casing head and other valve & flanges
-Downhole tools such as stabilizer, stabilizer forging, reamer, X-over sub and etc
As the distributor, we are working with large rig companies and heavy equipment manufacturers for the below products:
-Rig parts from RG,BOMCO,SJ,Hong Hua,KR etc,such as mud pump,rotary table, hook & block, swivel, crown block and consumable parts
- BOP and wellhead parts from Rongsheng,Shenkai
- Pipe- Tubing, Casing, seamless pipe
- Handling tools and Fishing tools