Dongguan Yize Mould Co.,Ltd. is one of the mold parts manufacturer, specializing in the production of precision mold parts, precision plastic mold parts, metal stamping die parts, connector mold parts, non-standard circular parts, tungsten steel parts and so on, products used in many areas of precision mold, plastic mold, auto mold, medical mold, computer connectors mold and other factory automation components, etc., in the mold parts manufacturing, technology, marketing and service has accumulated a wealth of professional experience in the client evaluation has received numerous domestic and international recognition and support.

Product name

Customized precision mold parts

Briefly Description
1. mold part material brand: Hatachi, Daido, ASSAB,Buderus, Bohler,etc


2.common material used: SKD61,SKD11,SKH51,NAK80,P20;1.2343,1.1730,1.2312;S390,K460


3.Grinding precision within 0.001.EDM/wire cut precision within 0.005mm


3. milling, surface grinding, wire cutting,CNC,EDM are the main production process


4.height gauge,microcalliper,profile projector,tool microscope, comparator are the main inspection equipment




5.more than ten years' experience in this field


6. ISO9001:2008 certified factory with good quality and management


7.100% of the parts are exported to countries like Japan,USA,Europe,Southeast Aisa,etc
Standard
JIS AISI DIN
Usually packaging
Paper of Box
Manufacturer
Yize Mould
Yieldly
Dongguan China
Supply capability
1000PCS/DAY
Terms of transport
express(DHL,FEDEX,TNT,UPS,etc)




Our Products
1)production mode : accroding to drawings and samples to process


2)material:tool steel and high speed steel,SKD61,SKD11,SKH51,etc


3)technique standard : according to national standard GM, JIS,DIN,AISI ect, and other national standard


4)4)technique advantage : grinding precision within 0.001mm, EDM/wire cut precision within 0.005mm
grinding/EDM angle clearance within R0.01.


5)utilization scope : precision punch mold, precision plastic mold, precision auto mold, precision medical mold, precision computer connector mold and other factory automation part etc. with many areas


6)production equipment :Two sets of milling machines, two sets of CNC lathe, two sets of cylindrical grinders,one deep hole drilling machine,30 sets of surface grinders,12 sets of EDM machine,2 sets of CNC machine,4 sets of wire cut machine


7)product accuracy : diamension tolerance +-0.001mm, axiality within 0.002mm,roundness within 0.0015mm, surface roughness within Ra0.025, straightness within 0.002


8)packaging type : inner package with recycle plastic box after anticorrosive oil spraying,out package with sponge and PE bag.


9)cooperation customer : Japan,USA,Europe,Southeast Aisa,etc
Production Flow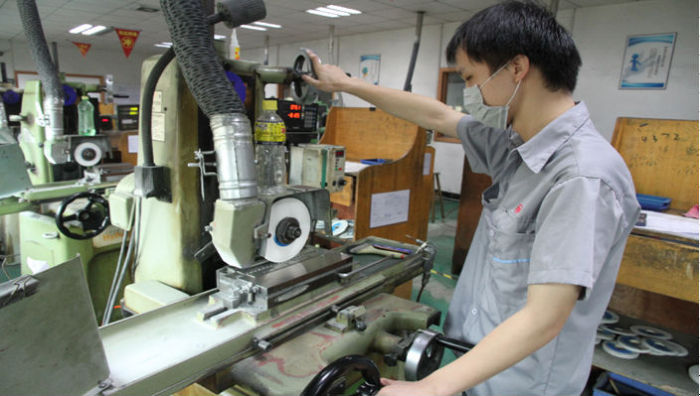 We have adopted CAD,UG and Proe system,PDF,DWG,DXF,STP,STEP,PRT,IGS files are all accepted.
30 sets of grinding machine and skilled workers enables us to make large quantity mould parts withhigh precision in a short time.Our grinding precision can be within 0.001mm.We supply to worldleaders like TE,JAE,JST,etc.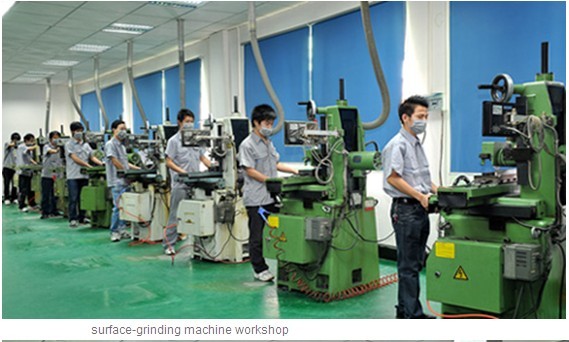 We have 4 sets of sodick wire EDM machines, it ensures general tolerance within 0.005mm,flatness,verticality,and linearity within 0.002mm.The smallest wire we use is 0.1mm.
We have two CNC machines that are mainly used to make the electrodes. Copper and Tungsten copper are the main material. Our designers design the electrode and the CNC department makes it out in house. It greatly ensures EDM quality and fast delivery.
Our Services
Turning, CNC turning, milling,deep hole drilling,cylindrical grinding,enterless grinding,surface grinding, wire cutting,CNC,profile grinding, EDM machining are the in-house service offered.Also polishing,laser marking,electroplating are available for us by outsource supplier.
Common Questions:
1. Whether free sample can be provided?
Answer: We can provide a free sample for the parts with cost less than 100 dollars, and we will ask for some expenditure for the extra part.
2. Whether the quality of materials used in processing can be guaranteed?
Answer: The Japanese materials in our company are purchased from ,Japan's first level agent in China. Swedish materials are purchased from China ASSAS and Germany materials are purchased from Shanghai Xinchang with material certificate provided by the first level agent in shipment. Our company believes in the management philosophy of "integrity first
3. How long is your delivery cycle? What method is used for delivery? Whether the good safety during transportation can be ensured?
Answer: The delivery cycle is generally 7~8 working days, with specific condition depending on processing difficulty.
If the workpiece is particularly urgent for you, we arrange urgent order and try to solve problems .for you during the shortest lead time. We would usually use Shunfeng in domestic China and DHL for international in delivery. The overseas clients can usually get the goods at the second day after shipment. If there occurs damage or missing, we will be responsible. In fact DHL's service is the best and we basically do not need to worry about it.
4. What about payment terms? Can you accept cash on delivery?
Answer: For the first order released, we would accept 50% to be paid after order placement and the balance 50% to be paid after acceptance inspection and delivery. We are actually adopting a payment term of COD or TT 30 days for those premium customers with long-term cooperation and good monthly processing volume
5. How to deal with the parts received when they are found to be in poor quality?
Answer: Please rest assured that all our products are QC inspected and accepted with inspection report before delivery and generally there will no non-conformance; in case of non-conformance, we will have them reworked or repaired at the first time with , the resulting transportation costs borne by our company.
Yize Profile
Dongguan Yize Mould Co.,Ltd. is a manufacturer specializing in core pins and sleeves and other precision mould parts. Our quality products are used in many fields such as precision stamping mould, plastic mould, auto mould, pharmaceutical mould and computer connector mould. Yize has years of experience in precision automatic machine components and precision mouldparts manufacturing. Our advanced technology and high quality service have obtain good evaluation of customers at home and abroad.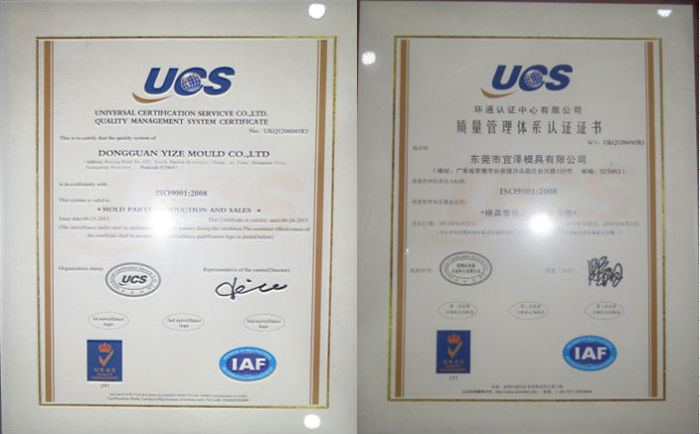 Welcome to figure offer, the price is for reference only, we have a professional considerate service to you.
yizefanaliu recommend you
Dongguan YIZE MOULD Co.,LTD yizemold1508
Address: No.122 Hexing Road, Xinsha Industrial Area, South Shatou Area, Chang'an Town, Dongguan, Guangdong, China(Mainland)
TEL: +86-769-8188 8522
FAX: +86-769-8188 8548
Web: http://www.yizemoulds.com/
Email:gaolei@dgyize.com
manager01@dgkenos.com
jack@dgyize.com
Customized precision mold parts factory
Customized precision mold parts factory
Customized precision mold parts factory
Customized precision mold parts factory