Custom Dia 6.3cm Printed Eggshell Sticker, Custom Private Design Destructible Vinyl Eggshell Graffiti Stickers For Street Art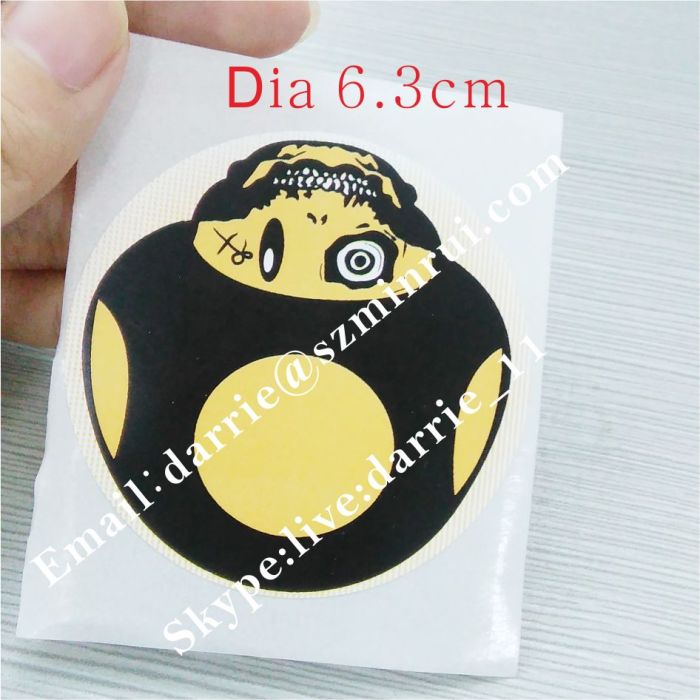 We are the largest manufacturer of destructible eggshell sticker materials and destructible eggshell stickers in China. Eggshell Graffiti Stickers quality could promised and we could also provide many different vinyl eggshell stickers type solutions according to your creation
Custom black printed egg shell stickers from Largest manufacturer of destructible vinyl eggshell sticker materials and eggshell stickers from China
1: Largest manufacturer of destructible eggshell sticker papers in China
2: Different eggshell sticker paper styles for choose from with high quality
3: More than 15 years labels printing histories
4:Fast produce and fast deliveried by door to door express
What is destructible eggshell sticker:
Very sticky adhesive with brittle paper face, the destructible eggshell stickers can only removed bit by bit.
Different with normal paper stickers, the surface is with low ductile and the destructible eggshell sticker works by adhesive and the face together.
They are special tamper evident stickers and will break into pieces once removed.
The destructive vinyl eggshell stickers could be used as tamper evident security seal sticker, "warranty void if seal broken or removed" and they could also used as street graffiti stickers or the advertisement or permanent warning stickers which you do not want others removed easily
Any design, any CMYK color, any shape could be customized from us, just feel free to contact with details below:
Email: darrie(at)szminrui.com
Skype: live:darrie_11
Professional suggestion and valid prices will according to your design ideas,quantity and requests.
Product Description
Custom Eco-friendly Excellent Quality Self Destructive Vinyl Eggshell Graffity Stickers Printing From Largest Manufacturer China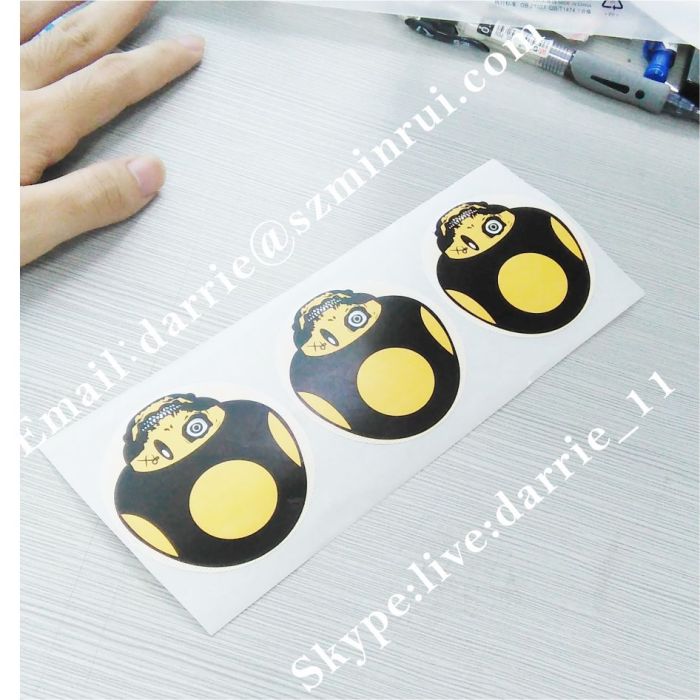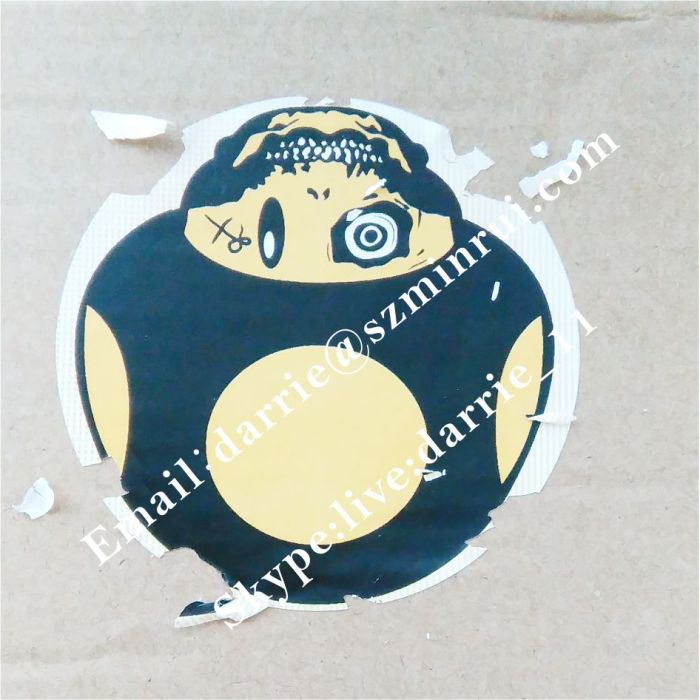 This Dia 6.3cm destructible eggshell stickers printed for an American Customer and this was his second time order after 1 year passed by.

For Customers ( Inquiry Including Informations )

Material

Vinyl / Paper / Hologram / Void /

Ultra Destructible Vinyl ?

Design

Size / Shape / Colors / Printing Content ?

Quantity

What the quantity do your want ?

Useage

Will use on what products ?

Shipiping

Address

We only know the shipping address,then

can give you freight cost.

Special Requirement

Waterproof / UV resistant /

High Security ?

For the benefit of the customer,we want to know these information then

can give you the accurate price,

so please kindly notes,when you send inquiry to us,please indicate the

above information.

Thank you in advance!^_^
also could choose thicker 120-130micronNormal model is 100micron±10
or thinner 50-60micron face model
1.Glossy white destructible vinyl eggshell stickersMatte white destructible eggshell stickers
2.Hologram destructible eggshell stickers
3.Transparent destructible eggshell stickers
4.Water damaged destructible eggshell stickers
Some sun-proof ink printed Destructible vinyl eggshell sticker picture show:
Custom Out Door Use 10x8cm Black Printed Strong Adhesive Destructible Vinyl Egg Shell Sticker for Warning and Do Not Remove Use



hese black printed eggshell stickers size 10x10cm customized from a customer from USA

The eggshell stickers printed with sun-proof ink printed and for out door use

Custom Out Door Use Sun-Proof Ink Printed "Hello, My Name Is" Egg Shell Sticker, Destructible Vinyl Eggshell Sticker Non Removal

ustom rotary machine printing uv resistant destructible eggshell sticker name tags from Minrui , the real facotry for printing eggshell graffiti stickers in China

This customized "hellow, my name is" red border printed eggshell stickers size 4"x3" and we printed them by rotay printing. Rotary printing could printed full colors printing or could also work out better printing effect.

Destructible labels original use are for tamper evident labels, because of the brittle face and usually as security warranty stickers, tamper proof asset tracking stickers, security tamper evident seal stickers and the ect.

And now graffiti lover also found these sticky eggshell stickers are very good for their street art painting stickers and they are very sticky and could painting with graffiti pens with any colors and others cannot removed them easily.

Even you use sharp knife to clean them, they are still sticky and our eggshell paper stickers use eco-friedly waterproof adhesive, this kind of adhesive is with strong late viscouse,they are getting sticky and sticky as the time goes by.

Hot Sale Custom Blank Eggshell Sticker,Custom Blank Sticky Eggshell Sticker Labels Printing

Custom Blank Eggshell Sticker breaks apart into small pieces when removal is attempted, thus providing complete protection to goods against pilferage or tampering. The technique works by using a very weak and brittle substrate and aggressive adhesive to ensure that the label disintegrate into many components if any attempt is made to remove it.

The destructible vinyl eggshell stickers could be sticky on many surfaces, such as glass, wood, box, papers, leather, metal, plastic and the ect.

We kinds of design printing we provide for your eggshell stickers?

1.Blank any size destructible vinyl eggshell stickers in sheets or in rolls

2.Also blanks customized border printed blanks eggshell stickers

3.Classic black ink printed destructible eggshell stickers in sheets or in rolls

4.Simple single or under 4 spot colors printed or Full colors printed such as photo full colors printed destructible eggshell stickers in sheets or in rolls

Ultra Destructible Vinyl Labels,Strong Adhesive Eggshell Stickers, Destructive Vinyl Break Away Stickers:

What we can do special for destructible eggshell stickers:

1.Destructible vinyl eggshell stickers printed with common ink printed or sun-proof ink printed

2.One color or spot colors or full colors printed or photo printed destructible eggshell stickers

3.Destructible eggshell stickers printed with barcode and serial numbers

4.Self destructive eggshell stickers coated with glossy or matte lamination

5.Destructible eggshell stickers embossed with customized hologram pattern strips

Because they are with these excellent characteristics, they are widely used as the permanent labels for advertisement for warning labels.

If you were very strict for the permanent labels, not only the permanent adhesive but also the weather proof and sunshine proof ink printing ,please just let us know.

We also did the similar for customers before.

Label Materials:


From raw material to finished product all own work

| | | | |
| --- | --- | --- | --- |
| Label Materials: | Destructible Label Materials | Feature: | The labels will break into many pieces once tampered.You cannot tear a whole label off one time,they will be bits by bits once someone trying to remove them! |
| Label Design: | Custom | Usage: | For sealling the screws in electronics,such as mobile phone,laptop,computer and so on! |
| Label Size: | Custom | MOQ: | 10000pcs |
| Payment: | T/T or west union | Delivery: | by door to door express |

tamper evident warranty stickers

When the destructible labels are tampered against removal and are easily damaged, causing cracking and cause multiple chipping effect in tits and bits leaving behind the evidence of tampering

These tamper evident destructible labels are great for use on electronic equipments, appliances, rental equipment, computers, laptops and instrumental or machinery repairs when you need to prevent undetected access

These destructible labels or stickers cannot be switched to another piece of equipment without tamper detection being evident

Glassine liners with Common white liners:

1.Transparent Ultra Destructible Label Papers

Facestock thickness 0f 0.07MM and easy to remove the gap scraps.

2.Gloss white Ultra Destructible Label Papers

Facestock thickness of 0.09MM with very smooth surface and good printing effect.

3.Water Damaged Ultra Destructible Label Paper

This type Label papers combined 2 security characteristics which are including water damaged and tamper evident. The existing product is red .but the products with different colors can be customized according to the clients' requirements . In general ,the kind of products is usually dark. The background Color of labels will faded and lightened and into white finally.

But the destructible labels are not only for this way,they could be in many designs,because the printing effect is good,you could add any designs into the labels for protecting your private products from tampering!

Please just tell us some ansers to questions below:

We could offer you valid quotation according to your answers above,please send us your enquiry from our contact information!

Waiting for your kindly enquiry!

We are the manufacturer of the destructible vinyl label materials,custom destrucitble labels will be in good quality and nice price!

Competitive Advantage :

1)we are the biggest and best professional maufacturer of ultra destructible vinyl and own 70% market in China (ultra destructible vinyl is the materials for destructible labels)

we have patents for these destructible label materials, we studied out lots of different destructive label materials for different use by ourselves. No one other company could do these kind high quantity ultra destructible label materials in China.

We have more than 14 years-history for manufacturer destructible eggshell sticker materials.

You could custom the special ultra destructible label materials from us according to the real condition.

We have storage and the leading time is very short in 1-2 days for common used models destructible label materials no matter you want the materials in rolls or in sheets

2)we have a sub-company major in producing custom adhesive labels,that can be proof the leading time and quality.

The desructible eggshell label materials are including many different kinds, including different fragile grade, different face thickness and the ect. Not the more fragile the better.

Fragile grade choice is accorting to your label size, temperature, and how will you use these stickers.

For special finsihed, we offer transparent lamination or varnish or sun-proof ink printing or silkscreen printed according to your designs and the requests

3)our salers could offer you designs and give you professional suggestions before printing,t

Shape of Sticker:

Quantity:

Size of Sticker:

Ink Colors:

Label Material:

Label Coating:

What material are you apply the labels to?

And any other reuqests?

Could you please show us the design?

We offer different sizes, colors, brittle,and pattern design to meet

your satisfaction. Please do not hesitate to ask any question that you

may have. Waiting For your Contact:

Email:darrie(at)szminrui.com

or Skype:live:darrie_11

Our Service

1.We are one of the top manufacturer in Shenzhen China. We guarantee you

high quality and competitive price.

2. We offer Professional OEM services

3.Controlling of the cost and quality and delivery time to reach win-

win cooperation.

4. Detailed photos of every process to make customer feel safe.

5. Tracking the package everyday to make sure arrive in time

2.Payment

We usually use the ways of T/T,paypal,western union.But your other needs can contact us.

3.Packaging & Shipping

Packing details:

Master roll size / jumbo roll size : 1070mm (wIdth) x400meter (length)
Roll size form : MOQ 200meter for length and roll width could custom from 50mm to1070mm
Sheets size form: sheets size could be customize

4.Company Information

As a professional manufacture of ULtra destructible vinyl material,Shenzhen Minrui adhesive products Co.Ltdcovers an area of 20000 square meters industrial park .With two production bases in shenzhen and shantou

respectively,we own shenzhen Dechangyuan investment consult Co.,ltd.and minrui paper products Co.,ltd.

minruihas it's own products with the proprietary intellectual property rights-ultr destructible papers

formula and relevant manufacturing process.With more than ten types of products,our company is able to

produce various destructible lables with differents fragility,viscosity,brightness,smoothness,color

thickness and the etc.

5.FAQ

1.What's the MOQ?

It according your design.Different and pattern may have the different result.But usually it's 1000 pieces.

2.What's your standard size?

We can produce different size to meet your needs.Any size is ok,just tell us you want.

3.How can I get your quotation?

You just need to tell us the specification of the product,size,and quantity you need.If you really not sure which kind you need,you also can get the help from us to choose the most suitable labels.

4.How about the delivery time?

We normally will delivery 3-7 workdays after the payment confirmed.

More detailed information you can contact via:skype:Live:darrie_11

mail:darrie(at)szminrui.com