working principle
Through digital instrumentation and temperature sensor is connected to control the temperature, air circulation mode using hot air, hot air circulation system is divided into horizontal and vertical. It has been accurately calculated, the wind source is driven back by the blast wind wheel motor operation via electric heaters, hot air duct into the oven to the studio, and the use of the air intake duct after becoming once again circulating air source heating use, so can effectively improve the temperature uniformity. As the door in use by the switch, air circulation system quickly restored to operational status temperature. Oven structure and working principle:
Structure of industrial ovens
Industrial oven inside and outside the two-tier structure, the housing of sheet steel angle between the inner and outer double shell filled with fibrous material. Fibrous material industrial oven used mostly aluminum, it can play the role of insulation, forming a reliable insulation. Industrial oven is equipped with hot air circulation system and temperature measurement and control system.
Principle of industrial ovens
Industrial ovens at work, the operator to obtain industrial oven interior temperature value through the instrument and temperature sensor, operated by the control system. Industrial oven hot air circulation heating method, compared with conventional cooling heating, has a better gas flow, can speed up industrial oven drying speed of the material.
Hot air circulation system consists of industrial oven air motors, wind turbines and electric composed, motor driven blower wheel sends cold wind, cold air through an electric heating device to carry heat through the duct into the industrial oven oven studio.
Industrial hot air circulating oven system helps improve the uniformity of air temperature in the process of industrial ovens switch box door transportation of materials, the temperature value will be affected are changed, the uniformity of the hot air circulation system is conducive to the rapid recovery in the largest degree temperature operating conditions.
Feature:

1.

The machine with automatic cooling return system to facilitate the collection of product.

2.

The heating section is divided into three independent control, cooperate with the SCR action.

3.

heating system: each section of the upper and lower heating body can be adjusted, equal temperature.

4.

Temperature range: normal temperature+10℃─300℃(MAX).

5.

Insulation structure: high temperature rock cotton, thermal insulation 100mmAir heat insulation.

6.

Transmission system: the use of Japanese Panasonics transmission components, with the use of glass fiber mesh.

Note: import and export section and heating length, width, etc. can be designed and manufactured according to customers requirements.



Shipping
(1) By sea; (2) By air; (3) By expressage.(DHL,FEDEX,UPS,TNT etc.)
Custom packaging:We also packing acording to customers' requirement.
We can make the prouducts according to your requirement , no matter what country are you from.
Contact information:
Company: Dongguan City jinyao precision equipment Co.,ltd
Address: Jingfu Road No 36, xiabian village, changan town , Dongguan City, Guangdong Province
Tel:86-769-85422549
Fax:86-769-85424793
Website:http://www.jinyaodrying.com
The image of company: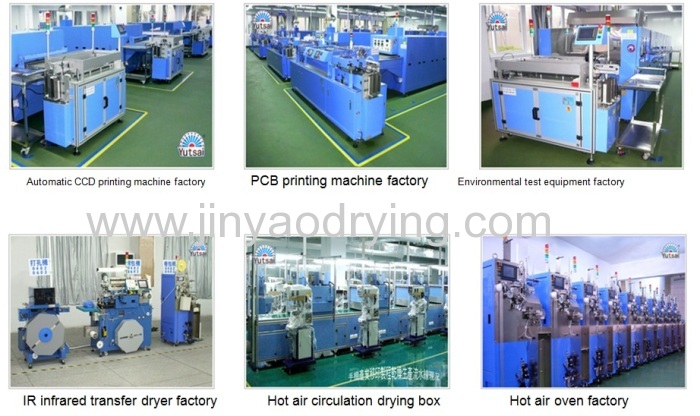 Our company already has 30 years experience to empolder and produce. Our always keep these spirit: innovation; customer first; constantly strive for perfection; and good service.
Our product widely used in electronic product, resistance material, automatic produce industry and press production, which is widely used to dry and bake some industry materials.
Features:
Reasonable design
High-efficiency
Low consumption, energy saving
Easy to maintain
Easy to operate