This is 12MM clear tempered glass,used as glass shower room door and wall,dimension is customized,and can be used as furniture top, elevator wall,partition wall,and so on.
Our temepred glass attribute:
1.Thickness:3-12MM
2.Dimension:200*200MM—2400*5000MM
3.Colour:clear,ultra clear,bronze,red,blue,pictures,grey,light grey,light brown,white,black, etc.....
4.Type:tempered glass,printing glass,Nashiji glass,Woven glass,Hammer glass.....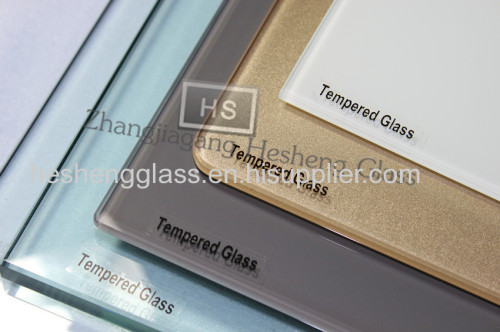 1.Description:
Tempered glass is a type of glass with even compressive stress on the surface which is made by heating float glass to nearly softening point (600-650°),Then cooling it down rapidly in glass surface. During the instant cooling process, the exterior of glass is solidified ,while the interior of the glass is cooled down relatively slowly. The process will bring the glass surface compressive stress and the interior tensile stress which can improve the mechanical strength of glass by germination and result in good thermal stability.
2. Features
1) High intensity:
The strength is 3-5 times of ordinary annealed glass in same thickness;
2) High thermostability:
Tempered glass can withstand the large temperature difference(200°), the thermostability is 3 times of ordinary annealed glass;
3) Wind pressure resistance
The wind pressure resistance is 1.5-3 times of ordinary annealed glass;
4)High safety
Once breakage occurs, the glass breaks into small cubical fragments, which are relatively harmless to human body.
5) Considering the characteristics of tempered glass, glass size should be confirmed before making production. Once tempered glass size is confirmed, tempered glass can not be made mechanical treatment any more, otherwise, it will be broken.
6) Heat shock resistance
The tempered glass can be fine within temperature jump between 220-250℃,while float glass can afford 70-100℃.When in fire,the tempered glass is fire-proof shortly to protect people.
About us:
1. We are a professional factory and have well-trained workers
2.we use material glass of Taiwan Glass Group to make sure the tempered glass quality well.
3. Professional team is available, provide perfect service during whole process
4. Provide high quality products with competitive price
5. Prompt and on-time delivery
6. Different edge,different shape,different colour are available
We are your best choise!
1. Our engineer team has been focused on tempered glass line for more than 10 years;
2. We have large importing machines and mature technology
3. We possess individual R&D department;
4. we get our CCC certificate
5. Our products enjoy great reputation in more than 70 countries;
6. We focus on every detail of our products;
7. We can do OEM.
Zhangjiagang Hesheng Glass Co.,Ltd

Minimum size

150*150MM

Maximum size

2400*5000MM

colour

clear,ultra clear,bronze,grey,blue,black,green, white,red,etc as per customers' need

MOQ

100SQM

type

tempered glass,laminated glass,printing glass,coated glass

packing

MDF box, pallet,carton

deliver time

21days after getting order's deposit
1: Professional services
2: Professional in varies shape of clear and printing tempered glass
3: Direct factory,full quality control
4: Customized designs are acceptable,and can help customers to design their own styles
5: Most high quality and competitive prices

Ps:According to your requirement ,we can do any design,any size.with hole or without hole.
If you are interested in other products, you can directly click here
http://www.temperedglasschina.com,
http://www.glasshs.com,
http://www.heshengglass.com
Or send E-mail to me 1sales@temperedglasschina.com ,gu@temperedglasschina.com
-----------------------------------------------------------------------------------------------------------------------------------------------------------------------------
Contact:Hely

Zhangjiagang Hesheng Glass Co.,Ltd

Add:No.5,chuangye road,jinfeng,zhangjiagang

Tel :+86 512 58605695 Fax:+86 512 5856 7806
Mob:+86 139 511 31910
Email:1sales@temperedglasschina.com,gu@temperedglasschina.com
Whatsapp:+86 139 511 31910
Skype:wetyhkx@hotmail.com
---------------------------------------------------------------------------------------------------
Thanks for your business!!!