Aperture Drape,Disposable protective clothing
Features:
Aperture Drape,Disposable protective clothing
Disposable protective clothing:Also known as : Disposable protective clothing, non-woven protective clothing
Product specifications:S, M, L, XL, XXL , etc.
Details Description : Elastic cuffs / knit cuffs Optional
Color: blue / white / yellow / blue , etc.
Packaging: 1 item / bag, 50 bags / box
Scope: apply to hotel center, sauna places, washes , beauty salons, beauty clubs , SPA clubs, hospitals, food processing industry, health , family , and other units
Products Benefits
SPA clubs, hospitals, food processing industry, health , family , and other units
Disposable non-woven protective clothing is made from high quality non-woven double s carefully made , non-woven protective clothing is hand- cut , manual sewing, double-sided pressure side , without fiber , comfortable, light texture ; protective high degree of filtering effect , the ethylene oxide sterilization process , and to control their residues, to ensure non-polluting, non-toxic side affect the body , in line with national medical health production license production . Disposable non-woven protective clothing with a tear-resistant , Prevent bacteria, water, environmental protection , clean and sanitary , and other functions , can effectively prevent bacterial cross-infection,Protection Body Health , To prevent dust ; disposable , protective clothing clean, easy to use, can effectively prevent the spread of disease and the virus indirectly , allowing users to feel warm and at ease !Affordable , convenient, while saving a lot of labor, electricity, water, place , time and other costs of washing , Improve Business service quality and hygiene standards.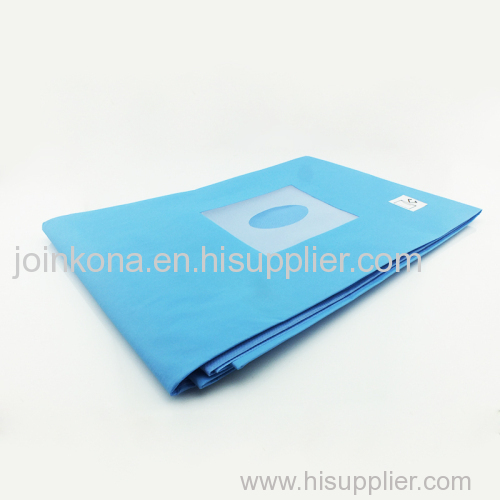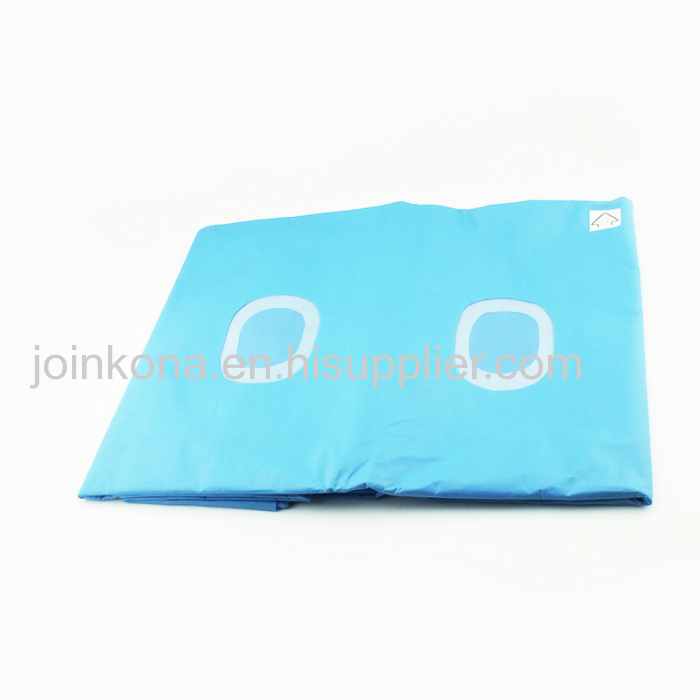 we also have surgical gown,
Material: Spunlace, SMS,SSMMS and so on
Color: according to customer's requirement
Gram weight: from 35g/m2 to 50g/m2
Size: S, M, L, XL, XXL, XXXL
Dimension:110*3250px, 115*3425px, 120*3500px and so on.
Packaging method: single package, bulk package or according to customer's requirement
Sterilization: determined by customer
Description
Disposable Surgical Gown/Hospital Gown/Isolation Gown
Material
1. PP/SPP(100% Polypropylene Spunbond Nonwoven Fabric)
2. SMS (Polypropylene Spunbond Nonwoven Fabric + Meltblown
Nonwoven fabric + Polypropylene Spunbond Nonwoven Fabric)
3. PP+PE Film
4. Microporous
Size
S(110*130cm), M(115*137cm), L(120*140cm) XL(125*150cm) or any other customized sizes
Weight
16-80gsm is available( as your request)
Style
With Tie/Magic stick on back neck and waist
Color
Sky Blue, white, green, purple, or any other customized colors
Packaging 1
1 piece/poly bag,100pcs/carton
Packaging 2
1 pc/sterile PE bag, 50 pcs/box, 20 boxes/ctn, 300 ctns/20'GP, 500 ctns/40'GP, 600 ctns/40'HQ
Application
Medical & health / Household / Laboratory
Characteristic
Durable, Eco-friendly, Non-toxic, Breathable and Flexible
Anti-alcohol,Anti-Blood, Anti-Oil
Waterproof,Acid proof, Alkali proof
Delivery
Within 15-25 days after receiving the deposit
Storage
Stored in dry, humidity below 80%, ventilated, non-corrosive gases warehouse
Terms of payment
T/T, L/C, D/P,D/A,Western Union, Paypal, Escrow
Note
1.This product is sterilized by ethylene oxide.
2.Validity: 3 years
OEM
1.Material or other specifications can be according to customers' requirements.
2.Customized Logo/brand printed.
3.Customized packaging available.
Certificate
CE, FDA
Features:
1. Isolation gown is made of excellent non-woven material from biggest supplier
2. Lint-free, waterproof, good tensile strength, comfortable
3. Breathable, excellent to dissipate body heat, against splatter.
Product details: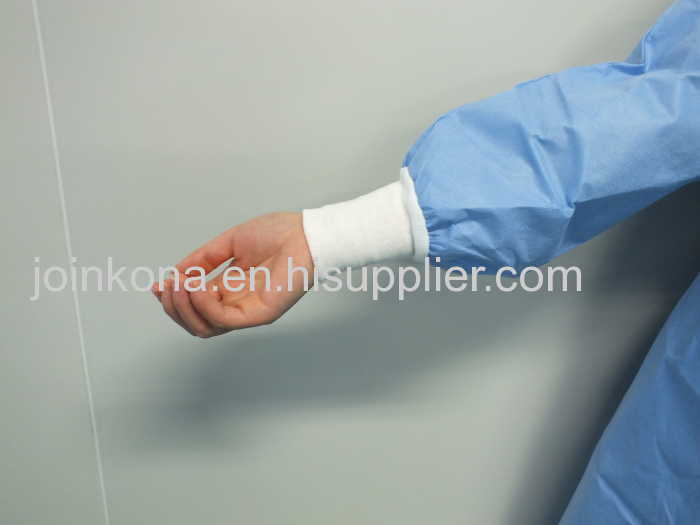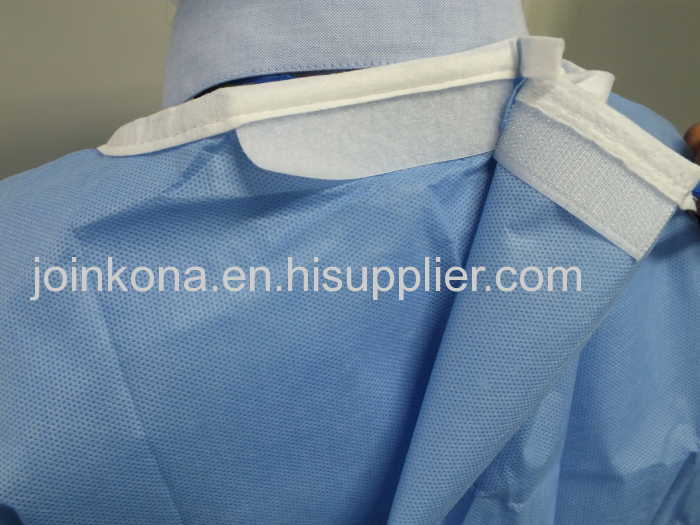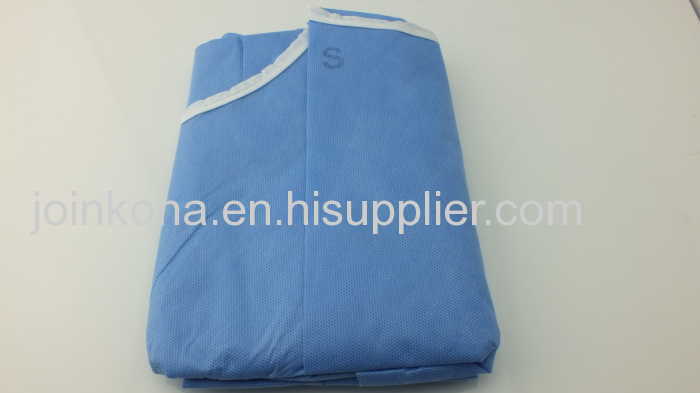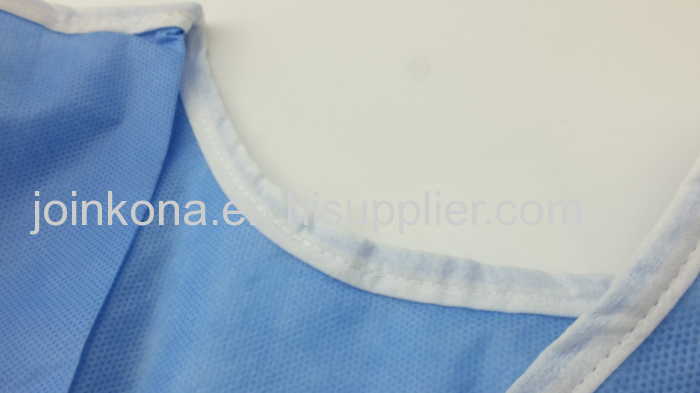 Packaging method: single package, bulk package or according to customer's requirement
Sterilization: EO Sterilization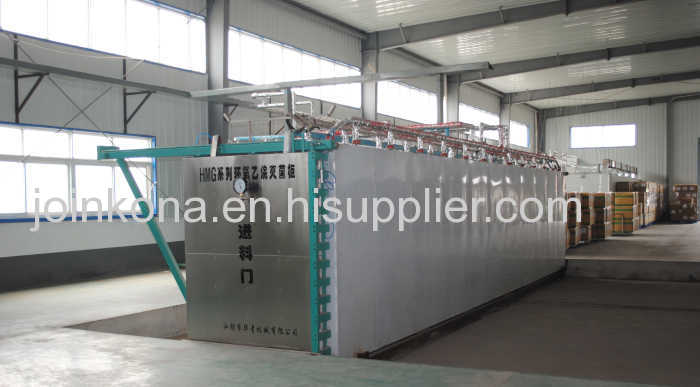 Manufacturing technology:ultrasonic sewing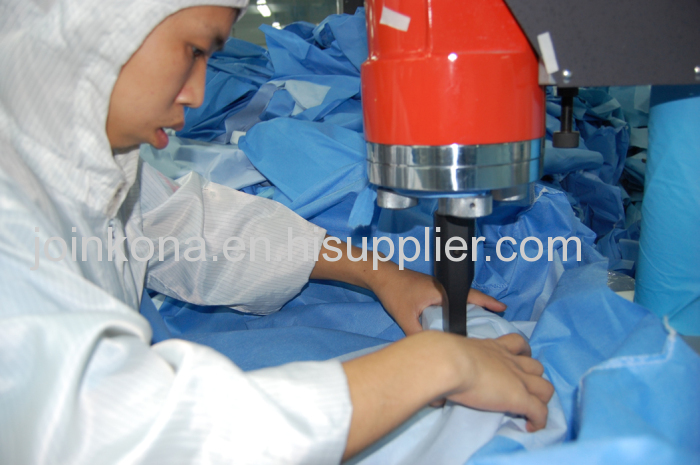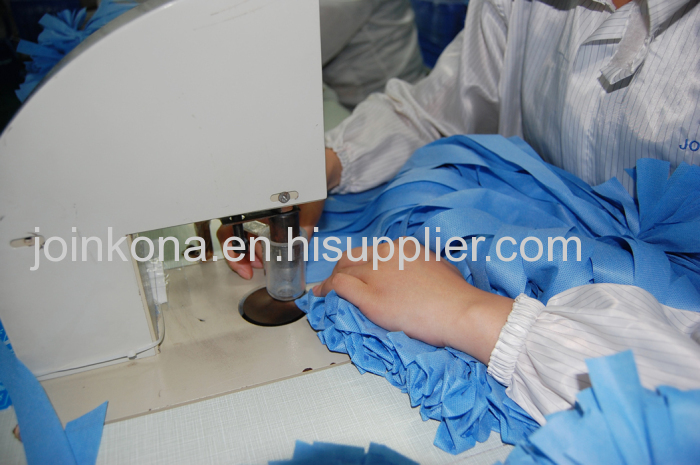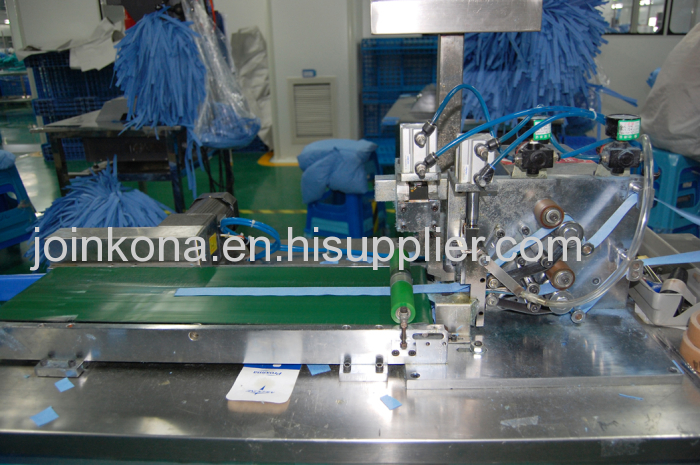 Workshop:level 100000 clean room
when workers go into workshop,workers must do according to the requirements of changeing cloths, washing hands and so on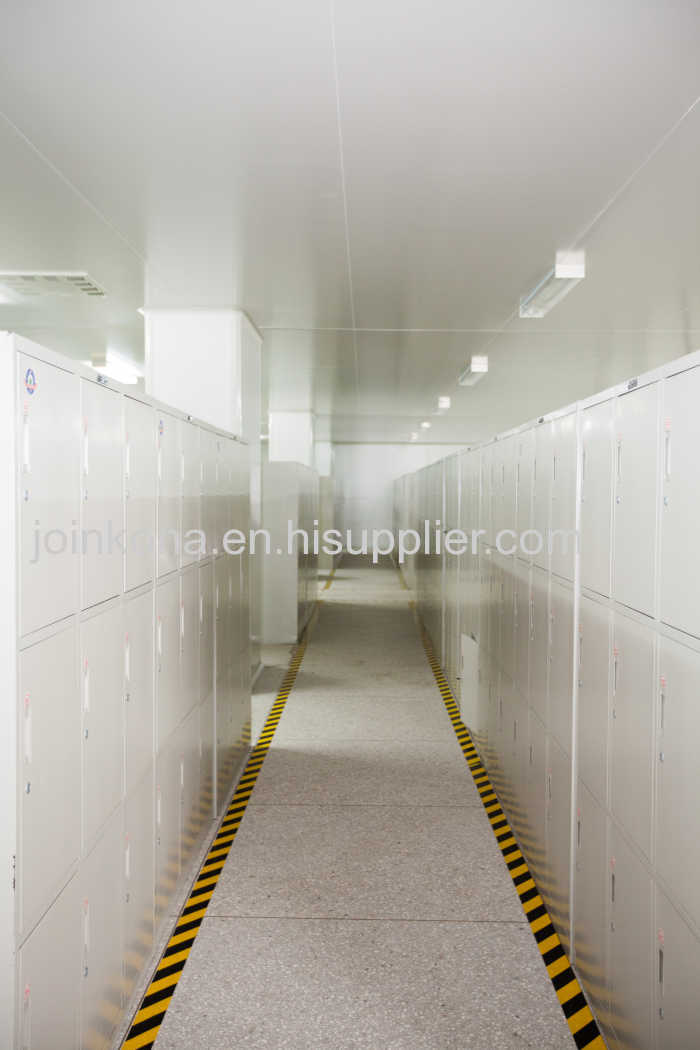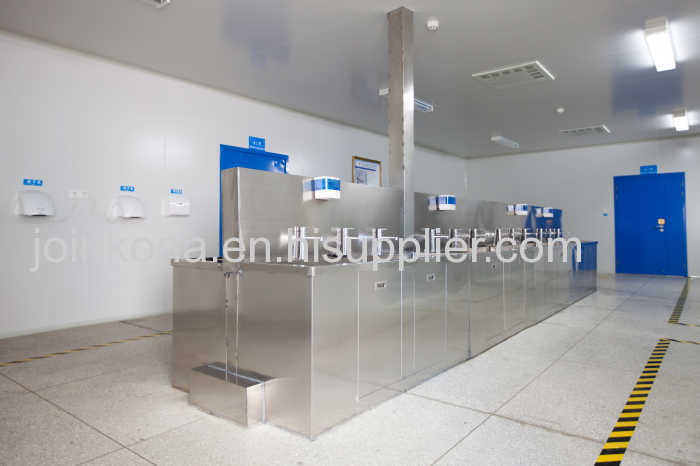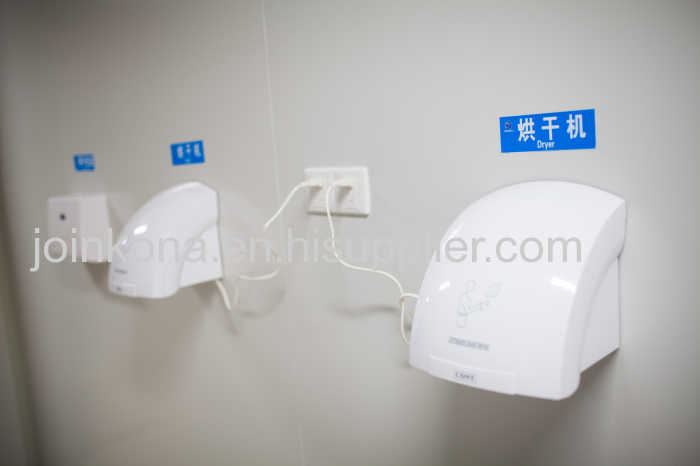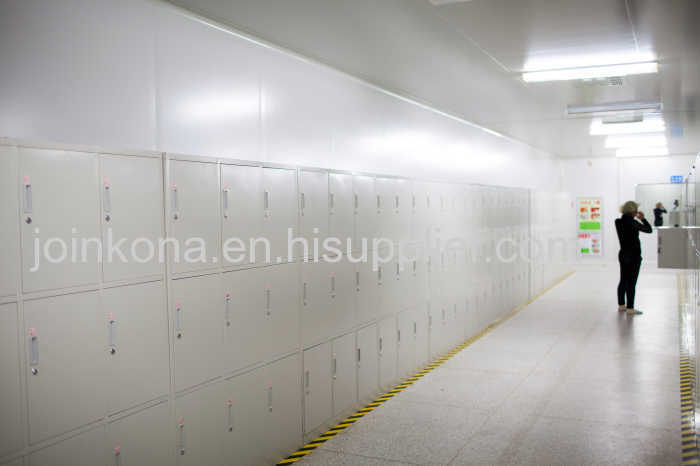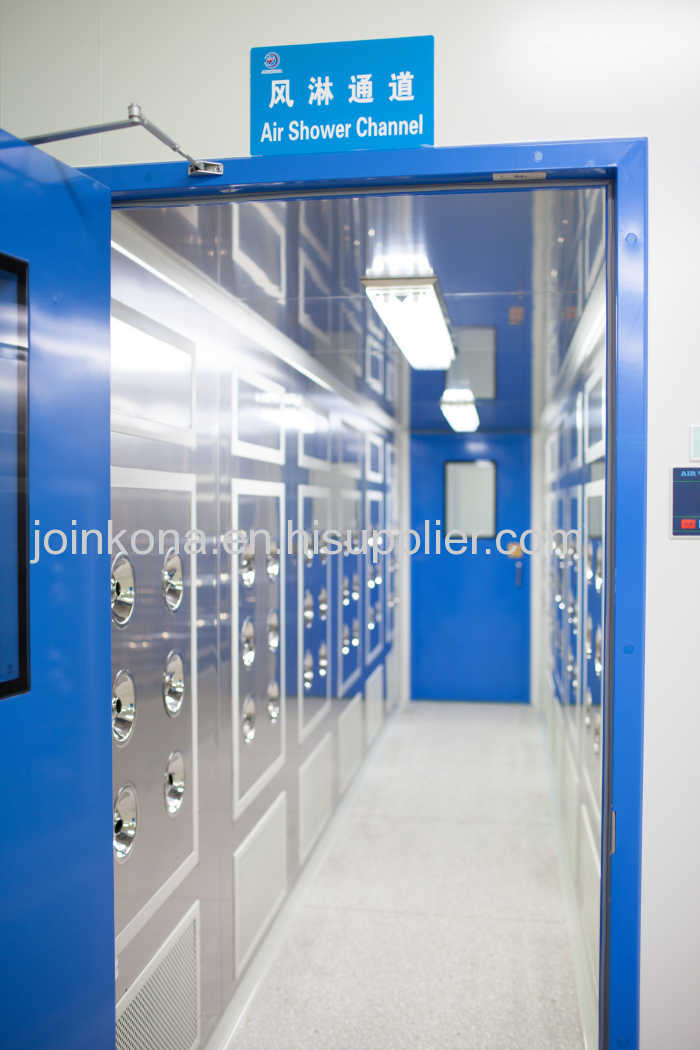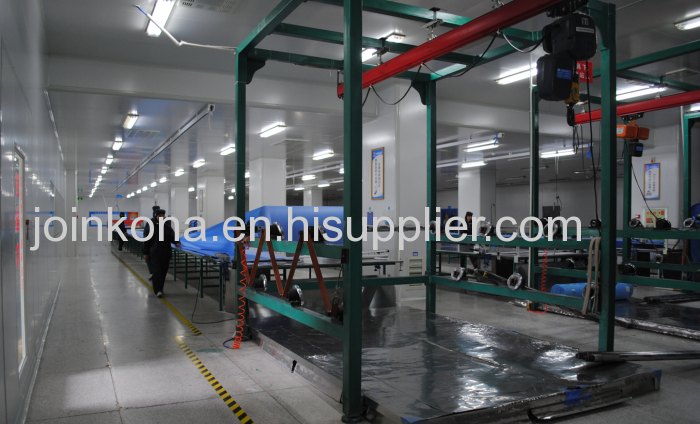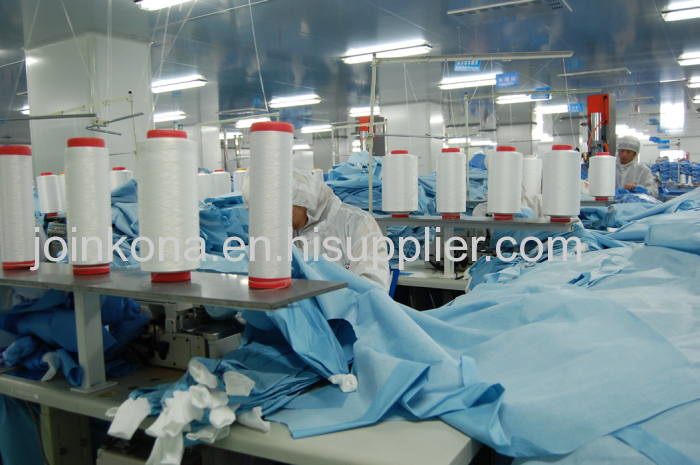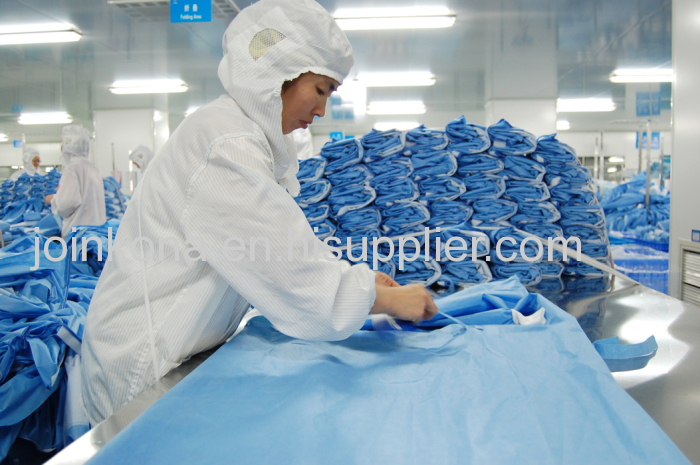 OEM:Customized requirements(like the material, size,printing(logo/brand),Packaging)
Test: The material must pass the related test according to the international standard,test items include: hydrostatic test,Abrasion test,Bursting Strength Test,Tensile Test and so on.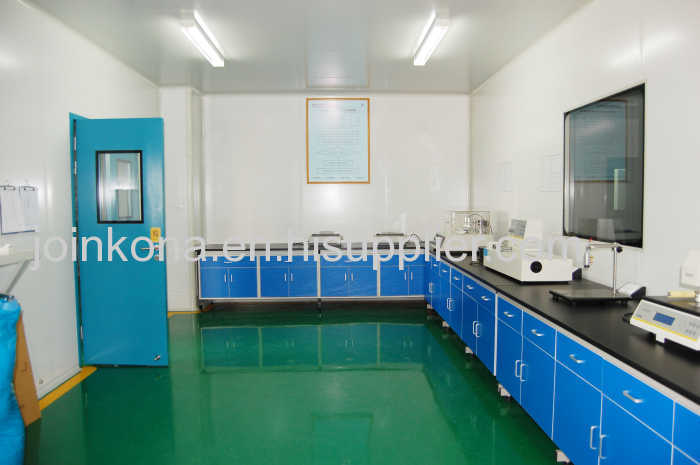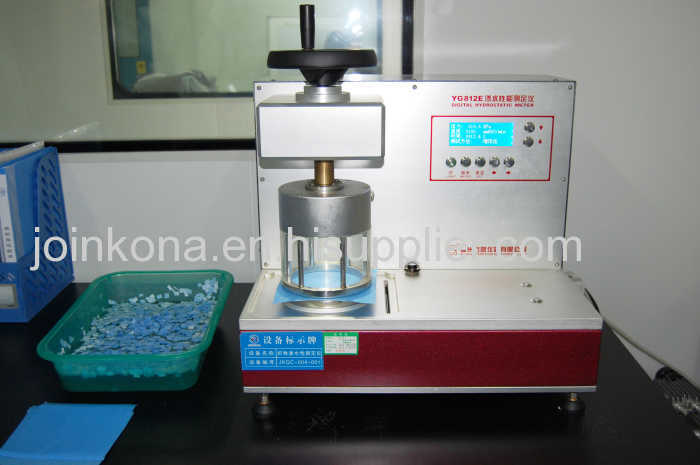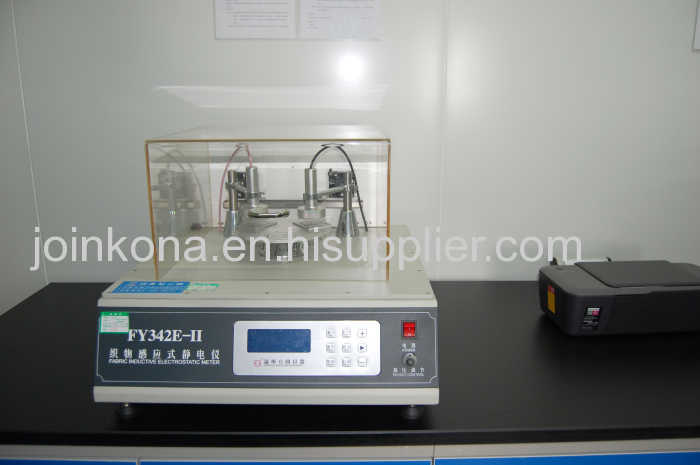 Quality department will test the EO sterilization result.
Application:Hospital

Storage: Store in dry, clean place and with temperature below 25°C and humidity below 60% is recommended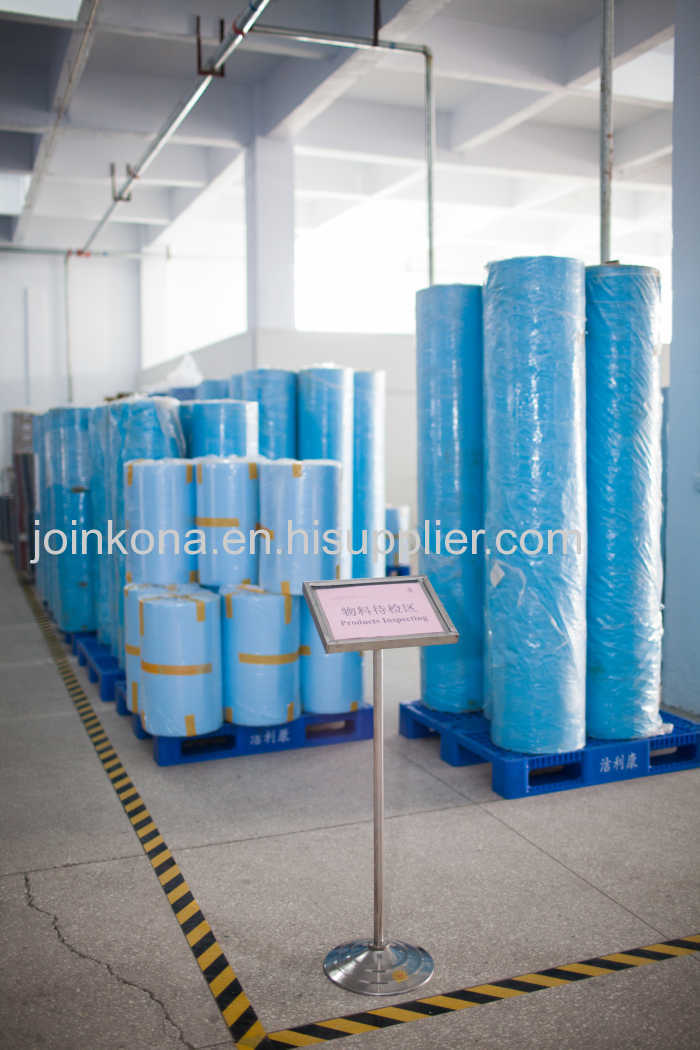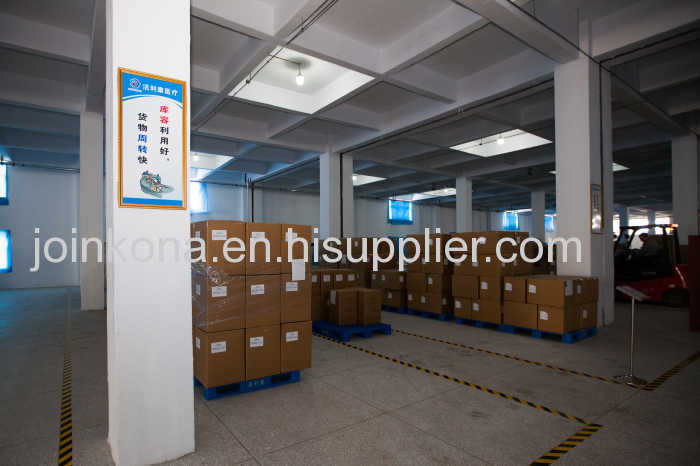 factory show
oinkona Medical is a professional medical products manufacturer, specialized in designing,
producing and supplying non-woven surgical drapes, surgical gowns, surgical packs and
isolation protective equipments.
Located in South industrial park, Lushan County, Pingdingshan City, Henan Province,
Joinkona is a leading power in disposable non-woven medical industry, 120,000m2 plant area,
105,000m2 building area, 63,000m2 modern standard ISO Class 8 clean workshop, 2 latest
auto warehouses total storage capacity over 43,000m3 and one ETO sterile center over
2,500m2 with sterilizing capacity more than 7,500m3 per month. There are 1,500 skilled staff,
75 QC officers and 20 specialist in our R&D department with modern physical laboratory,
chemical laboratory and biology laboratory.
Our company has been divided into medical products BU & protective products BU.
Medical products BU supplies more than 30 series and 520 different products, which includes
general surgery pack, gynaecology pack, knee arthroscopy pack, neuroregulation pack,
extremity pack, urological pack, cadiocascular pack, side drape, liquid collection pouch,
standard surgical gown, reinforced surgical gown and so on. Protective products BU supplies
more than 10 series and 50 different products. Medical protective coverall includes isolation
gown, patient dress and so on.
The monthly capacity is 1,800 ton non-woven, 200,000 sets surgical packs, 3,800,000pcs of
drapes, 2,800,000pcs of gowns etc. Our products have been sold to EU, Americas, Asia,
Australia, Africa and other countries, and earned great reputations. We really hope could
build business relationship with customers all over the world, welcome all the friends to contact,
visit and make friends with us.
FAQ (Frequently Asked Questions)
1. Can you offer OEM or ODM service?
Yes. We can offer OEM or ODM service according to your design.
2. Are you factory or trading company?
We are a factory, and we have a big production line of wet wipes in Henan.
3. What's your normal MOQ?
Generally the MOQ is different according to your packaging requirements.
4. Can you send me samples?
Yes. We can send you free samples within a certain quantity. Only freight is needed.
5. What's your payment terms and delivery time?
L/C, TT, West Union and Paypal are acceptable.
The delivery time is normally within 25 days, which mainly depends on the order quantity.
6. What's your shipping port?
Qingdao Port.
7. What certificates & quality standard do you have ?
We have ISO9001: 2008, CE, FDA, ...
If possible, welcome to visit our factory and talk more details with us, or you can send the inquiry with your requirements, questions in the bottom webpage, we will reply you within one day.
It has received US FDA certification.
we are seeking global co-operation agents for our products.