Custom paper VOID warranty seal sticker printing label.Security warranty VOID label.Tamper proof evident seal labels
Minrui is the biggest factory of producing tamper evident void sticker material ,it occupy 75% of the China market.The quality of our products is belivable and environment friendly.It has passed SGS.ROHS.The quality of our company is the best in China.We have many kinds of destructible vinyl labels .We also can produce different fragile grade,size, and patterns labels to meet your needs.We have majored in it for 13 years.You can trust our quality and faith.As we are a factory ,we can achieve fast produce,fast delivery fast reply.If you feel free ,please contact us via:Email:darrie@szminrui.com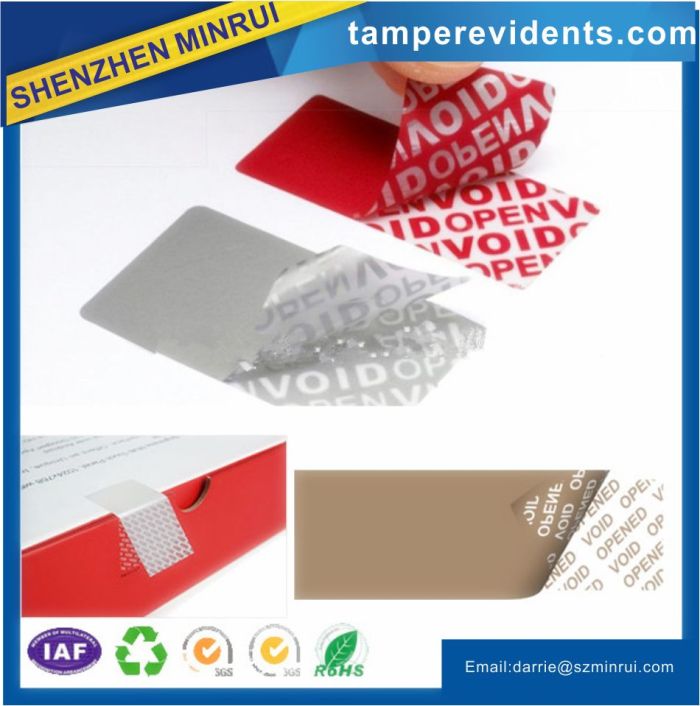 Product Description
Warranty Void Tape has used particular technology and materials.If one remove or peel the sticker,the hidden VOID will be appeared in the surface of the package or the products.It is obvious evidence of tampering.This WARRANTY VOID TAPE can be used as Warranty Stickers,Tamper Proof Seal Labels and etc.
Detail Information
Item:

Warranty Void Tape

Facestock thickness:

0.1mm

Adhesive:

water-proof SENSITIVE strong adhesive

Coating Thickness:

0.025±0.002mm

Dry Coating Weight:

50±2g/square meter

Peel Adhesivon:

12# ball

Release liner thickness:

Glassine liner (80g)

white coated liner (180g)

Tensile Strength:

9.0kg/15mm

Elongation:

2‰----4‰

Color:

white or you could custom other colors

Smoothness and printability :

good

Release Force:

≥8N

Holding Power:

24 hours

Temp Range:

-5---40°C

Solvent Resisrance:

Good

Breaking Strength:

5.0kg/cm²

Die Cutting:

Good

payment

T/T,Western union,paypal



Feature of the Warranty Void Tape:

1.After stick on the sticker,once remove the hidden content under the layer will leave on the applied surface.
2.Just one time use.
3.Color,hidden content,size all can be free customized.
4.It can be used in all kinds of clean surface.
5.The layer also can be printed kinds of patterns.
This labelstock has instant tamper-indicating properties that reveal a 'VOID' message upon removal of the label from the substrate. Typical applications include automotive and electronic component labelling, security seals, warranty and asset tracking identification. It is approved by leading automotive companies for interior and exterior use and widely employed by electronic, appliance and telecommunication manufacturers.
Coated with high performance acrylic adhesive, the labelstocks offer initial high tack and good adhesion to textured and high and low surface energy substrates, even at low temperatures.
The compact size of the 'VOID' text makes it suitable for all shapes and sizes of labels and it accepts conventional ink and thermal transfer printing with resin and wax/resin ribbons. Available in matt silver, bright silver, clear, white and black, we can also provide custom 'VOID' text, logos and colours.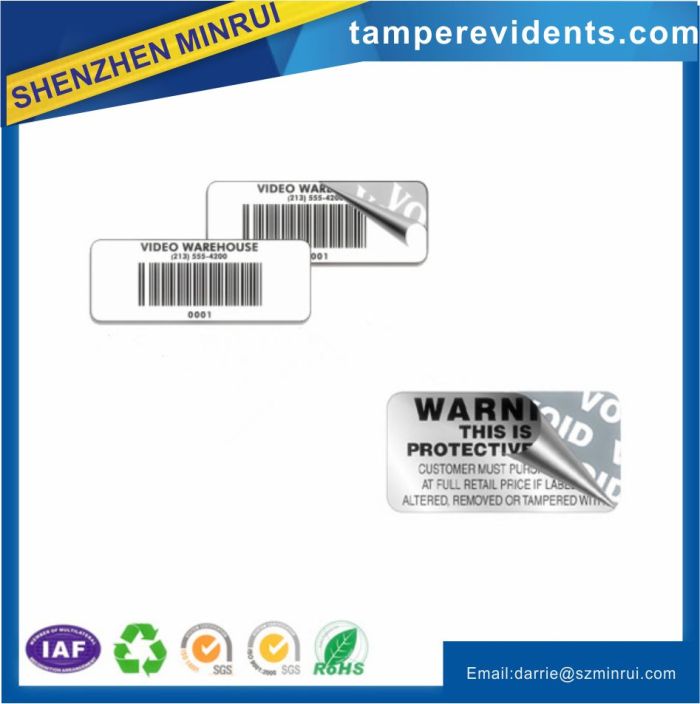 The WARRANTY VOID TAPE also can be used on the plain surface,after you stick it for enough time usually 24-48 hours,
then peel off,you can see the clear void left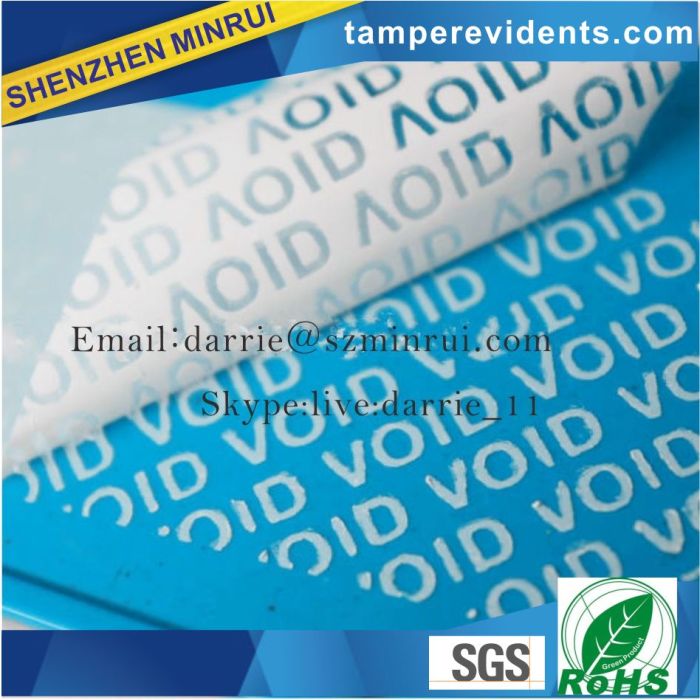 We provide full color printing services for high quality, industrial grade, self adhesive warranty labels. These warranty labelsare very useful for system builders and resellers safety for new or used car warranty,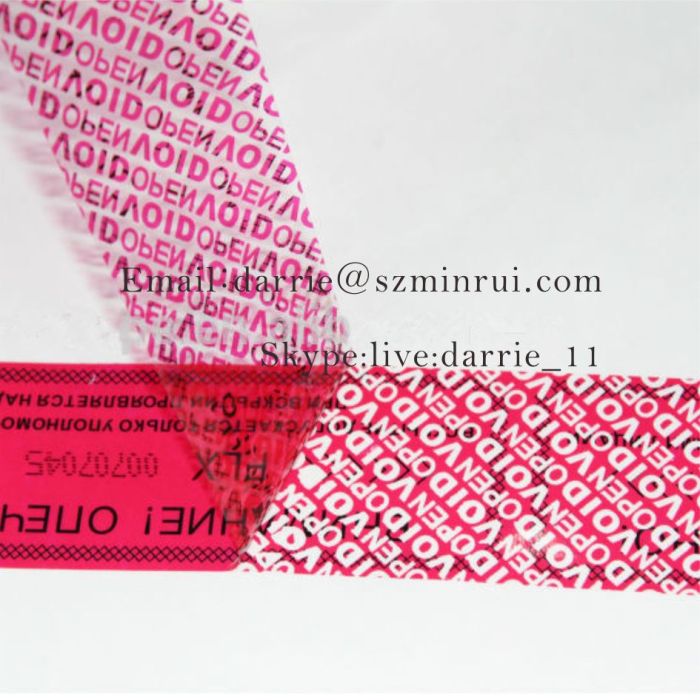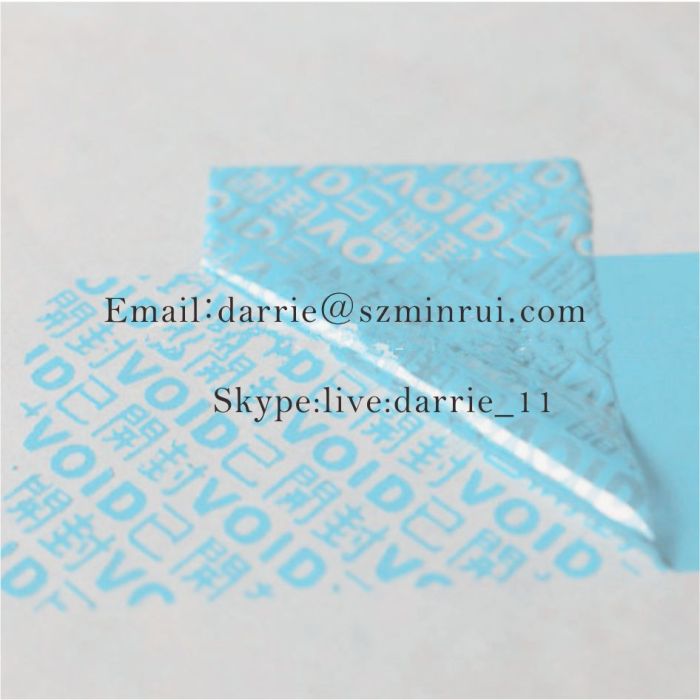 extended warranties, vehicle warranty, automobile warranty, extended auto warranty, home warranty, appliance warranty, auto repair warranty, dealer warranty, direct warranty services, factory warranty, certified appliance warranty, warranty void security stickers or for warranty void if removed stickers and labels and limited warranty label.
we could provide short runs with quick turnaround for double layer labels, Void Labels, destructive labels, security labels, warning labels or warranty labels or block out labels, silver void labels or white void labels.
For any custom size, shape or quantity of destructible labels you may contact us with your request.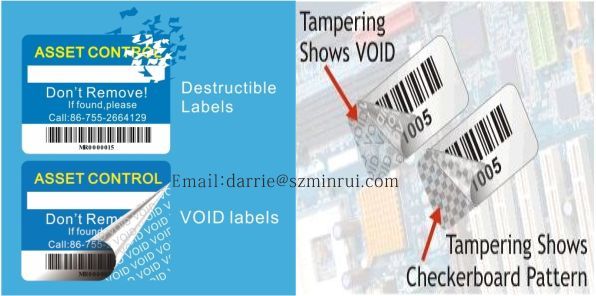 Special VOID sticker warranty void labels
Hologram tamper proof security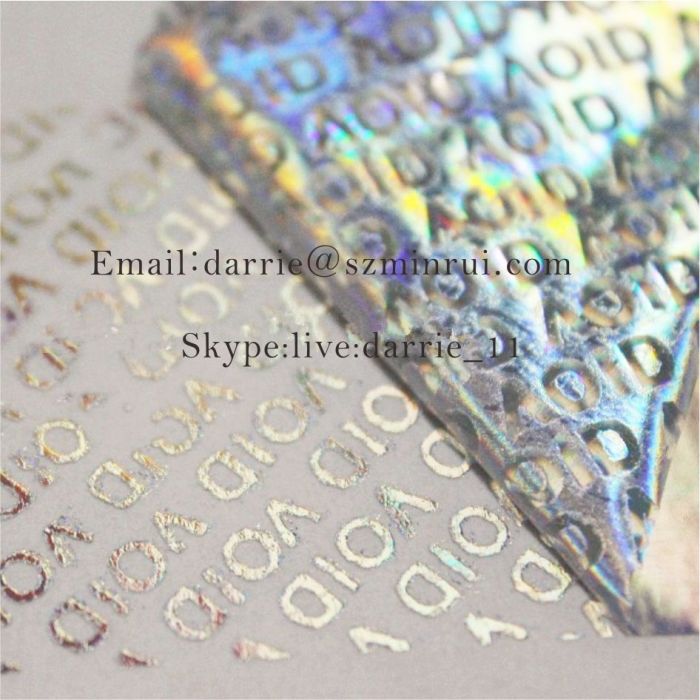 We provide free design for you to custom your logo,pattern and so on.Just want to meet your satisfaction.
The Warranty Void Tape can be printed to all kinds of the voidl lables as you want.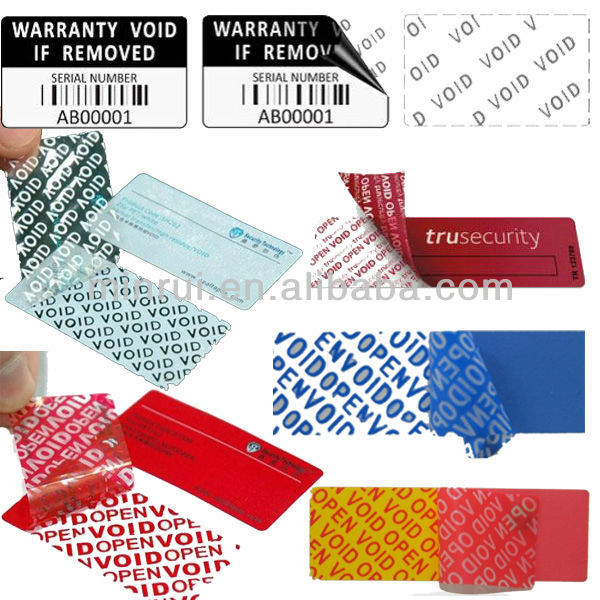 The advantages of Tamper Proof Warranty Void Sticker:
1. anti-counterfeiting: it can help to distinguishthetruefromthefalse. It is a characteristic to
enhance the products image, provide quality assurance and strengthen the user's confidence to
the product.
2. Anti-theft: apply to logistics domain, letters field, express field, seal field and so on.
3. Warranty: work as a proof in order to prevent the non-professionals opening the package
privately, etc. Opening the package without permission privately leads to no warranties, which
may avoid the disputes between the consumer and the manufacturer.
These Tamper Proof Warranty Void Sticker are widely used as logistics package
seal stickers, anti-theft labels, security seal stickers for IT, electronics, medicine,
chemical, shopping mall and the ect. We offer the customized surface printing for
these stickers with logos, texts, patterns, barcode, QR code, unique numbers and the ect.
Welcome your ideals and custom
Skpe:Live:darrie_11 Email:darrie(at)szminrui.com
Effection:
When peel off the void material,the hidden void will appear in the surface.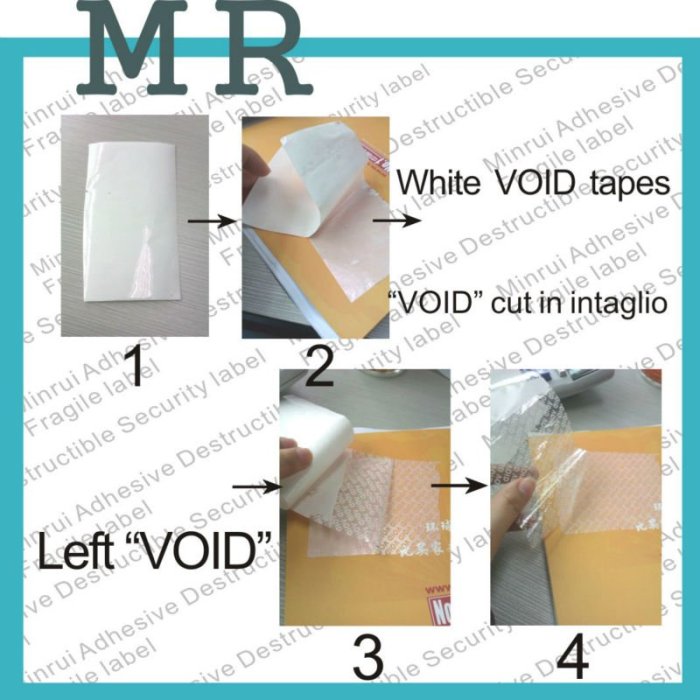 4.Our Services:
1.We provide free custom service for you to design your own paper.
2.We provide nice price and superior quality vinyl.
3.We provide the choice of the fragile grade for you.
4.We provide free samples for you.
5.We provide the in time reply,usually within 24 hours.
We provide free custom service,the fragile grade can be chosed.The following are four kinds of the grade for your reference:
Frangile grade

Suitable conditions

A

for small sizes labels and for the straight corners labels.These models

cannot be die cutting,because the facestock is too frangible

B

can be die cutting by hands (not by machine)

C

can be die cutting by MACHINE

D

for cold temperature


Our advantages

♥ we use the import environmentally friendly water based glue.It has permanent viscosity and it's healthy for people.
♥ we have 13 years' experience of producing ultra destrctible vinyl material .The technology and quality is superior.As we are factory of 20000 square meters,we have enough place and equipmentto reach you requirment.
♥ we have passed SGS,MSDD,Reach 138 test.Our quality is belivable.
♥ we have large quantitiy stock ,the resouce of products is stable .The delivery time is fast.We also can meet you any reasonable requirment(such as design your logo ,size and etc).
About Payment:
We accept the ways of T/T,paypal,western union.
About shipping and packing:
Four kinds of packing
roll: per roll per carton/pack ; 6 pack per pallet
sheet: 100 sheets per pack ; 50 pack per pallet
The Process of Ordering:
If you have any concerns or questions,just contact us via: skype:live:darrie11 Email:darrie@szminrui.com ;We can give you the free custom service to design yur own special paper.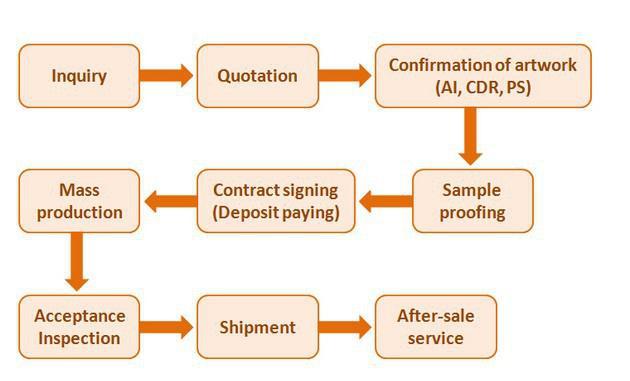 Company information:
As a professional manufacture of ULtra destructible vinyl material,Shenzhen Minrui adhesive products Co.Ltdcovers an area of 20000 square meters industrial park .With two production bases in shenzhen and shantou
respectively,we own shenzhen Dechangyuan investment consult Co.,ltd.and minrui paper products Co.,ltd.
minruihas it's own products with the proprietary intellectual property rights-ultr destructible papers
formula and relevant manufacturing process.With more than ten types of products,our company is able to
produce various destructible lables with differents fragility,viscosity,brightness,smoothness,color
thickness and the etc.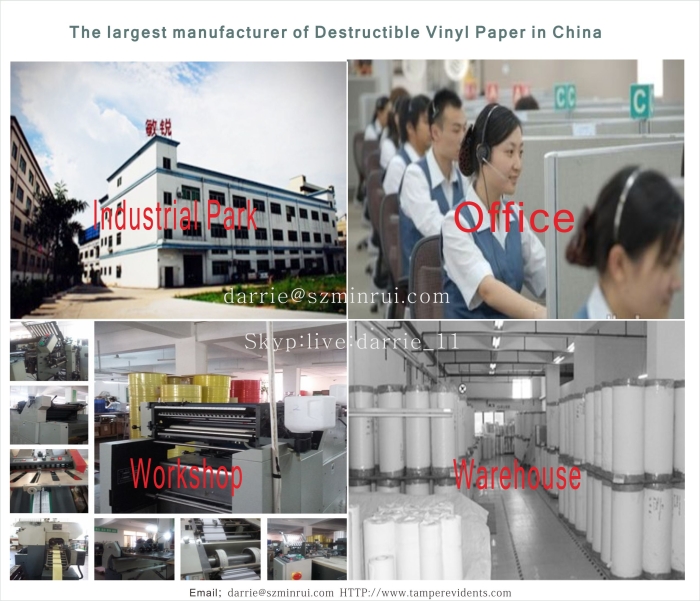 FAQ
1.What's the MOQ?
It according your design.Different and pattern may have the different result.But usually it's 1000 pieces.
2.What's your standard size?
We can produce different size to meet your needs.Any size is ok,just tell us you want.
3.How can I get your quotation?
You just need to tell us the specification of the product,size,and quantity you need.If you really not sure which kind you need,you also can get the help from us to choose the most suitable labels.
4.How about the delivery time?
We normally will delivery 3-7 workdays after the payment confirmed.
More detailed information you can contact via:skype:Live:darrie11 Email:darrie@szminrui.com