Full CNC Hydraulic Press Brake MB8 Series
1. Accurl Machine are professional manufacturer of Metal Forming Machine.
By 2015, we have already been in this field for 17 years.
Our new factory covers a total area of 46,600 square meters.
We professional R&D team, and we have World-class design and manufacturing capabilities.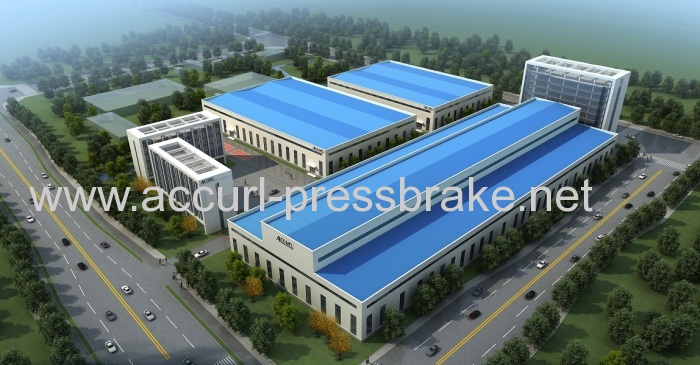 2. CNC Controller
They can be with Delem DA52s, DA65w, DA66T, DA69w, ESA KV S525, KV S540, Cybelec DNC 600 and DNC 880s.
Bending accurancy can be ±0.01mm.
All models are with CE and meet NR-12 standard.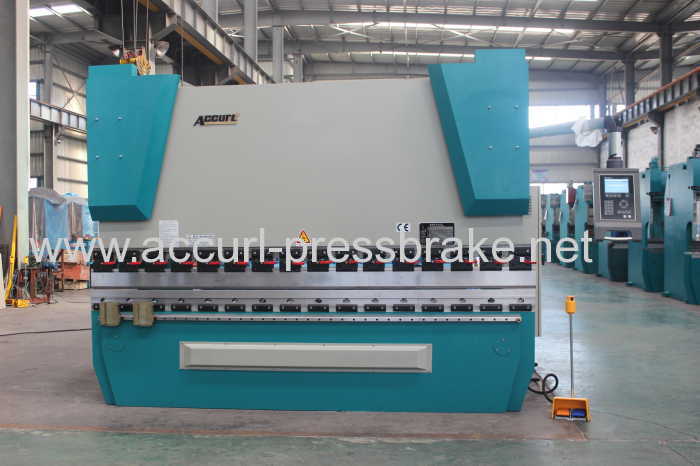 3. Main Parts are imported from abroad directly.
We paid much attention to particular treatment.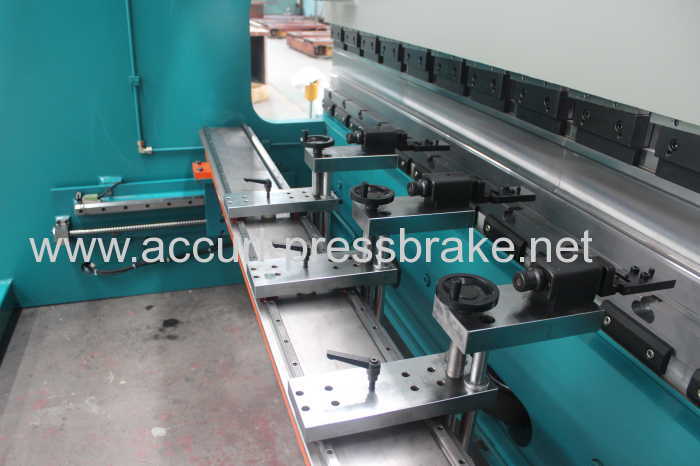 4. We exported more than 150 countries, and owned rich exporting experience.
Many clients visit our factory and exhibition booth.
Feedback from clients are very good, so we have many regular clients.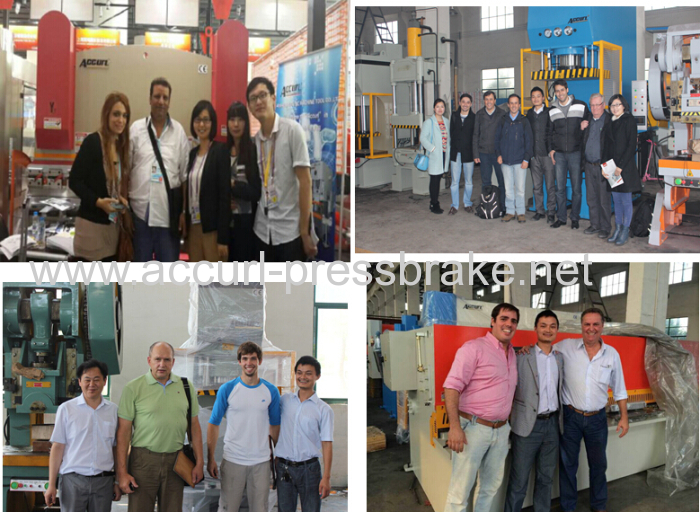 5. Our team of after sales service have rich experience to offer installation and training at the buyer's side.
They win friendship with clients throgh their professional technology.
Our warranty time: 5 years.
6. All machines are with CE certification after SGS inspection.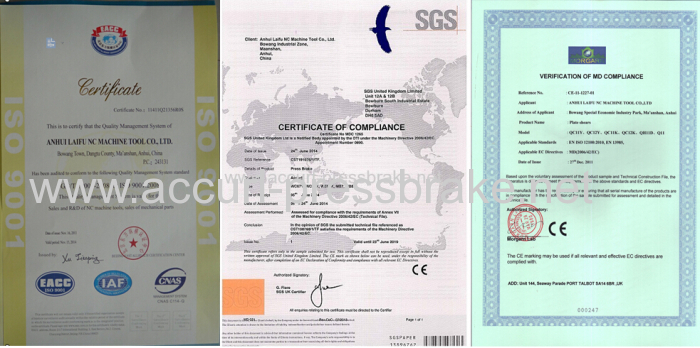 7. Basic models are as following.
If there is detailed need, please confirm with us.
Models

Normal Pressure(KN)

Length of Table (mm)

Distance Between Housing (mm)

Throat Depth (mm)

Stroke (mm)

Open Hight (mm)

Main Motor (Kw)

Weight (t)

Dimensions
(mm)

MB8-63/2500

630

2500

2000

320

150

380

5.5

5

2875×1650×2350

MB8-63/3200

630

3200

2700

320

150

380

5.5

5.5

3800×1650×2450

MB8-100/3200

1000

3200

2700

400

180

440

7.5

7.5

3810×1750×2530

MB8 125/3200

1250

3200

2700

400

180

440

7.5

8.2

3820×1800×2530

MB8-125/4000

1250

4000

3200

400

180

440

7.5

9

4600×1800×2580

MB8 160/3200

1600

3200

2700

400

180

450

11

10.8

3830×1870×2560

MB8 160/4000

1600

4000

3200

400

180

450

11

11.5

4610×1920×2700

MB8-200/3200

2000

3200

2700

400

180

450

11

12.5

3900×1920×2560

MB8-200/4000

2000

4000

3200

400

180

450

11

13.8

4620×1950×2700

MB8-200/6000

2000

6000

4800

400

180

480

11

18.5

6080×1950×2900

MB8-250/3200

2500

3200

2700

400

200

480

15

15

3900×2150×2950

MB8-250/4000

2500

4000

3200

400

200

480

15

16.5

4080×2150×3000

MB8-250/5000

2500

5000

4000

400

250

560

15

17.5

5080×2200×3250

MB8-250/6000

2500

6000

4800

400

250

560

15

20

6080×2200×3400

MB8-300/4000

3000

4000

3200

400

250

560

22

19

4080×2200×3200

MB8-300/5000

3000

5000

4000

400

250

560

22

21

5100×2200×3300

MB8-300/6000

3000

6000

4800

400

250

560

22

24

6200×2200×3500

MB8-400/4000

4000

4000

3200

400

320

630

30

25

4100×2400×3500

MB8-400/5000

4000

5000

4000

500

320

630

30

28

5200×2600×3700

MB8-400/6000

4000

6000

4800

500

320

630

30

38

6200×2650×4800

MB8-500/4000

5000

4000

3200

600

320

630

37

40

4200×2800×4600

MB8-500/5000

5000

5000

4000

600

320

630

37

45

5200×2800×4900

MB8-500/6000

5000

6000

4800

600

320

630

37

50

6200×2800×5200

MB8-600/6000

6000

6000

4800

600

320

630

45

63

6200×3000×5600

MB8-800/5000

8000

5000

4000

700

350

800

55

75

5200×3500×5600

MB8-800/6000

8000

6000

4800

700

350

800

55

85

6200×3500×5800

MB8-1000/6000

10000

6000

4800

700

400

800

55

105

6200×4100×6900