Product Name: 5 Trays electric food dehydrator machine for household use, 125W, White
Product Specification-----------------------------------------------------
Article Number:RL-550

Product Material:PS Housing, Aluminum Heating Tube
Product Color: White Base, Transparent Tray
Number Of Trays:5 Trays
Power:125W
Voltage:110~120V, 60Hz, 220~240V, 50Hz
Product Size:(Diameter x height) 32x32cm
Product Weight:2kg
Certification: CE/EMC/LVD ,ROHS, CETL, ETL, LFGB
Product Description-------------------------------------------------------
Flexible trays for easy removal and cleanup,the operation is simple


Internal operating temperature of up to 70 ℃ quiet operation

Instructional booklet with recipes included; made in China

Saves you money

Make apple chips, dried bananas, turkey jerky, beef jerky and more from the comfort of your home.


Quiet,convection heating drying

Built with high-grade materials

Easy to use - Just slice and place the food in the trays

Trays and lid are dishwater safe

One year limited warranty

Just for household use, not industrial and commercial food dehydrator machine
Product Detail Picture------------------------------------------------------------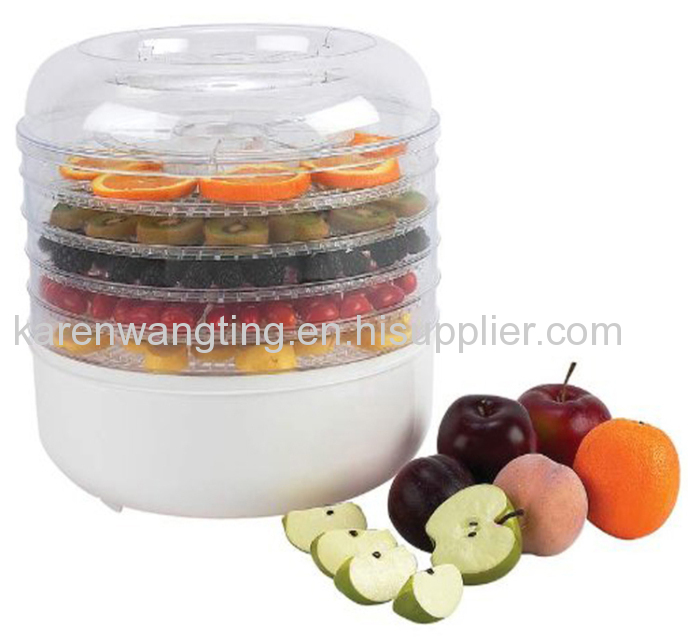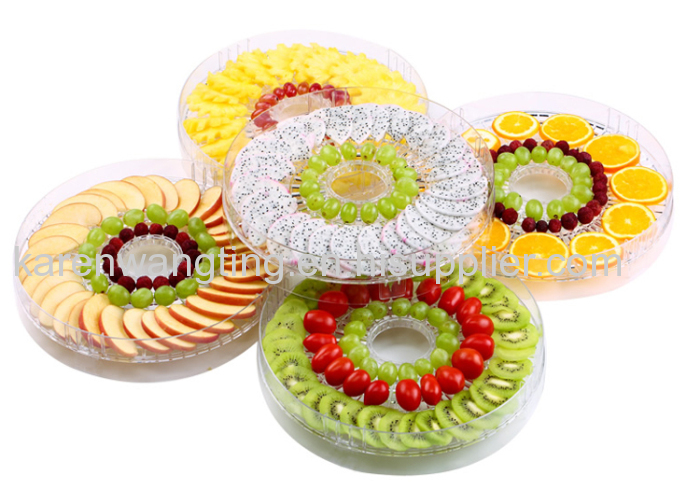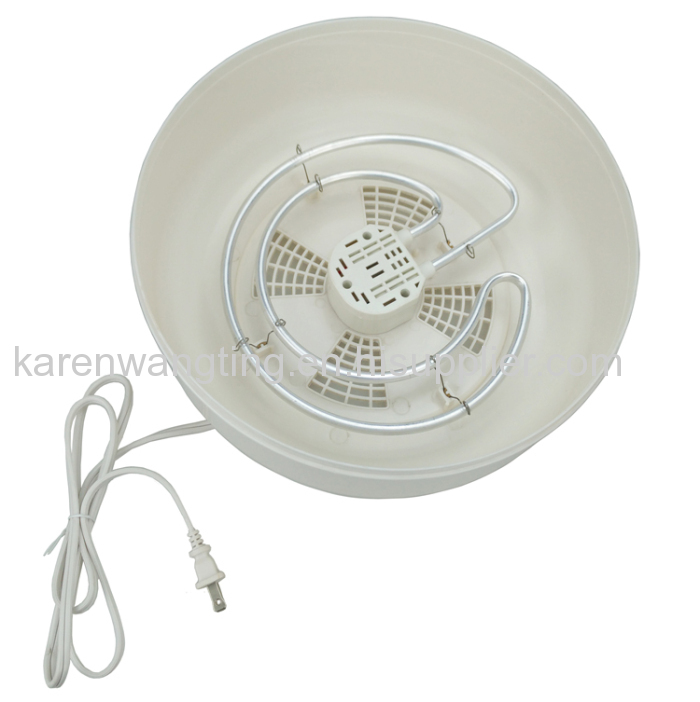 Packing And Shipping-----------------------------------------------------
| | |
| --- | --- |
| Qty/carton: | 4pcs/ctn |
| Color Box Size: | 33.5x28x33.5cm |
| Carton Size: | 68.5x29x69cm |
| G.W./Carton: | 11.1kg |
| N.W./Carton: | 10kg |
| Quantity/20'FCL | 900pcs |
| Quantity/40'FCL | 1848pcs |
| Quantity/40'HQ | 2040pcs |
How to order ---------------------------------------------------------------------
1) When the details (Quantity / Color / Product Standard/ Package/Payment Term / Price/
Inspection Standard/ ETD) confirmed, We will issue the PI and Sales contract for your
reference and pls check and sign back.
2) Against the payment, we will start the material preparation and production.
3) When the products will be ready for inspection or shipment, we will inform you in advance
for shipment booking.
Shipping Term------------------------------------------------------------------
1) By sea for OEM/ODM order
2) By express for samples order
Delivery Time-------------------------------------------------------------------
1) 7-10 working days for samples order
2) 30-45 working days against the payment and order details confirmed
Warranty-------------------------------------------------------------------------
1) One Year Limited Warranty.
2) Original purchase against defects in material and workmanship.
FAQ---------------------------------------------------------------------------------
Q1: What is dehydrating?
Dehydrating is a method of food preservation in which moisture is removed from the food. Dehydrating inhibits growth of microorganisms and decay. Dehydrating can dramatically increase storage life for food.
Q2: Does Dehydrating food destroy its nutrients?
Dehydrating causes minimal loss of nutrients, but if done properly that loss is quite small. You will retain about 90% of the vitamins and minerals. When using higher heats, foods will dehydrate faster, but this will result in more nutrient loss.
Q3: How do you know when foods are dry?
Always let foods cool for a few minutes. Check to see if the food is still moist or sticky. If it is leathery and pliable, it is usually done. However, foods that are overdried may become brittle and turn brown.
Q4: How do you store dried foods?
Always store dried foods in airtight containers. Store containers in a cool, dry place. Exposure to humidity, light and air during storage adversely affects storage life of dried foods.
Q5: How long can I store dried food?
We recommend a maximum storage time of one year for the best appearance and nutritional value. Vacuum packing greatly extends shelf life. Refrigeration or freezing will double or triple shelf life.
Q6: How long does it take to dehydrate foods?
It depends on the type of food you are dehydrating, quantities, and capabilities of dehydrator. Refer to your fruit drying guidelines.
Q7: If I powdered my dried vegetables, what could I use them for?
Powdered onion and garlic, of course, are great seasonings for meats and sauces. Powdered tomatoes can be reconstituted into tomato sauce, paste, catsup, juice or soup. A blender or food processor will give you the finest texture. Store in air-tight container.
Q8: Is it necessary to pretreat foods before dehydrating them?
Pretreating can enhance color and flavor of certain foods, but is not necessary. Pretreatment options are dipping, blanching, and marinating.
Q9: What kinds of foods can you dehydrate?
You can dry fruits, vegetables, meats, herbs, flowers, pet treats, etc. Dry left over bread for bread crumbs. You can dry almost anything that contains water.
More details about our factory and products ,pls click
NINGBO REAL POWER ELECTRIC APPLIANCE CO,.LTD,
We are specialize in manufacturing various food dehydrators,like digital control, square, pet treats, multi-functional, yogurt makers, juicer etc.

Our products are exported to War-mart, Cabela's, Target. EU supermarket.

We have ability to develop new items and design new items for our customer, our Korea designer would help our customer to finish the shape together.

Most of the products get GS, CE, EMC, LVD ROSH CB approval, some have CETL approval. We got ISO9001 international quality management system attestation in 2006.