The solar pumping system donsist of solar pumping inverter,pump and PV array. Consider that storing water is moer efficient than storing electricity; the system si designed to directly drive the pump without battery which can reduce the construction and operating cost and routine maintenance effectively.The PV array cosists of multiple solar panels connected in series and parallel,which can supply the whole system as power source by converting the absorbed solar radiation energy to the electrical energy.
Electrical characteristics:
| | |
| --- | --- |
| Model | BL-SPS-11 |
| Total solar panels power | 16.5kw |
| Solar panels efficiency | 17% |
| Solar panels protection level | IP65 |
| Solar panels material | Polycrystalline silicon |
| Pump inverter rated output power | 15kw |
| Pump inverter MPPT working voltage range | 480-600V |
| Pump inverter efficiency | 96% |
| Pump inverter dimension | 425*325*285mm |
| Pump inverter weight | 8.4kg |
| Pump rated power | 11kw |
| Pump head(m) | 86-205 |
| Pump flow(m3/day) | 12-32 |
| System life | 10 years |
| warranty | 3 years |
Advantages:
1, High efficiency and reliability;
2, low maintenance, 10 years of life;
3, Environmental materials;
4, Operate automatically, no need caretaker;
5, Protected from dry operation high power solar water pump
6. Durable magnetic rotor and steelness shaft
7. Submersible installation
8. Low power consumption
9. has the over current, under-voltage,over-voltage protection
10. Custom-tailor is available
Features:
1. Solar power is the most clean and long lasting energy in the world, and it is everywhere,the solar water pump will work anytime and anywhere there is sunlight. our pumps will work every day without complain.
2. It is economic to use solar water pump, one time investment, no further electricity bills will bother you.
3. Solar water pumps can be put into deep wells where no electricity can reach.
4. Easy to install, connect the solar pump with inverter and solar panels, it will work automatically, no caretakers needed.
5. Long lifespan, 25 years life for solar panels, 10 years for solar water pump and solar inverter.

Prance-energy is the world's leading electricity solution provider of solar on-grid power generation system,
solar off-grid power generation system, solar pumping system and solar lighting system, and so on . we are
professional manufacturer for solar photovoltaic research, produce, sales, and application.Our products are
including solar cell module, solar on grid inverter, solar offgrid invert & control system, solar pumping inverter,
deep cycle maintenance free battery, pump etc. Besides these, we also have UPS, diesel generating sets and the
mechanical and electrical products related sources.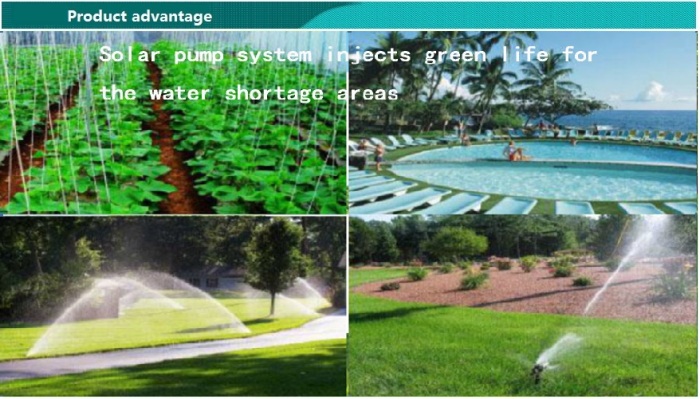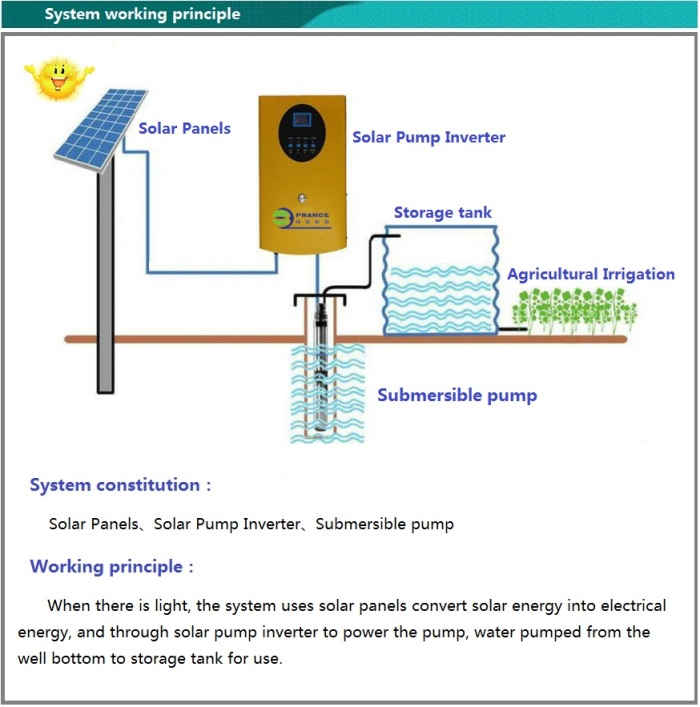 Applications:
1. Irrigation
Solar water pump system is an ideal tool for farmers. They can move or transfer water from nearby sources such as lake or rivers to irrigate the crops using solar water pump. Farmers and avid gardeners will be able to save on their irrigation budget for using solar water pump, instead of fuel-powered pumps.
2. Livestock
Ranch owners can also benefit a lot from using solar water pump. They can provide water for their animals in a cost-effective and easy way. The solar water pump can generate water from deep wells, streams, pond, and even pipeline.
3. Garden fountains
Aside from functional purposes, a solar water pump can also be used as a cost effective way to generate water for your garden fountains. Many household owners use their water pumps as fountains which give the house a different yet refreshing ambiance. You will be able to save a huge amount of energy especially if you want your water fountains work for several hours a day. In fact, you can turn it on continuously and not worry about paying huge power bills.
4. Home supply
Many environmentalists agree that using soalr water pump at home is one of the best wayg to go "green". For domestic water use, a booster pump should be used especially if the water source is shallow.
5. Large scale watering system for commercial establishments
Solar water pump is now also being used in huge cities. Various large establishments such as hotels, apartments, condominiums and even government buildings implement solar water pumps in order to save on their power expenses.
6. Water trentment systems
In areas where the quality of water is very poor, government and private companies use water purification process which requires water pumping. Solar water pumps can be used as a cost-effective substitute for fuel-powered pumping machines

Prance solar pump system is component of Photovoltaic modules, solar pump inverter and pump. High performance
Photovoltaic modules module become Photovoltaic array after Series parallel connection, Photovoltaic array absorb the
sunlight and produce the AC power to drive Submersible pump. It has the advantages of no noise, fully automatic,
high reliability etc. The system is widely used in household uses in remote areas, livestock drinking water, irrigation,
desert controlling, landscaping irrigation, landscape water and waterfalls.