super strong Sintered neodymium bar magnet for wind generator
Directions of Magnetization
a. Thickness Magnetized
b. Axially Magnetized
c. Diametrally Magnetized
d. Multi-poles magnetized
e. Radial Magnetized
f. Customized specific requirements magnetized
1. Materials
Sintered Neodymium-Iron-Boron
2. Grades
Range: N35-N52; N35M-N50M; N35H-N48H, N35SH-N45SH; N30UH-N40UH,N30EH-N38EH
-The grade like N48-N52 could meet your requirements on strong power
-Standard one like N35 or N40 is okay for your normal applications
3. Shapes
Others available: Block, Ring, Cylinder, Disc, Customized shape as your design.
4. Size
Length x Width x Thickness You could choose freely according to your plan.
5. Coatings
Others available: Nickel, Zinc, Gold, Silver, Epoxy, Parylene, etc.
6. Orientation
Through the direction of thickness or according to your needs.
7. Quality
Our expert quality control department ensures magnets are high quality.
8. Applications
Sensors, motors, rotors, wind turbine,wind generators, etc

super strong Sintered neodymium bar magnet for wind generator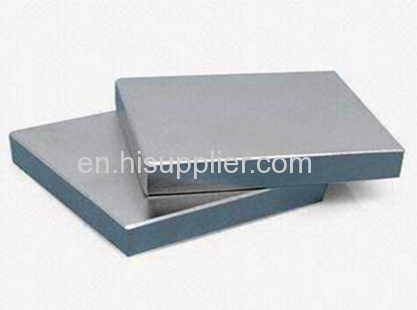 super strong Sintered neodymium bar magnet for wind generator
Magnet Information
Description
Sintered NdFeB Magnet
Material:
Neodymium-Iron-Boron
Shape:
Ring, Thin-wall ring, Disc, Cylinder, Segment,Contersunk, Tapezoid, Irregular Shape…With special shape requirement, we have own R & D dept. to support
Coating:
Ni-Cu-Ni, Nickel, Zn, Gold, Cr, Silver, Copper, Anti-Rust Oil, Spray Rolling, Black, Grey Epoxy, PTFE, Parylene, and so on.
Magnetic Performance Sheet
Grade
Remanence(Br)

Coercivity(BH)

max kJ/m3

Temperature
mT
KJ/M3
(Tw°C)
(kGs)
MGOe


N35-N52
1170-1480
263-422
80 °C
(10.3-14.8)
(33-53)
35M-50M
1080-1450
263-406
100 °C
(10.8-14.5)
(33-51)
35H-48H
1170-1430
(263-390)
120 °C
(11.7-14.3)
(33-49)
35SH-45SH
1130-1380
247-366
150 °C
(11.3-13.8)
(33-46)
30UH-40UH
1080-1280
263-326
180 °C
(10.8-12.8)
(33-41)
30EH-38EH
1080-1250
223-310
200 °C
(10.8-12.5)
(28-39)
Magnet Coating
Coating
Thickness (Microns)
Color
Resistance
Anti-Rust Oil
1
Trancparency
Temporary Protection
Spray Rolling
10-30
Common Black
24 hours of salt spray test
Zinc
5-10
Bright Blue
24 hours of salt spray test
Nickle
10-15
Bright Silver
48 hours of salt spray test
Ni+Cu
10-20
Gold
Temporary Protection
Ni+Cu+Epoxy
15-30
Grey, Black
Excellent Against Humidity
& Salt Spray
Epoxy
15-25
Grey, Black
72 hours of salt spray test
Parylene
10-30
Trancparency
200 hours of Salt Spray. Superior Against Solvents, Gases, Fungi and Bacteria
super strong Sintered neodymium bar magnet for wind generator
Some Coatings of Rare Earth Materials:

Surface

Coating

Thickness (Microns)

Color

Resistance

Passivation




1

Silver Grey

Temporary Protection

Nickel

Ni+Ni

10-20

Bright Silver

Excellent against Humidity

Ni+Cu+Ni

Zinc

Zn

8-20

Bright Blue

Good Against Salt Spray

C-Zn

Shinny Color

Excellent Against Salt Spray

Tin

Ni+Cu+Sn

15-20

Silver

Superior Against Humidity

Gold

Ni+Cu+Au

10-20

Gold

Superior Against Humidity

Copper

Ni+Cu

10-20

Gold

Temporary Protection

Epoxy

Epoxy

15-25

Black, Red, Grey

Excellent Against Humidity
& Salt Spray

Ni+Cu+Epoxy

Zn+Epoxy

Chemical

Ni

10-20

Silver Grey

Excellent Against Humidity

Parylene

Parylene

5-20

Grey

Excellent Against Humidity, Salt Spray. Superior Against Solvents, Gases, Fungi and Bacteria.
super strong Sintered neodymium bar magnet for wind generator
Delivery
All available shipping ways could be applied, by courier, by air or by sea.
Appointed shipping company or our own forwarders all could be used in shipment.
Full-way tracking the cargos for you before the goods arrive.
Buyer's Guide
In order to quote you the best price quickly, please provide the following information:
1.Product size,grade,coating,etc.
2.Order quantity;
3.Attached the drawings if customized
4.Any special packing or other requirements
Our advantage
1. Fast reply: all your enquiry will be replied within 24 hours;
2. Reasonable price: we are direct manufacturer and able to offer better price;
3. Good quality: we are experienced in quality control;
4. Fast delivery time:7-20 days
FAQ:
1. What are neodymium magnets? Are they the same as "rare earth"?
Neodymium magnets are a member of the rare earth magnet family. They are called "rare earth" because neodymium is a member of the "rare earth" elements on the periodic table. Neodymium magnets are the strongest of the rare earth magnets and are the strongest permanent magnets in the world.
2. What are neodymium magnets made from and how are they made?
Neodymium magnets are actually composed of neodymium, iron and boron (they are also referred to as NIB or NdFeB magnets). The powdered mixture is pressed under great pressure into molds. The material is then sintered (heated under a vacuum), cooled, and then ground or sliced into the desired shape. Coatings are then applied if required. Finally, the blank magnets are magnetized by exposing them to a very powerful magnetic field in excess of 30 KOe.
3. How is the strength of a magnet measured?
Gaussmeters are used to measure the magnetic field density at the surface of the magnet. This is referred to as the surface field and is measured in Gauss (or Tesla). Pull Force Testers are used to test the holding force of a magnet that is in contact with a flat steel plate. Pull forces are measured in pounds (or kilograms).
4. What does the "N rating", or grade, of the neodymium magnets mean?
The grade, or "N rating" of the magnet refers to the Maximum Energy Product of the material that the magnet is made from. It refers to the maximum strength that the material can be magnetized to. The grade of neodymium magnets is generally measured in units millions of Gauss Oersted (MGOe). A magnet of grade N42 has a Maximum Energy Product of 42 MGOe. Generally speaking, the higher the grade, the stronger the magnet.
5. What is the difference between the different platings and coatings?
Choosing different coatings does not affect the magnetic strength or performance of the magnet, except for our Plastic and Rubber Coated Magnets. The preferred coating is dictated by preference or intended application. More detailed specifications can be found on our Specs page.
♦ Nickel is the most common choice for plating neodymium magnets. It is actually a triple plating of nickel-copper-
nickel. It has a shiny silver finish and has good resistance to corrosion in many applications. It is not waterproof.
♦ Black nickel has a shiny appearance in a charcoal or gunmetal color. A black dye is added to the final nickel plating
process of the triple plating of nickelcopperblack nickel.
NOTE: It does not appear completely black like epoxy coatings. It is also still shiny, much like plain nickel plated magnets.
♦ Zinc has a dull gray/bluish finish, that is more susceptible to corrosion than nickel. Zinc can leave a black residue on
hands and other items.
♦ Epoxy is basically a plastic coating that is more corrosion resistant as long as the coating is intact. It is easily scratched.
From our experience, it is the least durable of the available coatings.
♦ Gold plating is applied over the top of standard nickel plating. Gold plated magnets have the same characteristics as
nickel plated ones, but with a gold finish