Product Description

HP-XFA Series Automatic Hematology Analyzer,which mainly used to detect the parameters of the series of red
blood cells and hemoglobin, platelet and leukocyte in the blood,It is a vitro diagnostic equipment which is applied to
quantitative analysis of blood cells of clinical and laboratory.
The machine is mainly used for the quantitative measurement of the blood in the 19 parameters and 3 histograms.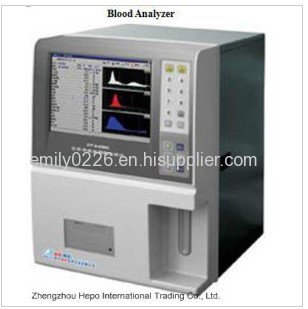 Haematology Analyzer
Fully automated to increase productivity
3-part differential cell counter with 22 parameter and laser light source
Direct tube sampling from original collection vials for operator safety
Bar code capability to reduce manual input
Proven technology to provide accurate results
More than 60 samples per hour
Minimum maintenance required

1 The total amount of WBC WBC
2 The amount of Lymphocyte Ly#
3 The amount of Monocyte MO#
4 The amount of Granulocyte GR#
5 Lymphocyte percentage Ly%
6 The percentage of mononuclear cells MO%
7 Granulocyte percentage GR%

8 The total amount of red blood cells RBC
9 Hemoglobin HGB
10 Hematocrit HCT
11 Mean volume of red blood cells MCV
12 Mean corpuscular hemoglobin MCH
13 Mean corpuscular hemoglobin concentration MCHC
14 Red blood cell volume distribution width Coefficient of variation RDW-cv
15 The standard deviation of red blood cell volume distribution width RDW-sd
16 The total amount of platelet PLT
17 Mean platelet volume MPV
18 Plateletcrit PCT
19 Platelet distribution width PDW
20 White blood cell distribution histogram WBC Histogram
21 Red blood cell distribution histogram RBC Histogram
22 Platelet distribution histogram PLT Histogram
IIProduct classification
Instrument classification standard description:According to Chinese medical device management.
It belongs to the blood analysis systems of the clinical tests and analysis equipment (6840), Management Category
is class II.Classified by electric shock protection: Transient overvoltage category II, the level of rated pollution is
level 2.
Classified by working system: continuous operation equipment.