Product Description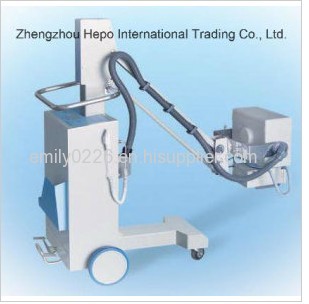 Mobile Style X-Ray Machine
Description
The HPX series of X Ray Machine is a combined high frequency X-ray video camera that can be conveniently moved to wards, ICU, operating rooms and so on for taking photos.No need to specially installat...
1. Generator output: 3.5 kW
2. kV range: 40 kV - 110 kV in 1kv steps
3. mA range: 20~60 mA
4. Exposure time: 4 films per min, less than 20 ms per film
5. X-ray tube:
Stationary anode tube with a focal spot of 1.5*1.5 mm
6. Collimator:
bright field light beam collimator with 120 W halogen lamp and auto shut-off facility.
7.Power requirements :Single phase 220 V +/- 10% Voltage tolerance; 50 Hz power supply
8.Mobile stand: Light-weight, low height mobile and easily maneuverable stand.
9.The mobile radiographic unit also include a handheld control and a microwave wireless remote control for the 20-meter microwave remote Without the restriction of Barriers and directional ,different from the infrared remote control . Grids reduce the fog line filters and raise the degree of scattering contrast.
10.The unit is provided with a line (power) cord of acceptable durability, quality, length and is secured with adequate strain reliefs
The unit include, power plugs that are sufficient for the maximum voltage and current of the unit.
II Standard Configurationts
1) modular/high frequency /high voltage X-ray generator& Inverterd power supply 1 set
2) mobile stander 1 set
3) mobile operating system 1 set
4) adjustable collimator 1 set
5) remote control unit 1 set
6) common attachments Certain
7) Options : PLX152 Table for Mobile X ray Equipment and Upright Bucky Stand
The size of PLX152 is 2000mm×700mm×500mm, cassette movement range is 1680mm . Low bed to facilitate the patient up and down, Longitudinal center of the bed frame with the cassette center line are consistent. To make the center of symmetry when photograph,and the movement range of cassette get larger And have manual brakes convenient location, bed body can 360 ° moving flexible
III. Function
The machine is mobile modular X-ray photography of medical diagnostic equipment for wards, emergency rooms, operating rooms, ICU, etc. on the head, limbs, chest, waist , abdomen and many other parts.
IV.Features
1)With high frequency inverter to emit high quality X-ray and low dose on skin, and ensure excellent definition and contrast of pictures.
2)With techniques of KV analog closed loop control, mAs digital closed loop control and micro-processing real-time control to ensure precision and repeatability of the dose.
3)With kV, mAs two button adjustment, LCD display, multifunction of safety guard.
4)With 50 preset exposure programs, and can be modified and stored by the user for convenient operation.
5)With a high-quality knockdown X-ray generator to reduce irradiation, which is much safer to environment and operator.
6)With a symmetrical beam applicator to adjust the X-ray field and a collimator lamp to locate the filed to ensure accurate radiograph.