Single Color Plain Printed Barcode Label Stickers Roll for Commercial Use
Minrui is the biggest factory of producing ultra destructible vinyl,it occupy 75% of the China market.The quality of our products is belivable and environment friendly.If you feel free ,please contact us via:skype:Live:sky_1586 or email:sky(at)szminrui.com
Product Description
Printed Barcode Label can know from its name,print the bar code and serial number,the code and digital number will be changed.The material is just common kraft paper with strong adhesive and appied for any surface such as metal,glass,plastic,glass and so on.You can judge whick kind of bar code you want,or fpr special code,please give the draft for label.The code can be read by the scanner,so the label can be used as retail price and promotion labels,library labels and other relevant uasge you can think.The size is 10x35mm,white coated and black fonts,it is a barcode sticker roll use 80g glassine as release liner and round corner.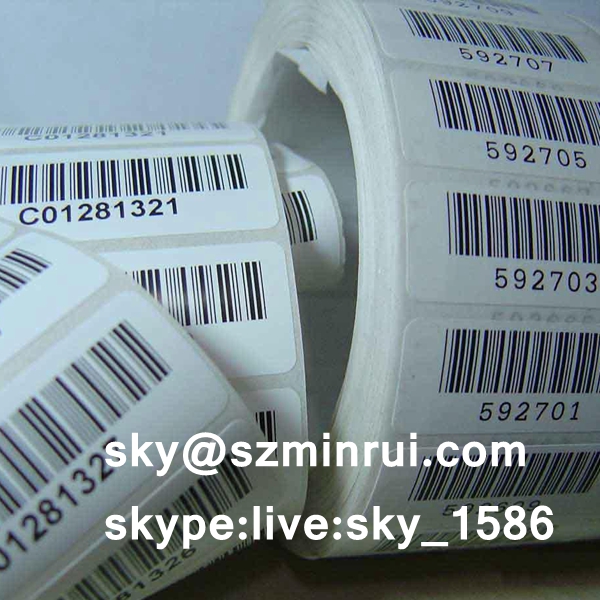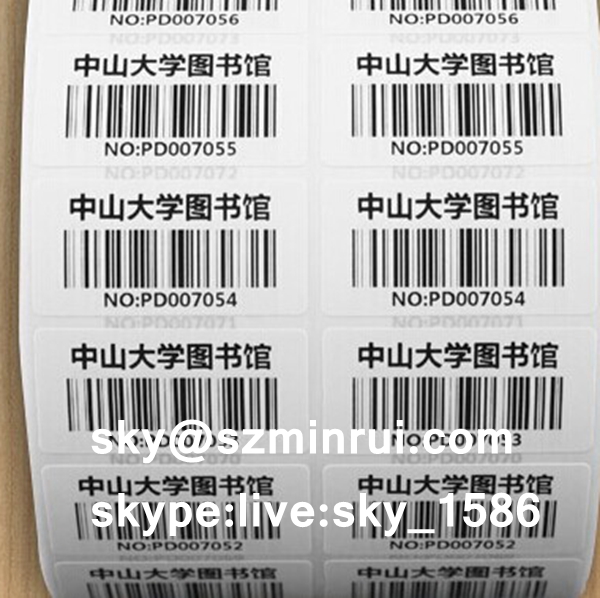 10X25mm white coated,black fonts and print the company name and fixed digital number,this Printed Barcode Label is ordered by our clients,he just want the bar code label with fixed code and number.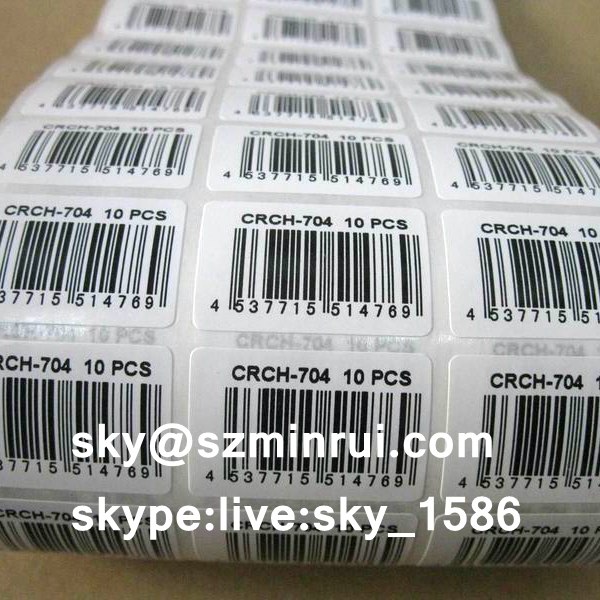 The kind Printed Barcode Label is used for retail and promotion,printing company name,number and details about products.Some retail label also print the price on the cover.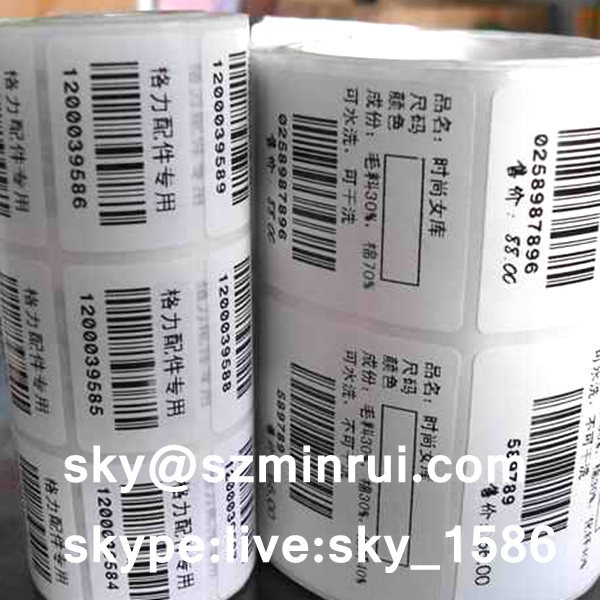 Features of Printed Barcode Label
1)Customized raw material:if you want waterproof,you can choose PET or PVC,if you have not special needs,you can just use the kraft paper,or you have needs of anti-counterfeit,you may use the destructible paper.
2)Smooth surface and good for printing.
3)Deign size,color,pattern,shape by yourself.
4)Strong adhesive but can be removed.(if you use common material)
6)Print the QR or bar code pattern.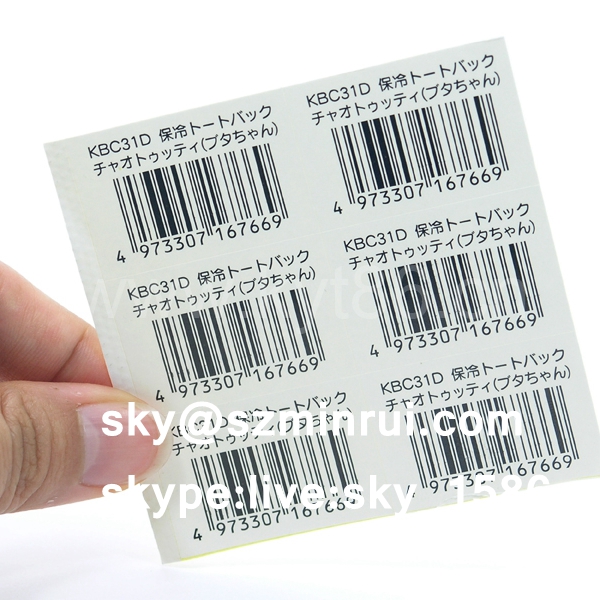 This label are customized by our japanese client,the want the barcode labels in sheets and use kraft paper as release liner.Between each label,no space is left.You also can choose other typesetting as your arrange.You can pack the barcode label in sheets or in roll as you want.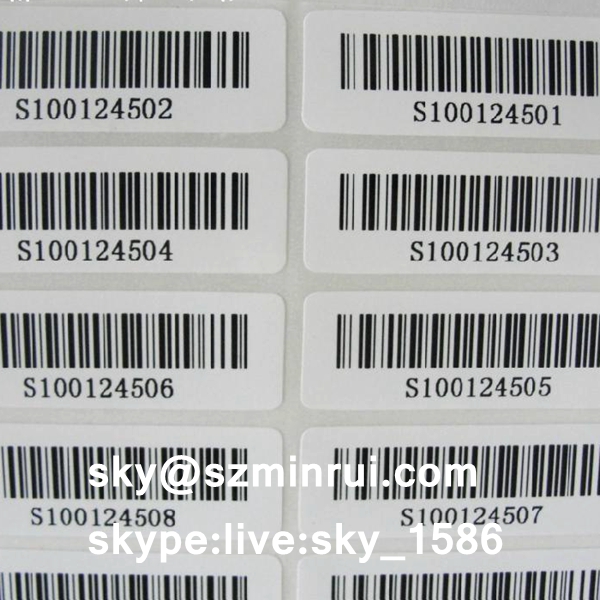 Bar code and serial number will change at same time for this barcode labels,the label use round corner and leave equal space between row and line.
You can get more detailed information from following charts:
Label Name
Printed Barcode Label

Packing

in rolls:per roll per carton/ 6 pack per pallet

in sheets: 100 sheets per pack / 50 pack per pallet

Facestock thickness:
0.1mm
Adhesive:
water-proof SENSITIVE strong adhesive
Coating Thickness:
0.025±0.002mm
Dry Coating Weight:
50±2g/square meter
Peel Adhesivon:
12# ball
Release liner thickness:

Glassine liner (80g)

white coated liner (180g)

Tensile Strength:
9.0kg/15mm
Elongation:
2‰----4‰
Color:
white or you could custom other colors
Smoothness and printability :
good
Release Force:
≥8N
Holding Power:
24 hours
Temp Range:
-5---40°C
Solvent Resisrance:
Good
Breaking Strength:
5.0kg/cm²
Die Cutting:
Good
Payment
T/T,Western union,paypal
Minrui has 15 years' history major in destructible paper and relevant stickers for warranty use.The paper has brittle fragile cover,the fragile grade can be ordered by you.Once you use the paper on the applied surface,peel or remove off will make the paper broken.It has largely use in warranty and tamper evident fields as warranty sticker,security seal and so on.We also can provide other kinds material and stickers with high quality and fast delivery.
Custom Printed PET Waterproof Barcode Label
You can choose different for your bar code label with different usage,PET for waterproof,destructible paper for warranty or tamper proof,common kraft paper for daily use.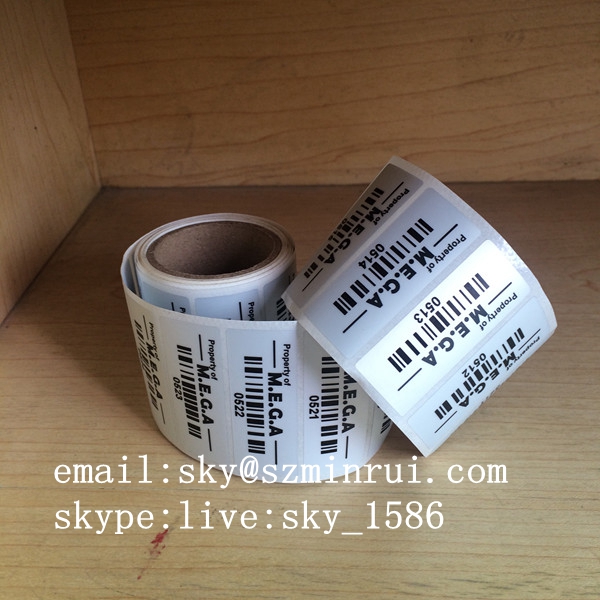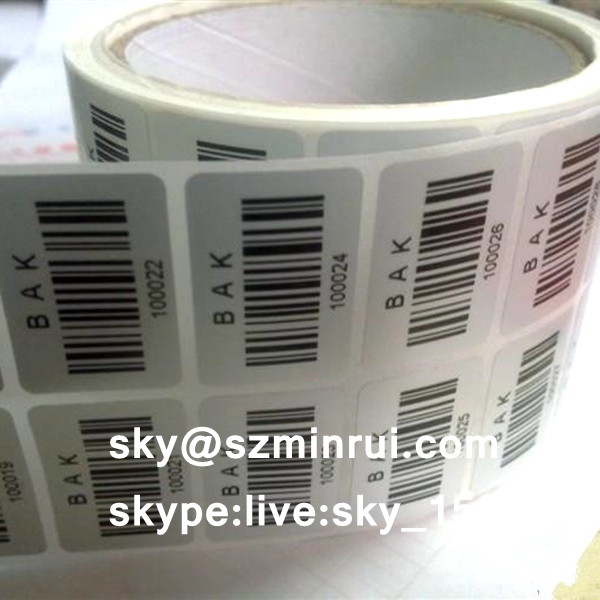 Blank Barcode Stickers for Custom Printing: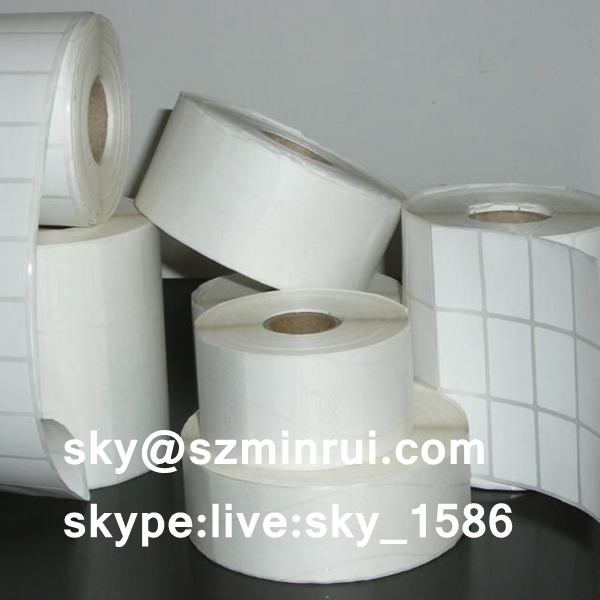 Please kindly check the followings for quick quotation
Material
Destructible Label Paper,Void Material,PET/PVC material,Common paper,Clear Vinyl
Design
Size,Printing patterns,Color(if have design draft,please send us)
Quantity
How much you want order,the MOQ of our factory is 1000 pieces as usual
Usage
You want use the sticker in where
Special Needs
If you have other requirments just contact us

These details will change the price,so please check.If you really not sure,just contact us and tell your needs and usage,we will help you to choose the most suitable one.

Welcom your concerns and questions:

Email:sky(at)szminrui.com Skype:live:sky_1586
Our company has the strict product management mechanism,we can promise that products which we delivery must be passed the quality test.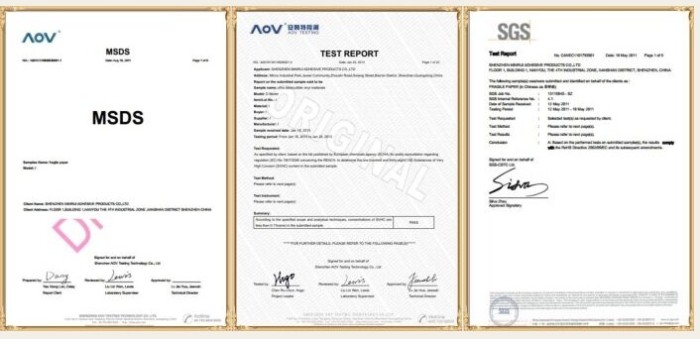 If you do not sure what kind of the sticker you need,just contact us,we will try our best to help you choose the suitable products.you can contact us via:skype:Live:sky_1586.we will reply you as soon as possible.
Advantage of Bar Code Labels:
♦ Speed is fast
Compared with the keyboard, input keyboard input is five times the speed of the bar code, and can realize real-time data input.
♦ High reliability
Keyboard input data error rate is one over three hundred, the use of optical character recognition error rate was one over ten thousand, the bit error rate is lower than one over one million using bar code technology.
♦ Large amount of information
Using traditional once a d barcodes can collect information of dozens of characters, 2 d barcodes can carry more information of thousands of characters, and have certain ability of automatic error correction.
♦ A flexible and practical
Bar code identification can be either as a means of identification used alone, can also form a system and the relevant identification equipment automated identification, can also be linked to realize automation management and other control equipment.
Payment
We usually use the ways of T/T,paypal,western union.But your other needs can contact us.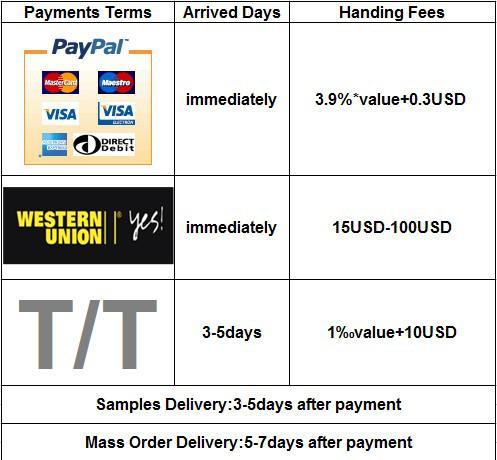 Packaging & Shipping
Packing details:
Master roll size / jumbo roll size : 1070mm (wIdth) x400meter (length)
Roll size form : MOQ 200meter for length and roll width could custom from 50mm to1070mm
Sheets size form: sheets size could be customize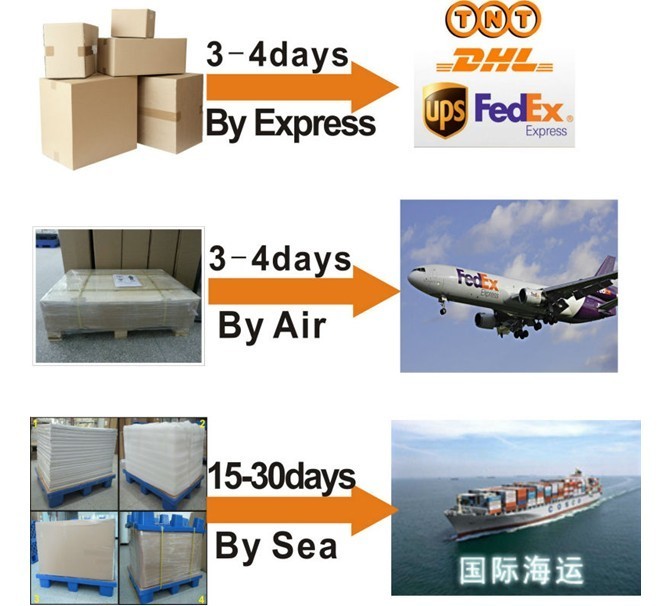 Our Services
1.We offer free samples and free design.If you have any ideas ,just tell us.
2.The factory price and quickly leading time.
3.The high quality tamper evident labels.
4.Your satisfaction is our FIRST PRIORITY! Please feel free to contact us anytime if you have any questions, concerns. Our service team will gladly to help you.
5.You can design your own logo printing on the labels for free.
You can design your own size,shape,color,and so on(the following chart is the usual shape):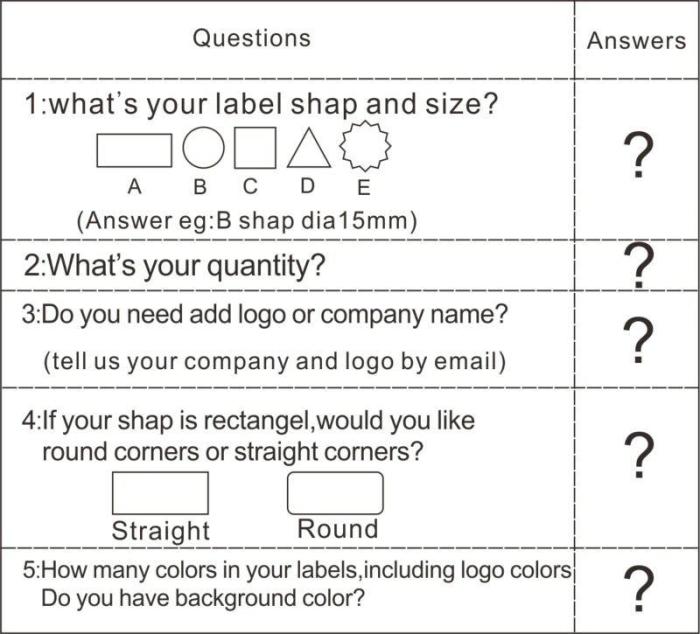 Company Information
Minrui Adhesive Company mainly manufacture the relevant tamper evident materials and stickers such as the raw material ultra destructible label paper,warranty stickers and so on.If you have any ideas just contact us:skype:live:sky_1586,email:sky(at)szminrui.com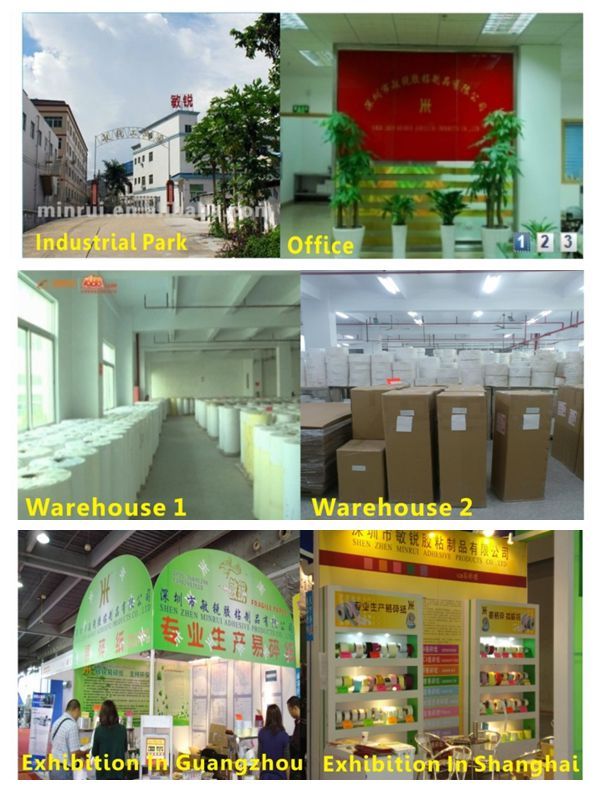 FAQ
1.What's the MOQ?
It according your design.Different and pattern may have the different result.But usually it's 1000 pieces.
2.What's your standard size?
We can produce different size to meet your needs.Any size is ok,just tell us you want.
3.How can I get your quotation?
You just need to tell us the specification of the product,size,and quantity you need.If you really not sure which kind you need,you also can get the help from us to choose the most suitable labels.
4.How about the delivery time?
We normally will delivery 3-7 workdays after the payment confirmed.
More detailed information you can contact via:skype:Live:sky_1586 or email:sky(at)szminrui.com