dual 12 inch outdoor sound line array speaker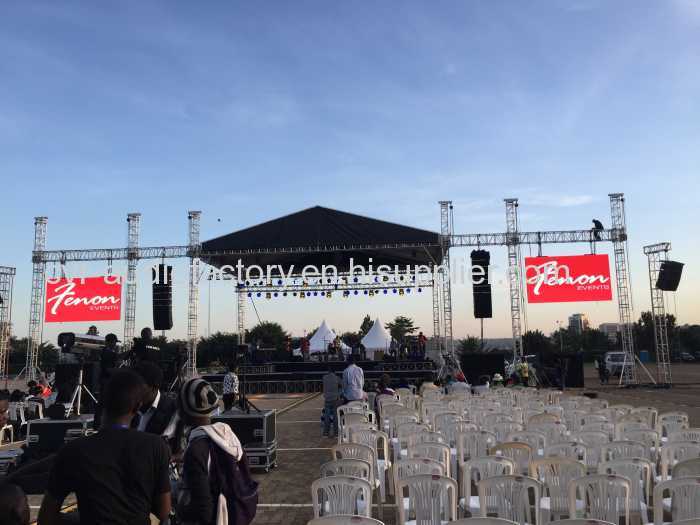 DESCRIPTION and APPLICATION
The W-9 line array system which is made of two 12''neodymium woofers, two high sensitivity 8'' midrange speaker units, two 3'' titanium neodymium compression drivers, the drivers by two independent plane wave converter, with a innovative directly horn which generate parallel wave in the front.
W-9 speaker box is trapezoid shaped, hi, mid, low driver units all with independent horn output, which improved the speaker sound, maximum lowed the intervention between the drivers. The precise positioning position between the driver units which verified the speaker box very small, but also to ensure the gap between the cabinet to cabinet minimize. Even several boxes combination can also with a precise point forming a line array group, resulting in excellent sound quality, each box is installed with hanging assembly, can be convenient for hanging, assembling, which application W-9 line array performance excellent to large stadiums, big outdoor concerts, commercial events, etc.
Model

W-9

Type

Line array system

Frequency Response

52Hz-20KHz±3dB

Power handling

LF 2×600W(RMS)2×1200W(PEAK)

MF 500W(RMS)1000W(PEAK)

HF 200W(RMS)400W(PEAK)

Sensitivity

LF 104dB(1W@1M)

MF 108dB(1W@1M)

HF 111dB(1W@1M)

Max@S.P.L

LF 135dB(PEAK/1M)

MF 135dB(PEAK/1M)

HF 134dB(PEAK/1M)

LF section

2×12" (310mm)neodymium woofer

75mm(3in) coil

Nominal impedance

8 ohm

MF section

2×8" (210mm)neodymium MF

65mm(2.5in)coil

Nominal impedance

8 ohm

HF section

2×3"neodymium compression driver

with 75mm titanium diaphragm

Nominal impedance

16 ohm

Output section

3-channel

Dispersion pattern

110°H×7.5°V

Finish

Water-proof,wear-resistant textured black paint

Array design

Arrays of less than 3×W-9 will

provide poor dispersion control and

are neither recommended nor supported

Speaker cables

LF 1(+)1(-)&2(+)2(-) MF 3(+)3(-) HF 4(+)4(-)

Rigging system

Please refer to the W-9 user

manual before any operation

Input connectors

2×Neutrik NL8

Recommend crossover

LF 60Hz-250Hz

MF 250Hz-1.8kHz

HF 1.8kHz-20KHz

Dimensions

932×360×530mm(W×H×D)

Package dimensions

1000×430×600mm/0.26cbm

Enclosure

Birch Plywood

Net weight

55kg

Gross weight

59kg

About our factory:
Guangzhou CVR Pro-Audio Co., Ltd is a manufacturer specialized in producing professional audio equipment with an own brand "CVR " since 2005. Our 5,000 square meters plant has R&D, sales and demonstration departments. Fully equipped demonstration facilities are available with knowledgeable staffs.

CVR PRO AUDIO can easily provide you a wide range of professional sound gear like: PA speaker, indoor and outdoor line array speaker, subwoofer, floor monitor, Power amplifier and speaker management system. From the smallest conference room to the largest stadium.
CVR is the brand we set for global market,carrying great responsibility to satisfy our customers in every possible aspect as promise. The heart and soul of CVR has to be our attempt to strengthen our quality against the best in the world.
Our goal is to provide the best equipment with the best services. We have not deviated from this position since we began and will do it consistently.