1. Specification of high quality FIH approved hockey grass for field hockey pitch
| | |
| --- | --- |
| TYPE | FGA61407U |
| YARN | THIOLON® PE/ LSR /7300dtex |
| PILE HEIGHT | 14mm |
| GAUGE | 3/16 inch |
| PRIMARY BACKING | PP Anti-UV backing+PP Anti-UV backing |
| SECONDARY BACKING | PU |
Characteristic:
1. High density and the non-infill system guarantee the safe
2. comfortable sports environment
3. The special curly yarn has no influence on the small balls'running direction.
4. The ball rolling,ball rebound and rotation perform perfectly on this turf.
5. The fields aslo have good looking and long durability


2.Product details high quality FIH approved hockey grass for field hockey pitch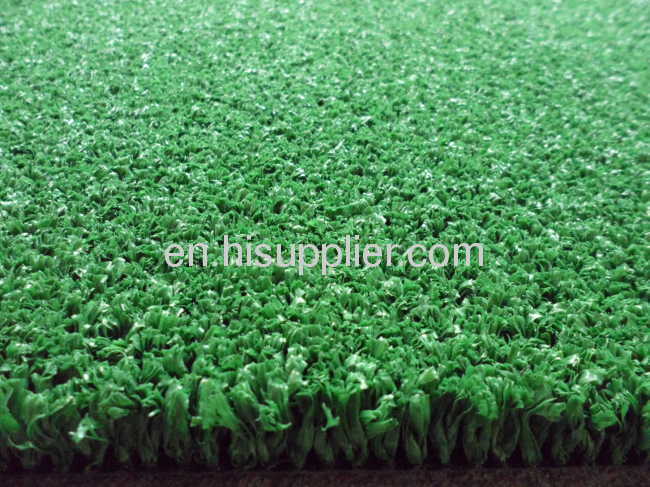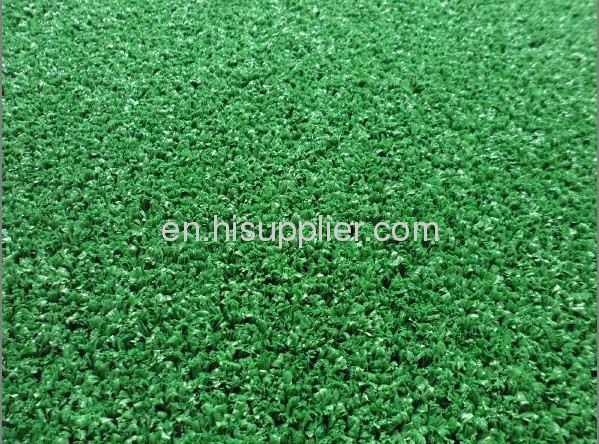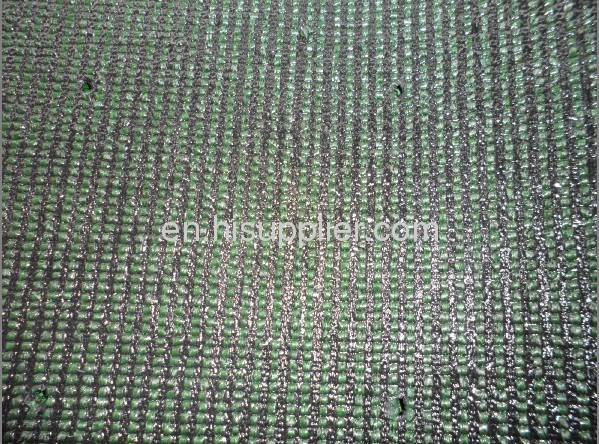 3.Advantage of Suntex's high quality FIH approved hockey grass for field hockey pitch
Suntex water based hockey systems have the FIH Global classification for Olympic and international tournaments. The hockey pitch must have an applied water layer before it is used and irrigation is achieved by pop up sprinklers or water cannons. Although more expensive than sand filled systems, a water based hockey pitch provides the best performance and safety characteristics available in the modern game.
Hockey Pitch Performance
This superior grade of hockey pitch has a very high density of artificial grass with no sand infill thus providing a consistent ball roll and bounce. The pitch is fully irrigated with a layer of water which results in an extremely fast and professional game. Due to the absence of sand, the blades of artificial grass are free-moving which enables players to get their hockey stick under the ball. This allows for a technical game with many possibilities.
Hockey Player Safety
The water layer in the hockey pitch has LSR (low slide resistance) and shock absorbance properties for excellent player safety. Unlike some sand based hockey pitches, the surface will remain soft even at low temperatures thereby reducing the risk of friction burns. The water also has a cooling effect and provides a protective layer between players and the pitch. For additional safety, GreenFields hockey pitches are fitted with a dynamic shock pad (called an e-layer) which places less stress on the player's muscles and joints.

4.Template Projects of hockey grass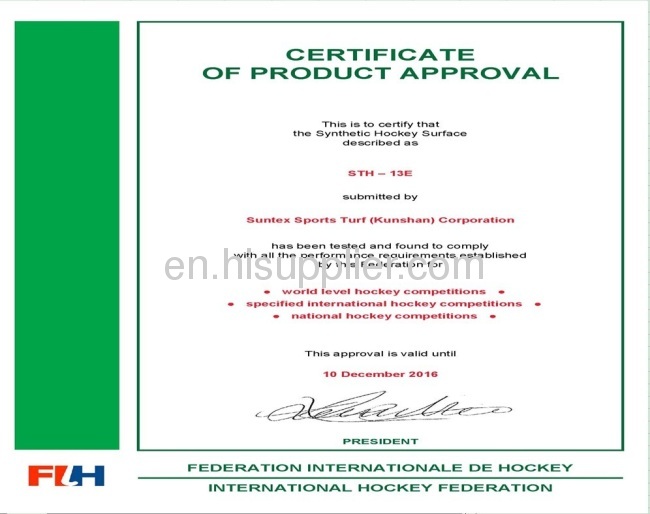 6.Why Maintenance for Artificial Turf field
The need to maintain an artificial turf field is fundamental for several reasons. These can be highlighted as follows:
- longevity
- playing performance
- safety
- aesthetics
An active maintenance programme will maximise the lifetime of the installation and ensure many satisfactory years of use. The maintenance regime is based around simple principles:- keeping the surface clean
- keeping the infill level
- keeping the fibre upright
- reporting minor defects before they become major problems

7.hot we pack and load artificial grass and grass accessories in containers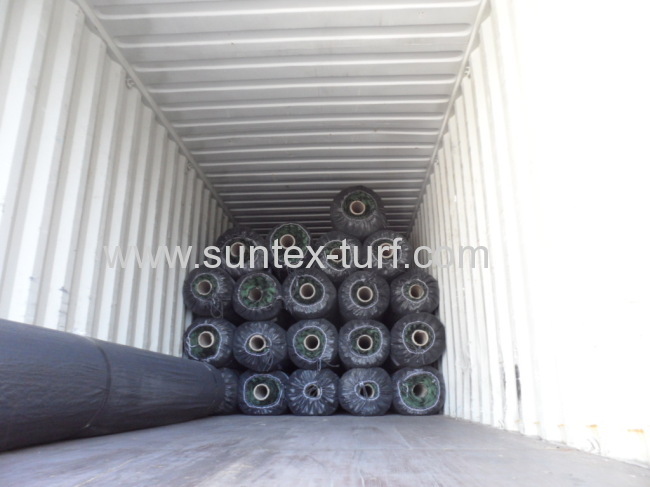 the package and loading way of the artificial grass / turf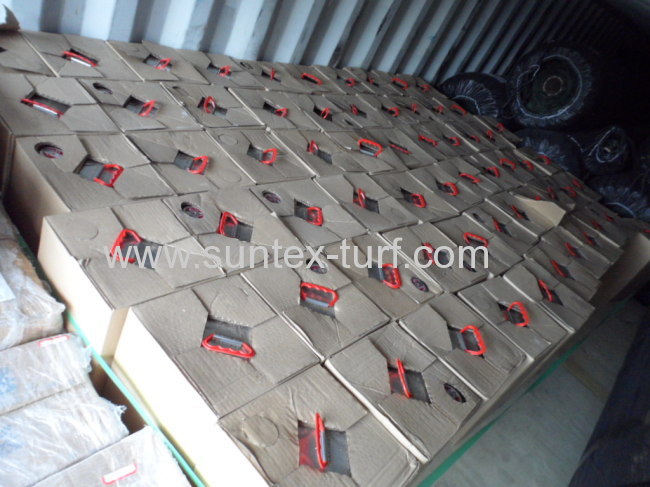 the package and loading way of glue for artificial grass /turf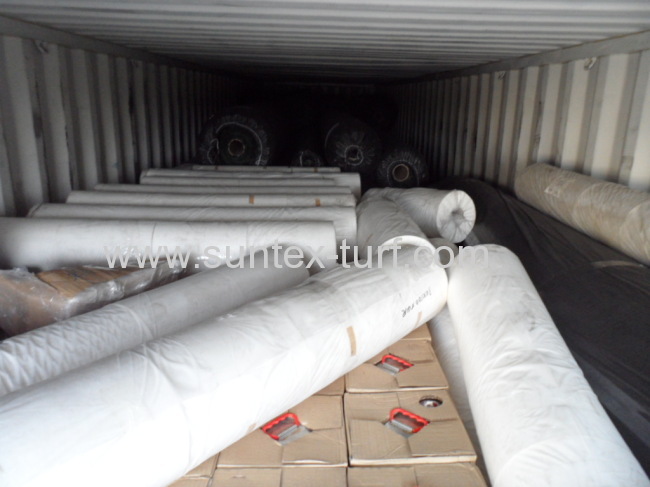 the pakcage and loading way of joint tape for artificial grass/ turf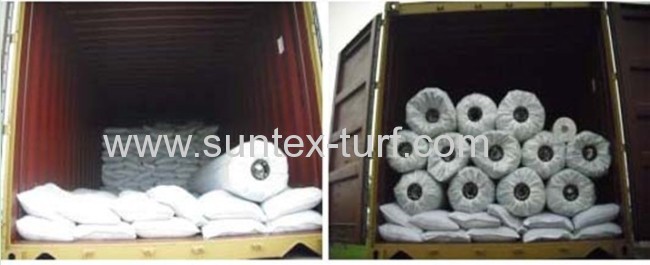 The package and loading way of rubber granule


8.About Suntex Sports-Turf (Kunshan)Corporation
We Suntex Sports-Turf (Kunshan)Corporation are a professional artificial grass /turf manufacturer and have engaged in producing all kinds of artificial grass for more than 9 years. So far, Suntex employs more than 100 workers and has 5 different gauge machines, which allow Suntex's annual production capacity to be 3,000,000 square meters.
Our sophisticated tufting machines can produce various artificial grass from 6-mm to 75-mm pile height that can be used for different applications, such as for landscaping in your garden/ yard/ bacony/ rooftop/ swimming pool etc,sports pitch like: football, tennis, basketball, golf, etc,leisure places like: roof, swimming pool area,office area,etc.
In short,we can produce any grass that can be used for anywhere you can image.
Suntex factory is about 1.5hours by car away from Shanghai Pudong international airport,and we welcom you to our factory for business inspection and negotiation!
Come to Suntex,we'll not let you down!