1. Specification of hot selling non sand infill golf field putting green artificial turf PE PP garden grass
| | |
| --- | --- |
| TYPE | STG61590 |
| YARN | LOCALPP/MFY CURLY/6500dtex |
| PILE HEIGHT | 15mm |
| GAUGE | 3/16inch |
| PRIMARY BACKING | Fleecedbacking with PET yarn reinforced + PP Anti-UV backing |
| SECONDARY BACKING | CSBRLATEX |
This type has good quality which can be use for outdoor mini Golf field and hasgood capability for UV resisted, fireproof, water drain, no element of Pb,Cd,Cr,Hg, 2 colour yarn seemed emulational like natural grass.
Easy to installation,
No infill rubber& sand granule
Long using life
High UV-resistant, heavy metal free
Natural appearance and feeling
No mowing, no irrigation, no fertilizer
Features:
• the first-class and most professional grass
• created, developed and patented by AVG; unique in China
• manufactured by advanced and mature technology
• good quality and excellent performance with high standard
This style is much like real grass, and you can enjoy leisure on it all year round with easy maintenance: No mowing, irrigating, or fertilizing. The elasticity is almost the same with the natural grass, you can enjoy an outstanding performance in this field.
2.Product details of non sand infill golf field putting green artificial turf PE PP garden grass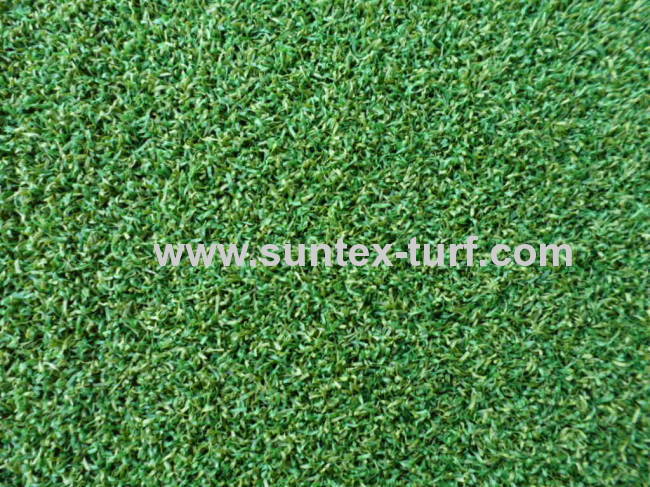 3.Tips on the difference between sand filled and Non sand filled putting greens:
| | | |
| --- | --- | --- |
| Items | Sand Filled | Non-Sand Filled |
| Holdability | holds a shot from a long distance well | Ideal for chipping from 30 yeards or less |
| Installation | complicated self installation | Easy self installation |
| Maintenance | maintenance will be required | Maintenance Free |
| Break in | Green needs wear in period | No wear in period needed the green is immediately paly ready |
| Rolling | Green will need to be rolled often | No rolling of the green required |
| Re-sanding | Re-sanding of the surface may be required | N/A |
| Controlling the speed | Controlling the speed on the green is difficult | The speed is consistent |
4.Template projects of non sand infill golf field putting green artificial turf PE PP garden grass: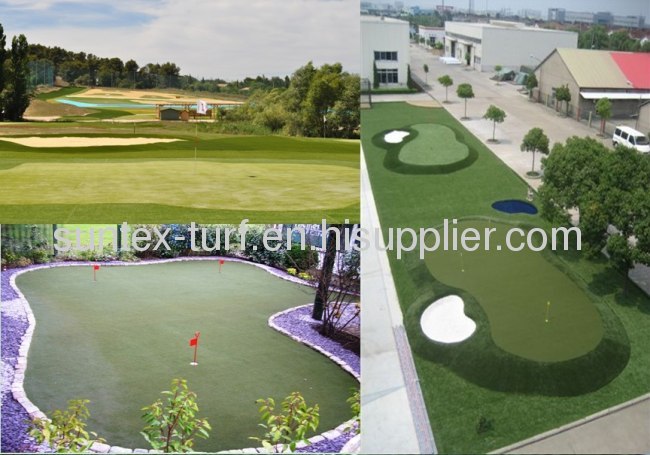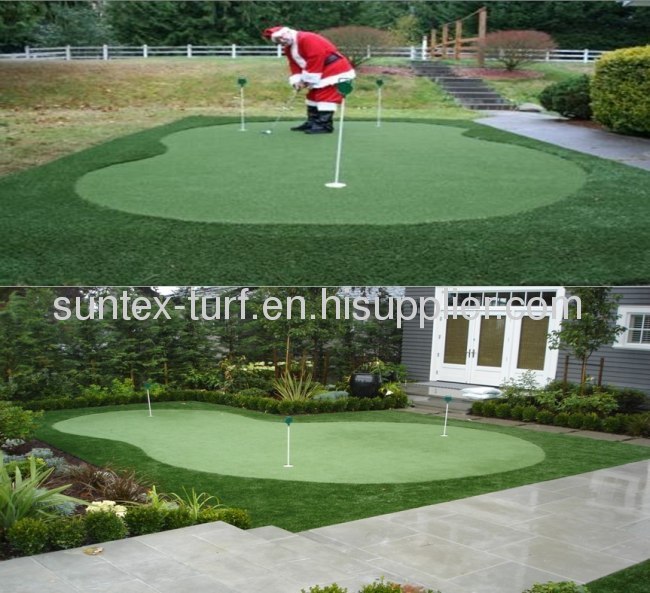 5.Advantages of our Artificial Grass


1. RESISTANCE TO DIFFICULT CLIMATIC CONDITIONS
Many regions of the world suffer from extreme climatic conditions and as a result are often without adequate natural grass pitches. Either the climate makes the growth and maintenance of such fields a burden or the financial resources are limited. Furthermore, the demand on these pitches is quite high and the resulting mix often leaves the pitches in poor condition. The advantage of artificial turf in these regions is more than evident.
2. IDEAL FOR COVERED OR STEEP-SIDED STADIA
Stadium construction is often influenced by the need to adjust designs for the installation of natural grass for international football. Natural grass needs sufficient sunlight, wind and rain to grow and thrive. However, the trend towards building steep-sided stadia with roofs and terraces for additional spectator comfort creates an environment better suited to football turf. The newest generation of artificial surfaces combines the advantages of play­ing characteristics similar to natural turf, including player comfort and safety, with independence from sunlight, wind and rain.
3. LOW MAINTENANCE COSTS
The new generation of artificial surfaces is easier to maintain than natural grass fields. Artificial it may be, but it cannot just be installed and left to its own devices. The groundsman, whose day-to-day job will change and who will have to learn a whole new set of maintenance techniques, is one of the main beneficiaries of an artificial surface. The time for maintenance is much lower and thus costs for a football turf field can be significantly reduced.
4. LONGER PLAYING HOURS
Most of the football turf fields are owned by municipalities and football clubs who recognise that an artificial pitch can be used almost 24 hours a day and seven days a week since it does not need time to recover. Due to the increased longevity, fewer playing fields are required.
5. MULTI-USAGE
Today, the financial situation has become one of the most important compo­nents of any football club. In order to cover the increasing costs, additional revenue streams are necessary. The newest generation of artificial surfaces with playing characteristics similar to natural turf, low maintenance, longer playing hours and the multi-usage possibilities meets the demands of a modern football field. It can be used almost 24 hours a day and seven days a week. In addition to training sessions and matches of various teams, it can be hired out to companies and municipalities for all kind of events.
6. IMPROVED AND CONSISTENT PLAYING CONDITIONS
As the game's global popularity increases, the climate plays a greater part in limiting its development. In adverse weather conditions, the use of natural grass pitches is limited and the performance suffers. Manufacturers have now developed football turf products that mirror the playing characteristics of real grass and are resistant to difficult climates. FIFA has recognised that all year round and improved and consistent playing conditions worldwide bring enormous benefits to the global development of football.
6.Why Maintenance for Artificial Turf field
The need to maintain an artificial turf field is fundamental for several reasons. These can be highlighted as follows:
- longevity
- playing performance
- safety
- aesthetics
An active maintenance programme will maximise the lifetime of the installation and ensure many satisfactory years of use. The maintenance regime is based around simple principles:- keeping the surface clean
- keeping the infill level
- keeping the fibre upright
- reporting minor defects before they become major problems

7.hot we pack and load artificial grass and grass accessories in containers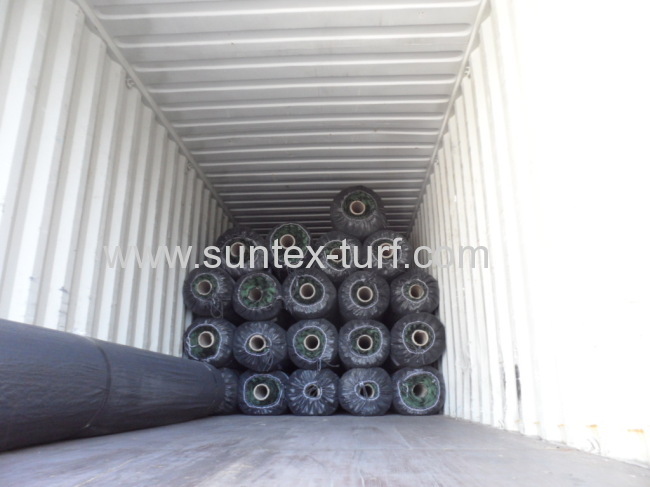 the package and loading way of the artificial grass / turf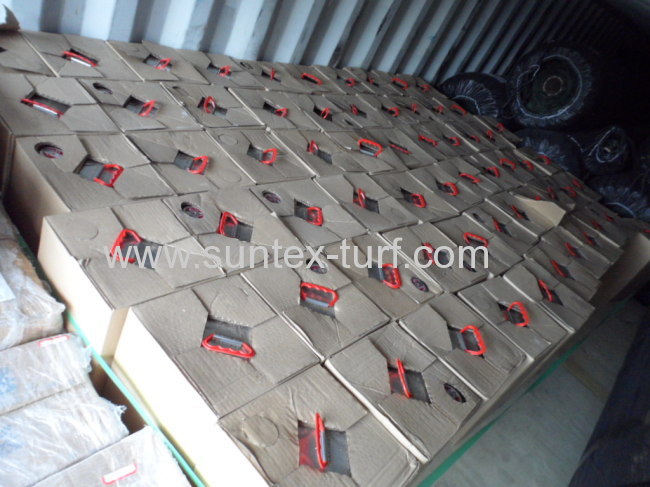 the package and loading way of glue for artificial grass /turf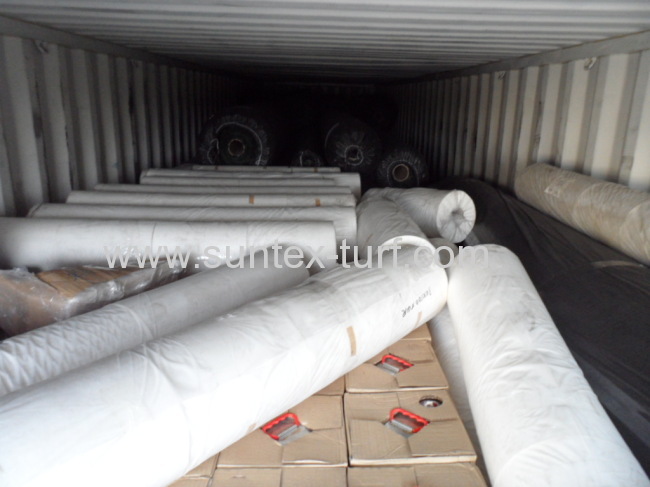 the pakcage and loading way of joint tape for artificial grass/ turf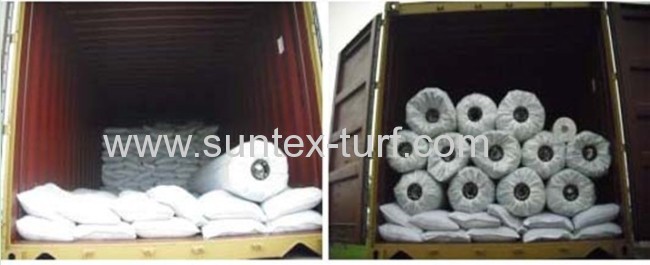 The package and loading way of rubber granule


8.About Suntex Sports-Turf (Kunshan)Corporation
We Suntex Sports-Turf (Kunshan)Corporation are a professional artificial grass /turf manufacturer and have engaged in producing all kinds of artificial grass for more than 9 years. So far, Suntex employs more than 100 workers and has 5 different gauge machines, which allow Suntex's annual production capacity to be 3,000,000 square meters.
Our sophisticated tufting machines can produce various artificial grass from 6-mm to 75-mm pile height that can be used for different applications, such as for landscaping in your garden/ yard/ bacony/ rooftop/ swimming pool etc,sports pitch like: football, tennis, basketball, golf, etc,leisure places like: roof, swimming pool area,office area,etc.
In short,we can produce any grass that can be used for anywhere you can image.
Suntex factory is about 1.5hours by car away from Shanghai Pudong international airport,and we welcom you to our factory for business inspection and negotiation!
Come to Suntex,we'll not let you down!