Features:
The machine is fitted with CNC controller special for shearing machines.
The position of rear stopper is displayed in real-time manner.
Multi-step programming function is available and the rear stopper is able for automatic operation and continuous positioning, to achieve an automatic adjustment for position of rear stopper.
It is provided with counting function for shearing, to display the shearing numbers in a real-time manner, able for power-failure memory of position of rear stopper, procedures, and parameters.
Back gauge with precision ball screw and liner guide, to ensure the positioning precision, so that bring the higher precision processing.
Digital Display:
2. 1 year warranty
3. CE/ISO
4. Ball Lead Screw and Liner Guide for Opt

1. Front Operated Motorised Backgauge - Range 10 to 750mm;
2. Electro hydraulic variable rake angle adjustment 1° To 3° ;
3. Quick Blade gap adjustment by handle behind machine on both sides;
4. Individual pump and pressure setting for hydraulic holddowns;
5. Vickers double vane pump with individual pump for cutting and plate clamping;
6. Shadow line lighting and well design finger guard for clear view of cutting line;
7. Shear Blades - four sided, quality high-carbon high chrome blades D2 quality;
8. Manual inching mode for easy setting of Blades clearance;
9. Safety foot switch operation. Top blades will return to top position when foot is remove from foot pedal;
10. Hydraulic-full protection against overload through build-in safety valve;
11. 1 meter Side Squaring Arm with disappearing stops;
12. Ball screw and linde guide rail as optional for guarantee the higher precision;
13. Italy HT071 single axis controller as optional for customer choice.


Performance characteristic:
1.Steel plate welded structure,hydraulic transmission,accumulator return,convenient operation,reliable performance,beautiful appearance
2.Edge adjustment signs,adjust light and quickly,continuously variable transmit
3.Lighting device on the line,and continuously variable adjustment of upper tool carrier itinerary
4.Fence type safety protection device
5.Back gauge adopt E10 NC,low noise,high precision.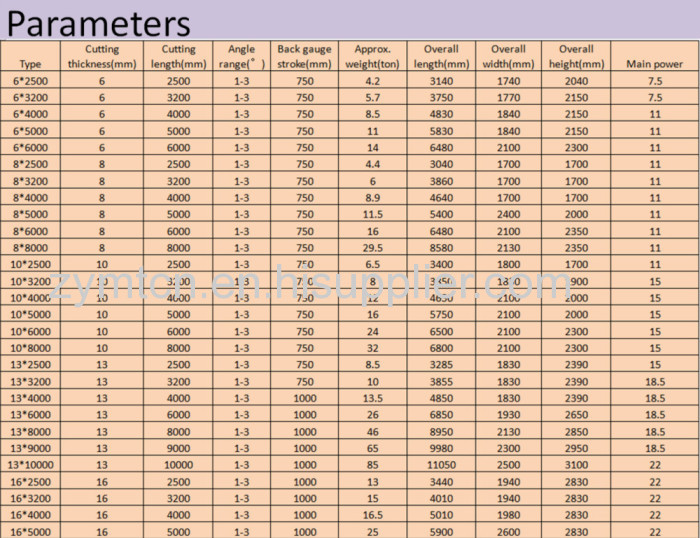 Our service:
1.Shearing blades and accessories-Customized to your specifications
In our shearing blades, our focus is on first-class, practical, well-thought-out upper and lower tools. Our tools offer solutions to your application cases - even for complex technical ones.

2.Service package

Basic:we offer you rapid troubleshooting through telephone support and costs for on-site missions are reduced.

Special:Engineers available to service machinery overseas for the necessary maintenance.

Partner:Our located dealers or customers who sell or use our machines are fully behind you,they are our friendly partner and supply good advice to you.

3.Technical Service(After-sale service)

Installation and start-up(Available for complex and big machines or if you have demand)