Professional Manufacturer, Core Technology!

International First-class Quality, But Competitive Price!
Provide OEM service.
Goodcrete Concrete Sealer(other names, concrete hardener, concrete densifier, floor hardener, floor selaer) is an silicate-based, inorganic sealing/hardening agent for some floors, which is environment friendly, easy to use, and after one-time application can give the floor permanent & all-sided protections, such as, sealing, hardening, dust proofing, anti-permeability, anti-corrosion etc. Which can divides into Lithium Silicate Concrete Sealer, and Sodium Silicate Concrete Sealer.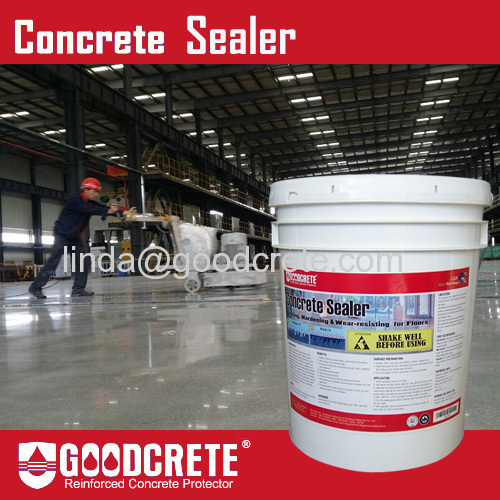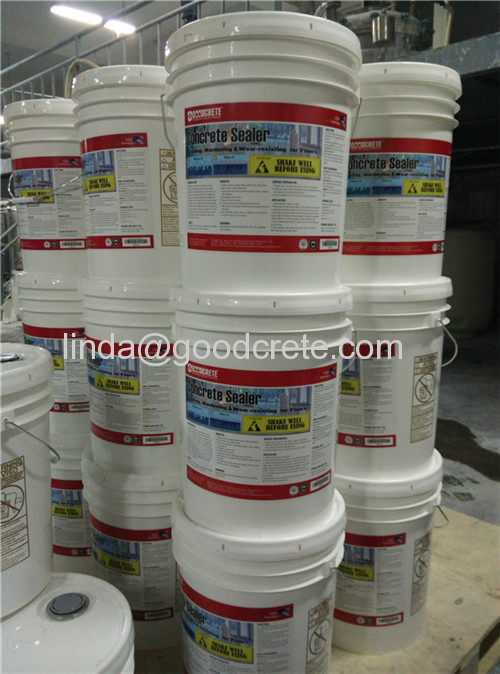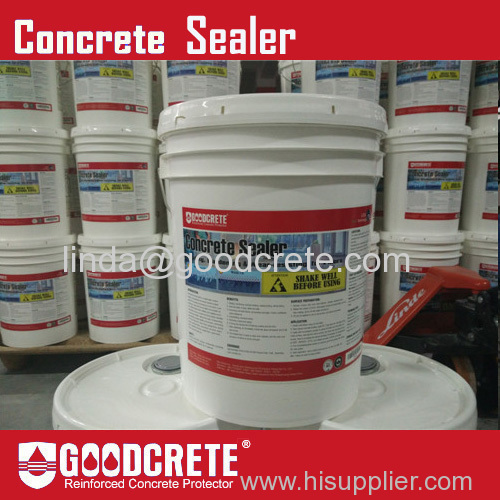 Working Principle:
By efficiently penetrating into the concrete structures, CS reacts with the free alkalis presented in the concrete and forms Calcium Silicate Hydrate (C-H-S is the main source of strength of concrete) , which fills and seals the pores, solidifies into the integral part of the concrete and finally leads to a more compact and hard structure. After one-time application of CS, it will continually improve the floor's comprehensive performance and give the floors permanent protection, such strength enhancing, hardening, dust-proofing, anti-corrosion, anti-permeating, etc . In addition, after polish, it will give the floor an immediate and permanent gloss.
Product Data:
Appearance: Colorless, odorless, clear water like liquid

Specifications: Lithium silicate, Sodium Silicate
PH value: 11
Freezing Point(°C): 0°C
Specific gravity: 1.1g/cm3
Flash Point(°C):Non flammable
VOC Content: Solvent-free; zero VOC
Service Life: 25 years
Characteristic and Functions:
01. Sealing and hardening the concrete structure;
02. Improving concrete floors' compressive strength, friction coefficient, wear-resistance;
03. Dust-proofing;
04. Anti-permeating of oils and greases, etc;
05. Anti corrosion of acid, alkali and salt;
06. Anti-skidding, and car tyre marks;
07. Reduces or eliminates hairline cracks of new concrete floors.
08. After polish, giving the floor an immediate and permanent marble sheen; if not polish, the sheen shall appear little by little;
09. Treated floor is easy to clean, and don't need any special maintenance.
10. Be applicable to both new or old floors.
Method of Using:
1. Shake well before using.
2. Coverage: About 3-5m2/kg
3. If a matt surface is wanted:
Spray(or brush/roll) CS evenly and wet the concrete surface, keep the surface wet at least 30minutes, the area become dry too quickly, need an immediate additional spraying.
4. Air temperature at 5-35℃, and relative humidity 10-90% is the best, when temperature >35℃, please sprinkle water to cool down the surface first.
5. If a gloss surface is required, please refer to following process:
1). Coarsely grind the floor by 50-200mesh (wet or dry grinding) abrasive disc;
2). Spray CS evenly on the floor, coverage: 0.1-0.2KG/m2, keep the floor wet at least 30minutes;
3). Grind to 400mesh (wet or dry grinding);
4). Polish to 800mesh (dry polish);
5). Spray CS again, coverage: 0.1KG/m2;
6). Polish to 1500-2000mesh (dry polish);
6. Avoid the surface suffer from water, rain and freeze within 24h after construction, after 4hours, the floor can be walked on, and after 7days, the treated surface can be open to heavy traffics or start following works.
Recommended Application:
CS is suitable for concrete floors, cement mortar floors, colored aggregate floors, emery floors, terrazzo floors and self-leveling floors. And widely use for following projects:
| | | | |
| --- | --- | --- | --- |
| Industrial Floors | Public Floors | Transport Floors | Commercial Floors |
| Food Factory | Park Square | Ports | Supermarket |
| Power Plant | Sidewalk | Parking Lots | Exhibition Hall |
| Chemical Plant | School | Airport | |
| Textile Factory | Hospital | Railway Station | |
| Pharmaceutical Factory | Corridor | Coach Station | |
| Sewage Plants | Library | Logistic Center | |
| Warehouse | Museum | Others | |
| Cold Storage | Others | | |
| Others | | | |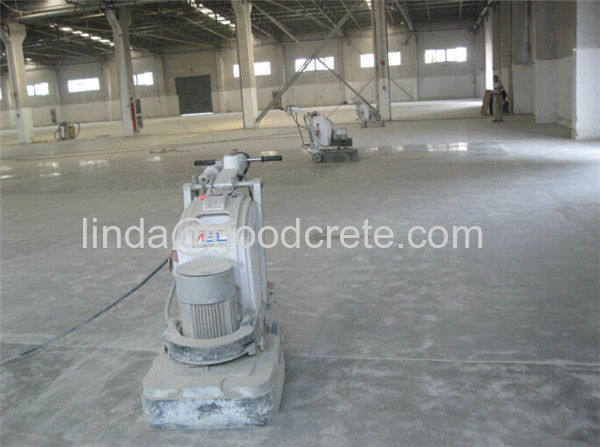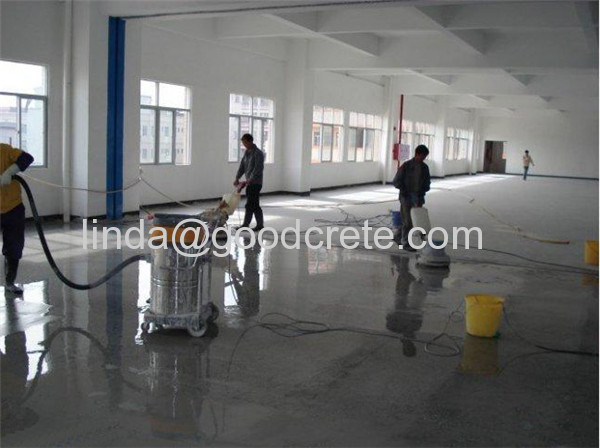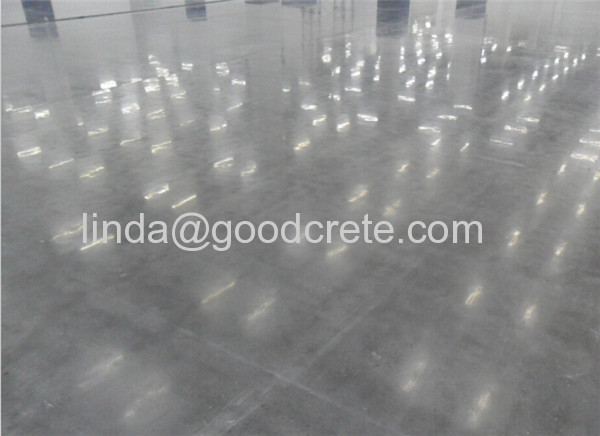 Packing: 20KG/ Pail, 220KG/Pail i.e. 5 US Gal/Pail, 55 US Gal/Pail(HDPE Pail)
Available Product Documents:
01. Product Data Sheet.
02. MSDS
03. Test Reports
04. Construction Guideline
05. Company Brochure
06. Powerpoint(PPT)
Skype: goodcrete WeChat: 13503217507