Slice O Matic Slice Your Prep Time In Half As Seen On TV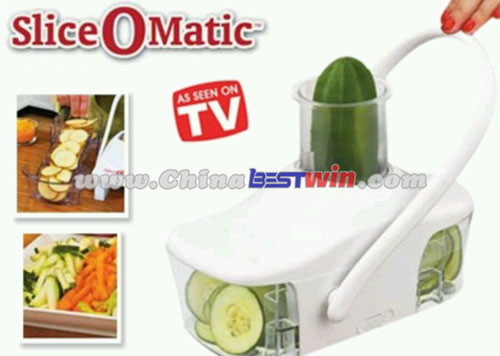 1.Product Description:
Slice-O-Matic Fruits and Vegetables Slicer
This item is in new condition in original box.
Stainless Steel Blades
Catch Container
Easy Glide Handle
Slice-O-Matic is the best way to slice and dice your way to easy food preparation that takes just seconds to do. Perfect for soups, stews and stir-fry. Slices potatoes, onions, carrots and more. Your hands never touch the blade. Adjust the dial to change thickness of slices fast and easy to use. The handy catch container keeps the food contained.
2.Features:
Built-In Catch Container

Stainless Steel Blades

Slice Or Julienne Settings

Adjustable Slice Settings

Easy Glide Handle