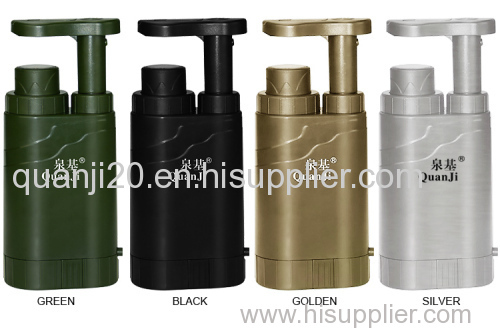 QJ-A8 EXPLORER,Portable Water Filter,Outdoor water filter
◆ Technical Specification
● Product Name:EXPLORER,Portable Water Filter,Outdoor water filter
● Model:QJ-A8
● Filtration Fineness:0.1um
● Capacity:≥2000L(depending on water quality)
● Filter Material:Ceramic,acrbon fiber,Brominated Polystyrene Hydantoin(USA)
● Operating Temperature:5℃~45℃
◆ Informational parameter
● Patent No:ZL201420678808.0
● Report For Analysis:Guangdong Industry Microbe Test Center,Test NO:2015SP1639
● Replacement Cartridge Model:QJ-A8LX
● Weight:350g
● Size:8×4.7×17cm
● QTY:42pcs
● Packing weight:16kg
● Packing Size:62×30×28cm
Product Description
This fliter could truns turbid water from rain, lake, river and other natural water into direct drinkable water immediately as it could remove the bacteria in water entirely. A perfect choice for soldiers, Hiking, Fishing, Hunting, Outdoor Work, Camping, Survival, Military, Foreign Travel, exploration Insurance, climbing, refugee and rescuer in Emergency or natural disasters such as a Earthquake and floods response equipment, etc.
Moreover it is also an affordable source of drinking water for people who live in the conflict area, riot area, remote village and tribe.
Features
1. Unique dual ceramic membranes cartridge:
Entirely removes bacteria in water like Escherichia coli, Staphylococcus aureus, Salmonella typhi, Vibrio cholerae,
Legionella pneumophila, Giardia intestinalis.
Filters out particles down to 0.1 micron — compare to the best commercially available unit that can only filter down to 0.2 micron.
Entirely removes suspended contaminants of protozoa, algae, worms, dusts, etc.
2. Nano-metal clusters media :
Highly efficiently removes heavy metal ions in water such as Pb2 , Cd2 , Cr6 , As3 , etc .
Efficiently decreases organic pollutants.
Having a good ability to remove odors and cloudiness.
Normal operation
1. Place input hose in untreated water source (river, lake and rain, etc. ). Adjust float to keep prefilter off the bottom away from sediment.
2. Place output hose into a clean water container.
3. Hold the filter vertically and begin pumping the handle in a slow, steady manner.
4. After filling water container with filtered water, remove output hose from container and input hose from water source. Continue pumping to remove remaining water from pump body.
5. Wrap input hose and output hose around housing. Store filter inside the box.
Cleaning method
If the filter pores of the ceramic are clogged, the ceramic needs to be cleaned. Remove ceramic cartridge by turning ceramic cover counter-clockwise. Clean the ceramic with water, if necessary with the supplied abrasive paper.
Specifications
Size of ceramic membr
ane's aperture: 0.1 micron
Output: Approx. 0.3 l/min (10 oz. per minute)
Max filter capacity: 2,000 liters (530 gallons)
Material: ABS
Package Included
1 x Army water purifier
1 x Lubricating oil
6 x Abrasive papers (For cleaning the filter)
1 x Glasses Box
1 x User Manual