Compared with the traditional tulip contact, this new type tulip contacts has the following advantages:
1. Loop resistance reduced by about 30%;
2.Temperature rise reduced about 10%;
3. Plug-in and plug-out force is reduced by 20%;
4.The endurance life of the coating is 2 times longer;
5. The deviation value is within 5mm, and the contact force is uniform and the resistance value is constant, and the false contact and floating phenomenon can be eliminated;
6. Has a lighter weight;
7.Antioxidant capacity will be multiplied;
8.The service life will be extended by up to two times.
Tulip Contact (Moving Contact) Drawing: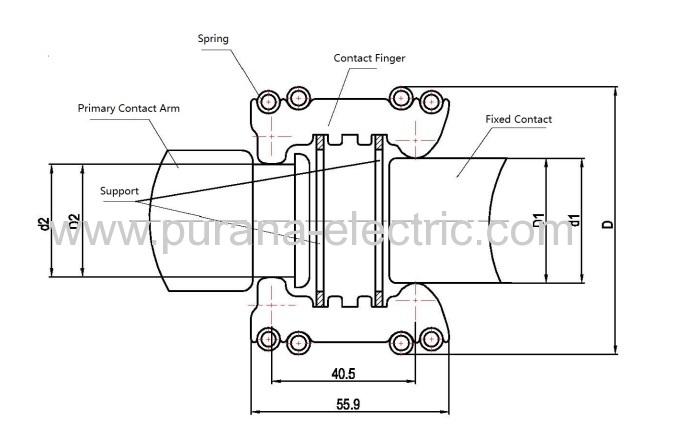 Technical Descriptions:
1. The contact finger material is T2 cooper and the thickness is 3mm, and the surface silver coating is according to clients' requirements;
2. The support material is stainless steel with thickness 2mm, no sharp corners and burr;
The spring contacts are spaced regularly.

Dimension table:
| | | | | | | | |
| --- | --- | --- | --- | --- | --- | --- | --- |
| Item No. | Specification | Contact finger qty | Off-working state opening dimension | With fixed contact D1 | Off-working state opening dimension | With fixed contact D2 | Spring external diameter D |
| 1 | 630/25 | 12 | Φ33.5±1 | Φ35 | Φ26±1 | Φ28 | Φ74±1 |
| 2 | 630/31.5 | 24 | Φ33.5±1 | Φ35 | Φ26±1 | Φ28 | Φ74±1 |
| 3 | 1250/31.5 | 24 | Φ47.5±1 | Φ49 | Φ40±1 | Φ42 | Φ88±1 |
| 4 | 1250/40 | 30 | Φ47.5±1 | Φ49 | Φ40±1 | Φ42 | Φ88±1 |
| 5 | 1600/40 | 36 | Φ53.5±1 | Φ55 | Φ46±1 | Φ48 | Φ94±1 |
| 6 | 2000/40 | 48 | Φ77.5±1 | Φ79 | Φ70±1 | Φ72 | Φ118±1 |
| 7 | 3150/40 | 64 | Φ107.5±1 | Φ109 | Φ100±1 | Φ102 | Φ148±1 |
| 8 | 4000/40 | 82 | Φ107.5±1 | Φ109 | Φ100±1 | Φ102 | Φ148±1 |
Tulip Contact (Moving Contact) in details: