Innovative product 40w led linear office lighting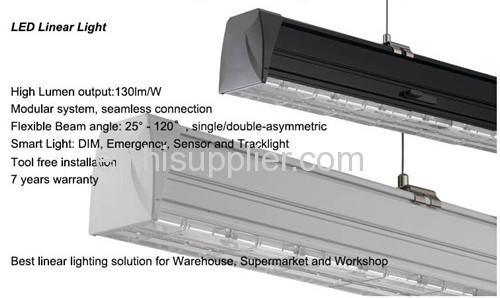 Parameter
Item




LL-40

LL-65

LL-80

Gross Power




40W

65W

80W

Length




1500mm

1500mm

1500mm

Phase




3

3

3

Color temperature




2800-6500K

2800-6500K

2800-6500K

LED type




SMD5630

SMD5630

SMD5630

Quantity of LED




180

300

360

Operating voltage




AC100-240(50/60HZ)

AC100-240(50/60HZ)

AC100-240(50/60HZ)

Material




PC+AL6063

PC+AL6063

PC+AL6063

Dimming




DALI, 1-10V, PMW

DALI, 1-10V, PMW

DALI, 1-10V, PMW

Luminous flux




5200lm

8500lm

10400lm

Luminous efficacy




>120LM/W

>120LM/W

>120LM/W

IP rating




IP42

IP42

IP42

Connector




T

T

T




L

L

L




X

X

X

CRI




Ra80

Ra80

Ra80

Working temperature




-40 to 80 degree

-40 to 80 degree

-40 to 80 degree

Power factor




>0.95

>0.95

>0.95

View angle




Narrow

Narrow

Narrow




Narrow-wide

Narrow-wide

Narrow-wide




Wide

Wide

Wide
Advantages:
1. High luminous efficiency (>130lm/w) due to good quality LED whose source from ILJIN with Samsung chip in Korea. Life time of our led linear is more than 50000hrs.
2. Multi-functional dimming: DALI, 1-10V and PMW, switch dimming are available.
3. Multi-Sensor modual: Microwave sensor, Daylight sensor.
4. L, X and T mode connector.
5. Multi-Angle lens: Narrow, Narrow-wide and Wide angle, flat, asymmetric, double asymmetric.
Product:
Trunking Rail
The flexible trunking system for challenging lighting demands in all application.
With fully compatible modular kit, it adapts individually to complex lighting tasks. It has an 11-pole current conducting section built into its trunking. This means that the system comes ready equipped to meet tomorrow's needs. All functions such as power supply, lighting control and connection to emergency lighting are seamlessly integrated into this multifunctional trunking. Luminaires can be positioned flexibly and the system can be adapted to suit structural alterations at any time.
The trunking rail is simply a matter of replacing or adding lighting modules, light sources or optics as required.
Wire Information:
5/7/11 wiring are available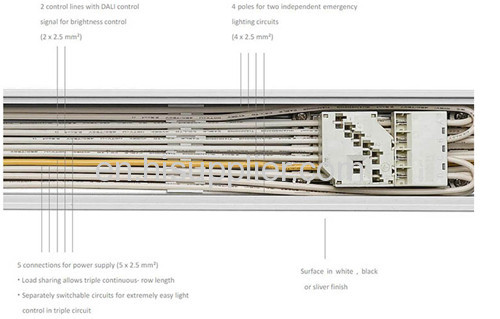 The cable in the trunking with preassembled connector makes it possible to join trunking units without the use of any tools, which really helps save much labor cost.
5, 7 or 11-core trunking is available. Customised trunking mode is flexible, e.x, the function of 2 line in 7-core trunking could be DALI dimming or Emergency lighting.
Optics:a wide range of optics from sharp to wide distribution, as well as asymmetric
· sharp distribution, 25 degree
· narrow distribution, 60 degree
· wide distribution, 90 degree
· flat distribution, 120 degree
· asymmetric distribution
· double asymmetric distribution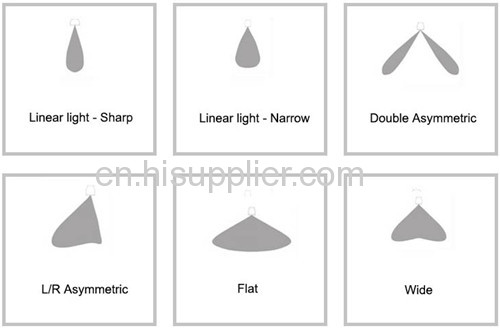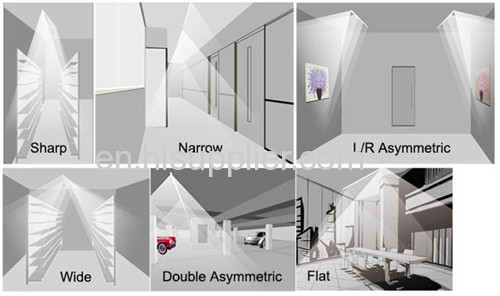 Node Connector
All system components can be combined without tools. X, T and L connectors expand the system's application range.

Each node connector has diverse of electrical feed-in and feed-out. The node connector is not only to connect the cross trunking, but also to connect the wire inside the trunking, and the node
connector itself could even be the electricity feed-in point.
Luminaire
A continuous-row LED lighting system could be created only by a trunking unit and an LED luminaire. It appears as a consistent continuous-row system, without any visual interruption or different reflectors. The Luminaire and trunking are perfectly matched to each other.
All possible light distribution patterns can be created with various optical components.
The high light efficiency of 130 lm per Watt makes reduction on energy consumption and additional cost.
The LEDs keeps enough margin to make sure the luminaire efficiency reach the best level.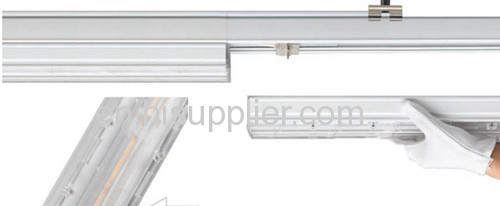 With a color rendering index of Ra > 80, color temperatures of 3000 K, 4000 K, 5000 K and 6000 K, and low UGR, it could meet environmental requirements and comply with funding guidelines for energy-efficient building and lighting solutions.

Installation
A maximum suspension span of 3m ensures quick and easy installation with fewer suspension points.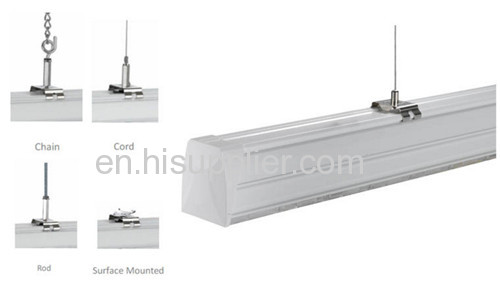 Emergency Lighting Systems

Emergency lighting systems ensures optimum lighting and orientation, even in the event of a power failure.
General lighting and emergency lighting are combined in a single highly functional, integrative lighting solution.
A wide variety of emergency mode is available,
· Central battery systems / Generator
EL1 EN1 & EL2 EN2 makes mode selected
· Self contained battery
Under this mode, the luminaries could be 6W or 12W, working for 1.5 hours or 3 hours (depending on the demand selected in advance)
Ni-MH battery we used is high temperature resistant to make sure its life time could be longer than others.
A small spotlight is available on 600mm module as an extra version featuring a rotating lighting head for emergency use of 5W.
DALI and DIMMING SYSTEM

Dimming system is suitable for complex applications for controlling rooms and storey, for daylight-dependent control and dynamic light control. 3 types of dimming are available,
· DALI dimming
· 1-10V dimming
· DIMswitch
It does not only have an integrated microwave sensor for movement detection, but also a daylight sensor.
Package
Application: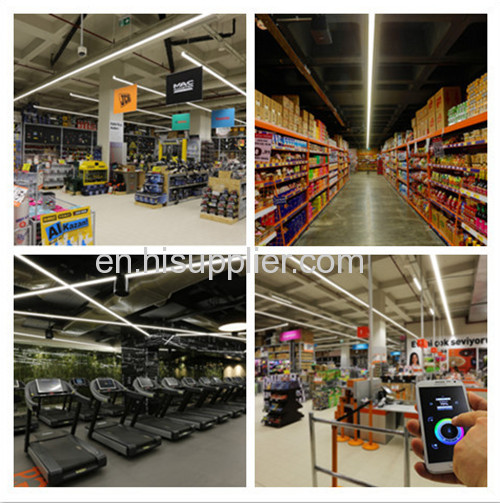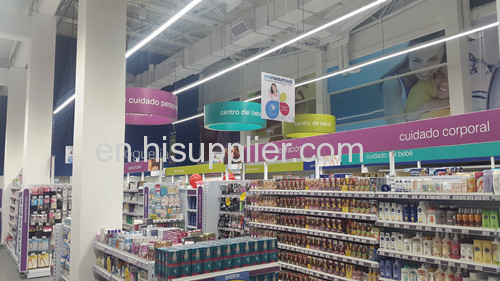 Factory:
Our Service:
1. Your enquiry can be replied in 24 working hours;
2. Experienced staffs answer all your questions in fluent English;
3. OEM is available, and OEM sample can be finished within 7 days;
4. Exlusive solution can be provided to our customer by our well-trained and professional engineers and staffs.
Choose CoreShine:
1. All the products with unique design and best materials.
2. High luminous efficiency
(>=130lm/w) due to good quality LED, which source from everlight with Epistar chip.
3. Own designed driver make sure long life time and safer