Medical Packaging Tester is designed for the measurement of force properties of a variety of medical packaging materials, such as tensile, compression, strength, tear, opening, penetration, breaking and pull test of polymers, bags, ampoule, rubber stopper, syringe, needle etc. With multiple fixtures available, this is a versatile and indispensable to medical packaging facilities.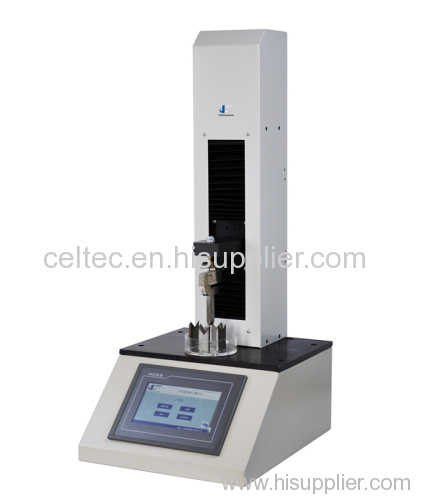 Features:
1. 7 inch TFT touch screen makes parameter setting and test operation easy and convenient.
2. PLC control realizes precise control of the driving system and the overall performance of the instrument.
3. Precision ball screw for accurate speed and displacement.
4. Test speed is adjustable.
5. Tensile and compression tests are available.
6. Multiple fixtures available for multiple types of pulling and compression tests.
7. Limiting device and automatic returning function ensure safe operation.
Technical Data
Test Range 200N (Standard)
Speed 1-500 mm/m
Resolution 0.5% F.S.
Stroke 400mm
Dimension 400mm (L) ×340mm (W) ×800mm (H)
Power AC 220V 50Hz
Standards:
USP 381, EP 329, YBB00052005