PROFESSIONAL PRESSURE ,LEVEL,TEMPERATURE TRANSMITTER SOLUTION PROVIDER
Instruction:
HPT-5 high temperature transmitter uses high temperature pressure sensor as sensing element. The media is
transferred onto sensor through heating cooling parts, and high accuracy amplified circuit board is in stainless steel
housing, transmitting sensor signal into standard output signal. The whole product is produced through components
making, simi-finished product and all-finished product strict testing and aging, having stable and reliableperformance.The transmitter is widely used for high and low measurement and control of food, medicine, powerstation, engineering, automobile, ship manufacture, petroleum, metallurgy, steam and heat exchanging, aviation,space,flight, and scientific research and laboratory instrument, etc.
Features:
Ø Good anti-impact, anti-shock ability
Ø Zero, full range of convenient adjustment
Ø Full welded sensor with pressure por
Ø Long life span
Ø Good temperature characteristics, small drift

Applications:
Ø Hydraulic/Pneumatic Control Systems
Ø Energy and Water Management
Ø Automation equipment
Ø Process control
Ø Steam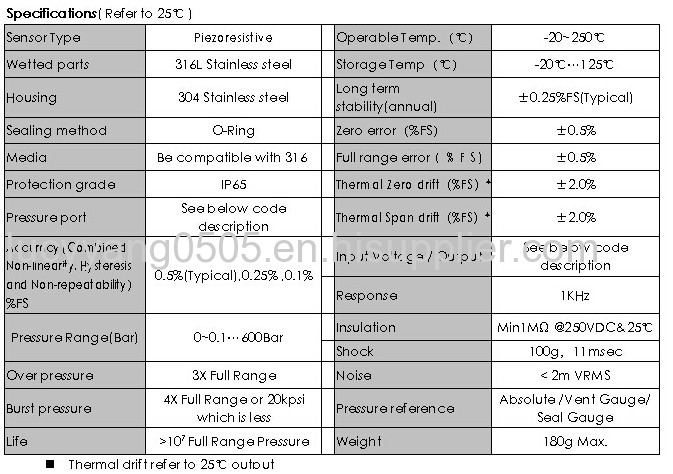 More information please feel free to contact
Contact:Lucy
Skype:yanglu198605
QQ:799908864
Whatsapp:+86 18825277969
Wechat:lucyyang0505