Involution of Uterus Therapy
Abdominal electrode in maternal sacrococcygeal, promote contraction of the pelvic muscles, enhance the fascia tension, eliminate pelvic congestion, reduce postpartum hemorrhage, promote lochia elimination, accelerate the involution of uterus.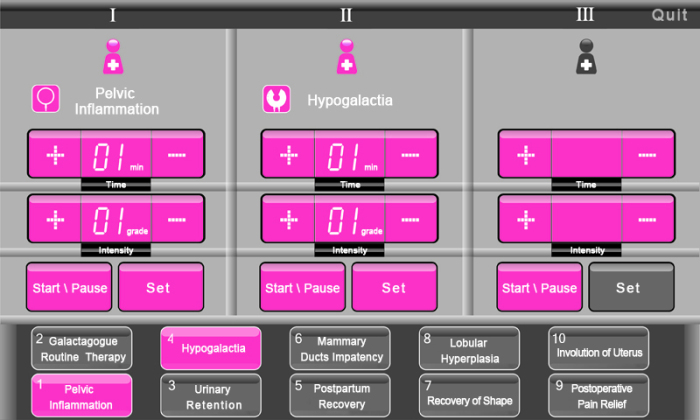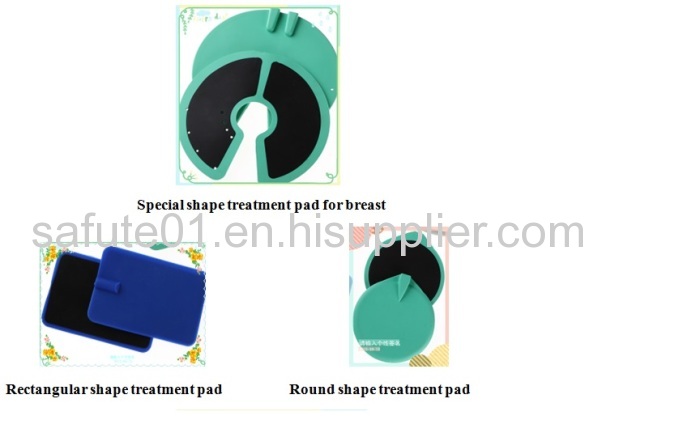 Urinary retention is the inability to voluntarily void urine. This condition can be acute or chronic. Causes of urinary retention are numerous and can be classified as obstructive, infectious and inflammatory, pharmacologic, neurologic, or other. The most common cause of urinary retention is benign prostatic hyperplasia. Other common causes include prostatitis, cystitis, urethritis, and vulvovaginitis; receiving medications in the anticholinergic and alpha-adrenergic agonist classes; and cortical, spinal, or peripheral nerve lesions. Obstructive causes in women often involve the pelvic organs. A thorough history, physical examination, and selected diagnostic testing should determine the cause of urinary retention in most cases. Initial management includes bladder catheterization with prompt and complete decompression. Men with acute urinary retention from benign prostatic hyperplasia have an increased chance of returning to normal voiding if alpha blockers are started at the time of catheter insertion. Suprapubic catheterization may be superior to urethral catheterization for short-term management and silver alloy-impregnated urethral catheters have been shown to reduce urinary tract infection. Patients with chronic urinary retention from neurogenic bladder should be able to manage their condition with clean, intermittent self-catheterization; low-friction catheters have shown benefit in these patients. Definitive management of urinary retention will depend on the etiology and may include surgical and medical treatments.
Urinary retention is the inability to voluntarily urinate. Acute urinary retention is the sudden and often painful inability to void despite having a full bladder.1 Chronic urinary retention is painless retention associated with an increased volume of residual urine.2 Patients with urinary retention can present with complete lack of voiding, incomplete bladder emptying, or overflow incontinence. Complications include infection and renal failure.
View/Print Table
SORT: KEY RECOMMENDATIONS FOR PRACTICE
CLINICAL RECOMMENDATIONEVIDENCE RATINGREFERENCES
| | | |
| --- | --- | --- |
| | | |
| In men with benign prostatic hyperplasia, initiation of treatment with alpha blockers at the time of catheter insertion improves the success rate of trial of voiding without catheter. | B | 36, 37 |
| Men with urinary retention from benign prostatic hyperplasia should undergo at least one trial of voiding without catheter before surgical intervention is considered. | C | 31 |
| Prevention of acute urinary retention in men with benign prostatic hyperplasia may be achieved by long-term treatment with 5-alpha reductase inhibitors. | B | 38–40 |
| Silver alloy-impregnated urethral catheters reduce the incidence of urinary tract infections in hospitalized patients requiring catheterization for up to 14 days. | A | 41 |
| Suprapubic catheters improve patient comfort and decrease bacteriuria and recatheterization in patients requiring catheterization for up to 14 days. | A | 42 |
| Low-friction, hydrophilic-coated catheters increased patient satisfaction and decreased urinary tract infection and hematuria in patients with neurogenic bladder who practice clean, intermittent self-catheterization. | A | 47, 48 |
A = consistent, good-quality patient-oriented evidence; B = inconsistent or limited quality patient-oriented evidence; C = consensus, disease-oriented evidence, usual practice, expert opinion, or case series. For information about the SORT evidence rating system, see page 579 or http://www.aafp.org/afpsort.xml.
Family physicians often encounter patients with urinary retention. In two large cohort studies of U.S. men 40 to 83 years of age, the overall incidence was 4.5 to 6.8 per 1,000 men per year. The incidence dramatically increases with age so that a man in his 70s has a 10 percent chance and a man in his 80s has a more than 30 percent chance of having an episode of acute urinary retention.3,4 The incidence in women is not well documented. Although the differential diagnosis of urinary retention is extensive, a thorough history, careful physical examination, and selected diagnostic testing should enable the family physician to make an accurate diagnosis and begin initial management.
Causes of Urinary Retention
Although classification systems vary, causes of urinary retention can be categorized as obstructive, infectious and inflammatory, pharmacologic, neurologic, or other (Table 11,5–7).
View/Print Table
Table 1
Selected Causes of Urinary Retention
CAUSEMENWOMENBOTH
| | | | |
| --- | --- | --- | --- |
| | | | |
| Obstructive | Benign prostatic hyperplasia; meatal stenosis; paraphimosis; penile constricting bands; phimosis; prostate cancer | Organ prolapse (cystocele, rectocele, uterine prolapse); pelvic mass (gynecologic malignancy, uterine fibroid, ovarian cyst); retroverted impacted gravid uterus | Aneurysmal dilation; bladder calculi; bladder neoplasm; fecal impaction; gastrointestinal or retroperitoneal malignancy/mass; urethral strictures, foreign bodies, stones, edema |
| Infectious and inflammatory | Balanitis; prostatic abscess; prostatitis | Acute vulvovaginitis; vaginal lichen planus; vaginal lichen sclerosis; vaginal pemphigus | Bilharziasis; cystitis; echinococcosis; Guillain-Barré syndrome; herpes simplex virus; Lyme disease; periurethral abscess; transverses myelitis; tubercular cystitis; urethritis; varicella-zoster virus |
| Other | Penile trauma, fracture, or laceration | Postpartum complication; urethral sphincter dysfunction (Fowler's syndrome) | Disruption of posterior urethra and bladder neck in pelvic trauma; postoperative complication; psychogenic |
note: For pharmacologic and neurologic causes of urinary retention, see Tables 2 and 3, respectively.
Information from references 1 and 5 through 7.
OBSTRUCTIVE
Obstruction of the lower urinary tract at or distal to the bladder neck can cause urinary retention. The obstruction may be intrinsic (e.g., prostatic enlargement, bladder stones, urethral stricture) or extrinsic (e.g., when a uterine or gastrointestinal mass compresses the bladder neck causing outlet obstruction). The most common obstructive cause is benign prostatic hyperplasia (BPH).1,5 In a study of 310 men over a two-year period, urinary retention was caused by BPH in 53 percent of patients. Other obstructive causes accounted for another 23 percent.7
Each year in the United States, there are approximately 2 million office visits and more than 250,000 surgical procedures performed for patients with BPH.4 BPH causes bladder neck obstruction through two mechanisms: prostate enlargement and constriction of the prostatic urethra from excessive alpha-adrenergic tone in the stromal portion of the gland.8
Other obstructive causes of urinary retention in men include prostate cancer, phimosis, paraphimosis, and external-constricting devices applied to the penis. Obstructive causes in women often involve pelvic organ prolapse such as cystocele or rectocele. Urinary retention can also result from external compression of the bladder neck from uterine prolapse and benign or malignant pelvic masses. In men and women, urethral strictures, stones, and foreign bodies can directly block the flow of urine. Fecal impaction and gastrointestinal or retroperitoneal masses large enough to cause extrinsic bladder neck compression can result in urinary retention. Urinary retention from bladder tumors is usually caused by blood clots from intravesicular bleeding and often presents with painless hematuria.9
INFECTIOUS AND INFLAMMATORY
The most common cause of infectious acute urinary retention is acute prostatitis. Acute prostatitis is usually caused by gram-negative organisms, such as Escherichia coli and Proteus species, and results in swelling of the acutely inflamed gland.1,10 Urethritis from a urinary tract infection (UTI) or sexually transmitted infection can cause urethral edema with resultant urinary retention, and genital herpes may cause urinary retention from local inflammation and sacral nerve involvement (Elsberg syndrome).11 In women, painful vulvovaginal lesions and vulvovaginitis can cause urethral edema, as well as painful urination, which also results in urinary retention.
PHARMACOLOGIC
Medications with anticholinergic properties, such as tricyclic antidepressants, cause urinary retention by decreasing bladder detrusor muscle contraction.12 Sympathomimetic drugs (e.g., oral decongestants) cause urinary retention by increasing alpha-adrenergic tone in the prostate and bladder neck.8 In a recently published population-based study, men using nonsteroidal anti-inflammatory drugs (NSAIDs) were twice as likely to experience acute urinary retention compared with those not using these agents. NSAID-induced urinary retention is thought to occur by inhibition of prostaglandin-mediated detrusor muscle contraction.13 Table 25 lists medications associated with urinary retention.
View/Print Table
Table 2
Pharmacologic Agents Associated with Urinary Retention
CLASSDRUGS
| | |
| --- | --- |
| | |
| Antiarrhythmics | Disopyramide (Norpace); procainamide (Pronestyl); quinidine |
| Anticholinergics (selected) | Atropine (Atreza); belladonna alkaloids; dicyclomine (Bentyl); flavoxate (Urispas); glycopyrrolate (Robinul); hyoscyamine (Levsin); oxybutynin (Ditropan); propantheline (Pro-Banthine*); scopolamine (Transderm Scop) |
| Antidepressants | Amitriptyline (Elavil*); amoxapine; doxepin (Sinequan*); imipramine (Tofranil); maprotiline (Ludiomil*); nortriptyline (Pamelor) |
| Antihistamines (selected) | Brompheniramine (Brovex); chlorpheniramine (Chlor-Trimeton); cyproheptadine (Periactin*); diphenhydramine (Benadryl); hydroxyzine (Atarax*) |
| Antihypertensives | Hydralazine; nifedipine (Procardia) |
| Antiparkinsonian agents | Amantadine (Symmetrel); benztropine (Cogentin); bromocriptine (Parlodel); levodopa (Larodopa*)†; trihexyphenidyl (Artane*) |
| Antipsychotics | Chlorpromazine (Thorazine*); fluphenazine (Prolixin*); haloperidol (Haldol); prochlorperazine (Compazine*); thioridazine (Mellaril*); thiothixene (Navane) |
| Hormonal agents | Estrogen; progesterone; testosterone |
| Muscle relaxants | Baclofen (Lioresal); cyclobenzaprine (Flexeril); diazepam (Valium) |
| Sympathomimetics (alpha-adrenergic agents) | Ephedrine; phenylephrine (Neo-Synephrine); phenylpropanolamine‡; pseudoephedrine (Sudafed) |
| Sympathomimetics (beta-adrenergic agents) | Isoproterenol (Isuprel); metaproterenol (Alupent); terbutaline (Brethine*) |
| Miscellaneous | Amphetamines; carbamazepine (Tegretol); dopamine (Intropin*); mercurial diuretics; nonsteroidal anti-inflammatory drugs (e.g., indomethacin [Indocin]); opioid analgesics (e.g., morphine [Duramorph]); vincristine (Vincasar PFS) |
*— Brand not available in the United States.
†— Levodopa is only available in combination drug products (e.g., carbidopa/levodopa [Sinemet]).
‡— Drug not available in the United States.
Adapted with permission from Curtis LA, Dolan TS, Cespedes RD. Acute urinary retention and urinary incontinence. Emerg Med Clin North Am. 2001;19(3):600.
NEUROLOGIC
Normal functioning of the bladder and lower urinary tract depends on a complex interaction between the brain, autonomic nervous system, and somatic nerves supplying the bladder and urethra. Interruption along these pathways can result in urinary retention of neurologic etiology (Table 36). Neurogenic or neuropathic bladder is defined as any defective functioning of the bladder caused by impaired innervation.14
Urinary retention from neurologic causes occurs equally in men and women.5 Although most patients with neurogenic bladder will experience incontinence, a significant number might also have urinary retention.15 Up to 56 percent of patients who have suffered a stroke will experience urinary retention, primarily because of detrusor hyporeflexia. In a prospective study, 23 of 80 patients with ischemic stroke developed urinary retention, with the majority having resolution within three months.16 Up to 45 percent of patients with diabetes mellitus and 75 to 100 percent of patients with diabetic peripheral neuropathy will experience bladder dysfunction, which is likely to include urinary retention.17 Voiding dysfunction tends to correlate with the severity of multiple sclerosis and occurs in up to 80 percent of patients, with urinary retention being present in approximately 20 percent.18 Disk herniation, spinal trauma, and cord compression from benign or malignant tumors may cause urinary retention through interruption of spinal pathways.19
View/Print Table
Table 3
Neurologic Causes of Urinary Retention and Voiding Dysfunction
LESION TYPECAUSES
| | |
| --- | --- |
| | |
| Autonomic or peripheral nerve | Autonomic neuropathy; diabetes mellitus; Guillain-Barré syndrome; herpes zoster virus; Lyme disease; pernicious anemia; poliomyelitis; radical pelvic surgery; sacral agenesis; spinal cord trauma; tabes dorsalis |
| Brain | Cerebrovascular disease; concussion; multiple sclerosis; neoplasm or tumor; normal pressure hydrocephalus; Parkinson's disease; Shy-Drager syndrome |
| Spinal cord | Dysraphic lesions; invertebral disk disease; meningomyelocele; multiple sclerosis; spina bifida occulta; spinal cord hematoma or abscess; spinal cord trauma; spinal stenosis; spinovascular disease; transverse myelitis; tumors or masses of conus medullaris or cauda equine |
Adapted with permission from Ellerkmann RM, McBride A. Management of obstructive voiding dysfunction. Drugs Today (Barc). 2003;39(7):515.
OTHER CAUSES
Postoperative Complications. Family physicians often encounter urinary retention in patients who have had surgery. Pain, traumatic instrumentation, bladder over-distension, and pharmacologic agents (particularly opioid narcotics) are all thought to play a role. After rectal surgery, patients will experience urinary retention up to 70 percent of the time.20 As many as 78 percent of patients who have had total hip arthroplasty and up to 25 percent of patients who have had outpatient gynecologic surgery will develop urinary retention.21,22 During hemorrhoidectomy, the use of selective pudendal nerve block rather than spinal anesthesia may decrease urinary retention.20 In some studies, perioperative administration of prazosin (Minipress) has also been shown to decrease postoperative urinary retention in men.23
Pregnancy-Associated Urinary Retention. Urinary retention during pregnancy is usually the result of an impacted retroverted uterus that causes obstruction of the internal urethral meatus, most often at 16 weeks' gestation.24 Post-partum, the incidence is reported to be 1.7 to 17.9 percent. Risk factors include nulliparity, instrumental delivery, prolonged labor, and cesarean section.25,26 In a study of more than 3,300 deliveries, women who received epidural anesthesia were significantly more likely to experience urinary retention than those who did not.27
Trauma. Acute injury to the urethra, penis, or bladder may cause urinary retention. Bladder rupture and urethral disruption can occur with pelvic fracture or traumatic instrumentation.