Driller pannel PSZ90 Disc Brake System
Oilfield PS series Disc Brake System Driller pannel
PS series disc brake system with below functions: Service brake, emergency brake, over winding protection,
parking brake and mistaken operation protection.
The system consists of three parts: brake actuation mechanism, hydraulic station and operation panel. These
three parts are connected through hydraulic pipes. The hydraulic station is the hydraulic power supply unit,
which provides necessary hydraulic power for the actuation mechanism; the operation panel is the hydraulic
power control unit; the actuation mechanism is the braking actuating unit, which consists of braking caliper,
caliper frame and friction dice, and the braking calipers include normal open service calipers and normal
closed safety calipers.
Technical parameters of the Oilfield Disc Brake System
Caliper type

Max. Normal force on single side (KN)

Rated hydraulic pressure (Mpa)

Application

Conventional control

Electric control

PSX50

50

6

7

Drilling rig: ZJ15, ZJ10 / workover rig/ Well hoister

PSZ65

65

6.5

7.5

Drilling rig: ZJ 40, ZJ30, ZJ20

PSZ75

75

8

9

Drilling rig: ZJ70, ZJ50

PSZ90

90

10

11

ZJ90 Ultra deep well and offshore oil drilling
Parts of the Disc Brake System
Oil cylinder assembly for safety caliper water cooled brake disc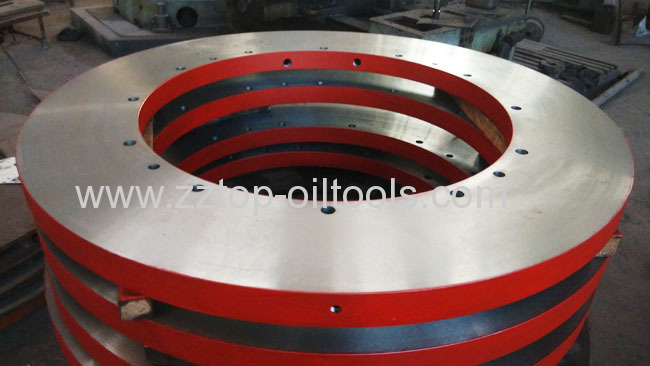 Driller pannel
Oilfield Disc Brake System Driller pannel