(1) Nick Baler with introduction
metal bale block making machine also called Scrap steel hydraulic press machine,The nickbaler success in the recycling baler sector is attributable to the unique lifting chamber loading system in combination with the manual control system. These two unique features allow the Nickbaler to function with a much lower labour input requirement and make our balers the got to machines for serious used metal and scrap copper , management compacting solutions.Due to its compact design the nickbaler requires less valuable floor space in the business premises than other comparable balers.As a result of the lifting chamber system the Nickbaler is able to deliver increased hydraulic power from smaller horsepower electric motors. This means that the nickbaler is vastly more efficient than any other comparable baling equipment and saves the user money in decreased electricity charges.
Our quality baler machines are used throughout European Certification of CE and Quality control systeom of industrial and commercial applications to help companies keep check of the waste management compacting needs.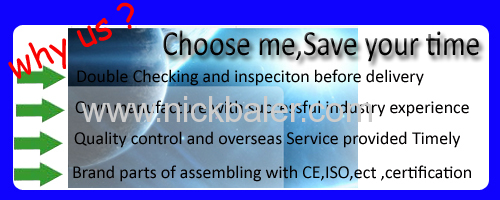 (2) Machine specification and features
hydraulic metal balers are applicable in steel plants,recyclingcompanies,ferrous& non-ferrous smelting industry to press metal scraps(steel,copper,aluminum,stainlesssteel,discardedautomobiles)into acceptable fumace charges(shapes:cuboid;cylinder or octagon),so as to reduce cost of transportation,to increase speed of fumace charging.
Features:
1)Hydraulic drive for all machine types,manual valve control or PLC control.
2)Bale-discharging:"turn-out","push-out","forward-out" or manual discharging.
3)No footing bolts needed in installation;diesel engine can be equipped for power.
4)Baling force 10 grades from 100 to 400 tons;productivity from 4 to 40 tons per shift(8 hours)
5) the feeding size and bale size can be design according to customer specifications
NKY81 Series Hydraulic Scrap Metal Baler

No

Type

Nominal Force

(KN)

Power (KW)

Feed Box Size

(mm)

Bale Size

(mm)

Productivity

(kg/h)

Operation

1

NKY81-1250

1250

15

1200*700*600

300*300

800-1500

Manual or PLC

2

NKY81Q-1350

1350

22

1400*600*600

600*240

1500-2200

Manual or PLC

3

NKY81-1600A

1600

22

1600*1000*700

350*350

2000-3000

Manual or PLC

4

NKY81-1600B

1600

22

1600*1200*800

400*400

2000-3000

Manual or PLC

5

NKY81-2000A

2000

30

1600*1200*800

400*400

2000-3000

Manual or PLC

6

NKY81-2000B

2000

37

1800*1400*900

450*450

2500-3500

Manual or PLC

7

NKY81-2500A

2500

44

1800*1400*900

450*450

3000-5000

Manual or PLC

8

NKY81-2500B

2500

44

2000*1400*900

500*500

3000-5000

Manual or PLC

9

NKY81-2500C

2500

60

2000*1750*1000

500*500

3500-5000

Manual or PLC

10

NKY81-3150A

3150

60

2000*1400*1000

500*500

3500-5000

Manual or PLC

11

NKY81-3150B

3150

60/66

2000*1750*1200

500*500

3500-5000

Manual or PLC

12

NKY81-3150C

3150

90

2600*2000*1200

550*550

4000-7000

Manual or PLC

13

NKY81-4000A

4000

66

2000*1600*1100

550*550

4000-7000

Manual or PLC

14

NKY81-4000B

4000

110

2600*1750*1200

550*550

5000-8000

Manual or PLC

15

NKY81-4000C

4000

90

3000*2000*1200

600*600

6000-8000

Manual or PLC

16

NKY81-6000

6000

135

5000*2000*1200

700*700

8000-10000

Manual or PLC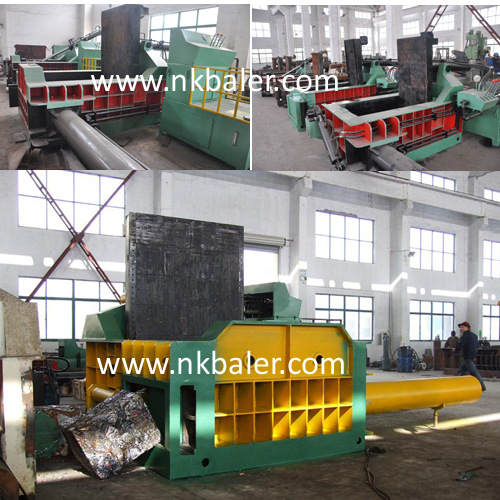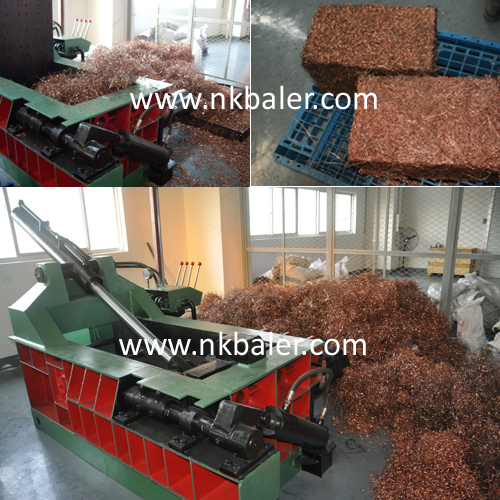 (3) Processing ,packing and shipping
1.Double check and testing before shipping ensure the quality of balers
2.Baler machine manufacture Can be absolutely lived up you our client standard as stipulate in the contract
3.Every procedure will be inspected strictly to meet our customer's needs
4.Every professional proceeding ensures the high quality for exporting
5.Professional service project ensure the products service maximization and customer benefit maximization.
6. Modern standard manufactory, advanced equipments and strict quality management system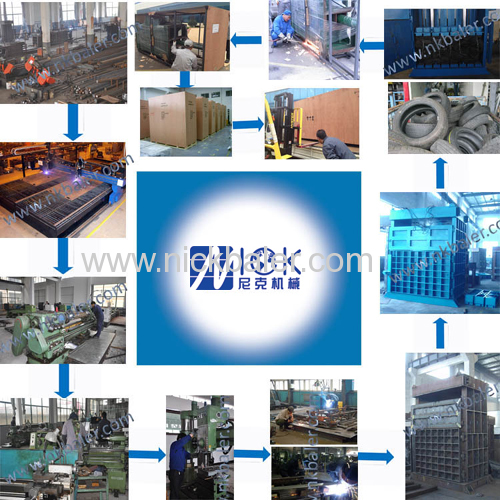 (4) Advantage of nick baler
Choose us for 9 reasons :
1. With Standard of the modern industrial workshop and advanced production, processing, testing equipment.
2. Professional team with one-on-one service to customer . According to customer's special requirements, special products .
3. Professional engineering team and advanced technology to supply perfect machine.
4. Full Energy and professional team in research-development, processing, sales, sales-service create super quality brand
5. Unique design and professional service, we do every link with your approval.
6. Absorbing Germany, European and American technology , hundreds of machine for your freedom of choice
7. Professional sales team and diversification processing production to full cooperate and create unique device
8. Besides of high cost performance and saving your time, with professional team that only to talk about service rather than price to serve customer
9. Without any worry and trouble after followed, both new and regular customer can freely choose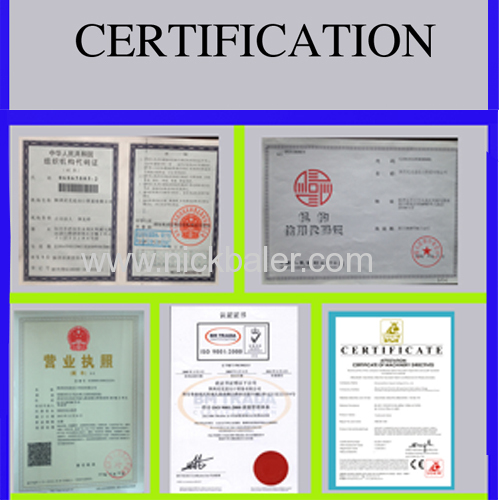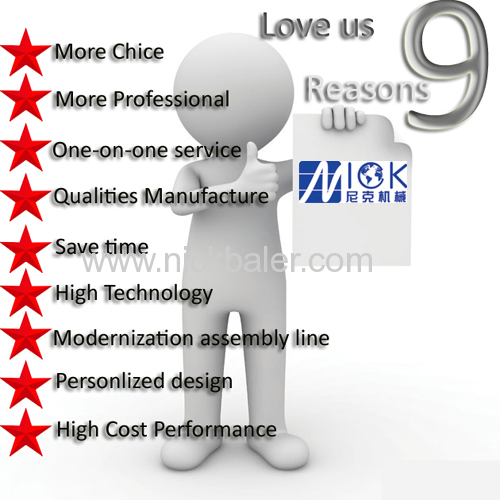 RFQ ( Freely question and answers ) by Nick baler company
1. What fields dose your baler be used in?
Our baler is used in waste paper,cardboard ,news paper,corrugated paper
,bottles,cans,plastic scraps and textile waste ,used cloth, food residue.etc.
2. Does your baler voltage can be customized ?
Usually it is 380v,3phase/50Hz or 60Hz,also we can design by our customers' require such as 220/ 415/ 440/ 460 /480 /550/ 750 etc.
3. What are your usual terms of payment?
We accept T/T( 40% payment as deposit ,and 60% will be paid before delivery) also CASH ,L/C, WESTERN UNION .
4. What kinds of trade terms do you usually accept?
We often accept EXW,FOB, CFR, CIF and so on. also you can arranged the shipment by your agent
5. What 's your usually delivery time ?
Usually it needs 30days after received your Purchase order ,if for big quantity order or big machine ,the delivery will be 40 days even longer and stocks in available timely .
6. What ways of transportation do you usually do?
By sea freight , train transport ,multi-transportation.
7. Does this machine need install ? how much does it cost ?
No ,this is exporting machine with whole units ,when you received the machine ,only connection with power ( like 380v ),and fill the hydraulic oil ( #46) with instruction manual ,it's very simple ,also we can guide you how to install this machine . if you need our engineer to arrive to your home ,you need to charge the cost of hotel and tickets fees .