180mm AC fireplace/pellet stove/hot air fan blower
Product Description
Electrical Parameters

Motor

AC external rotor motor

Insulation Class

Class "B"

Motor Protection


Locked rotor protection & Reverse Polarity protection

soft start & Automatic restart capability


Speed Control


Speed controller

Type of protection


IP20


Operation Mode


S1


Direction of Rotation


Clockwise, seen on rotor


Dielectric Strength


3mA max. at 1500VAC 50Hz/s between frame and (+)terminal


EMC


EN 55011 and EN50082-2


Mechanical Parameters

Impeller Dimension


Φ180mm


Material of Impeller

Stainless steel

Mounting Position


Shaft horizontal or rotor on top

Bearing System

Dual NMB maintenance-free ball bearing

Life time

20000 hours (L10) at at 5000rpm,25°C room

Lead Wire

AWG#18 UL1007 (Mains)

Other Parameters


Operating Temperature

-30°C to 80°C

Storaging Humidity

0% to 90% RH

Approval

CE, CCC, ErP2015 and Rosh compliance

Warrent

18 months after delivery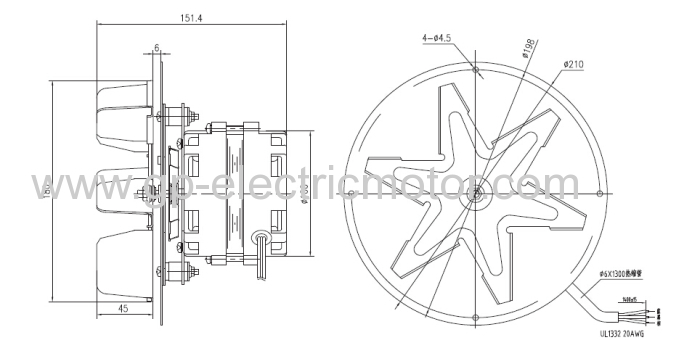 Specification

Item Code: GL180/045


Rated
Voltage

Frequency
(Hz)

Rated
Current(A)

Input
Power(W)

Speed
(RPM)

Air Flow
(CFM)

Capacitor

230V

50/60

≤0.53

120

1900

138

2uf/400v
Customized Solutions

All of the designs in the GP Motors portfolio of OEM electric motors, custom fans and blowers, custom controllers, custom
electromechanical motor assemblies and components are fully and easily customized (see some of the many customization
options listed below) offering OEMs high quality, cost effective options that meet their OEM application specific demands.
Choosing to customize one of the motors or fans in our portfolio, enables OEMs to meet their custom motor or fan
requirements while allowing for faster development times.
DATASHEETS FOR REFERENCE, MORE MODELS, PLEASE VIEW OUR WEB: www.gpemotor.com.