Best Selling Adhesive Eggshell Graffiti Sticker Custom Various
Design Breakable Vinyl Eggshell Sticker Label
We're a professional manufacturer of destructible vinyl materials,we could provide you with high quality and nice price
destructible vinyl materials and custom adhesive labels. For more informations,feel free to contact with us via
email:jessica(at)szminrui.com or skype:live:jessica_8358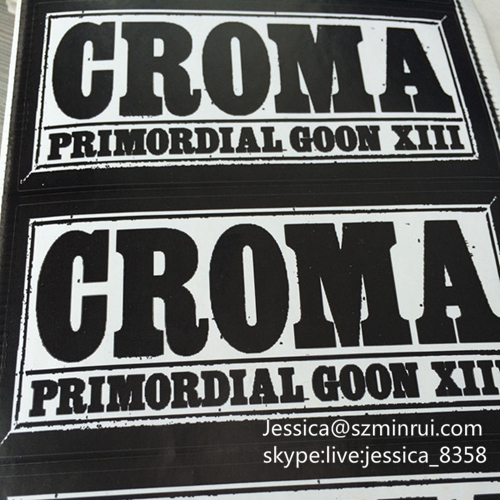 Features of Custom Various Design Breakable Vinyl Eggshell Sticker Label :
1.It has the very fragile surface.After the label stick on well for 24-48 hours ,it's hard
to remove and it's easy to break into pieces.
2.The fragile grade ,color,shape,thickness can be designed.
3.It has the smooth surface,it's very good for printing something on.
4.The label is suitable for any surface and has permanent adhesive.
5.This kind of sticker printed Hello My Name Is on it.
Ultra destructive labels quality could be promised and we could also provide many different fragile
breakable tamper proof destructible warranty sticker type solutions according to your requests

Largest manufacturer of self destructive label materials and destructive labels in China

Different destructible label paper styles for choose from with high quality

More than 15 years labels printing histories

Fast produce and fast delivery by door to door express




Eggshell stickers are very popular all around the world with artist and graffiti writers ,they are with

strong adhesive and cannot removed by one time .and they could also used as street graffiti stickers

or the advertisement or permanent warning stickers which you do not want others removed easily.




Different size and design destructive eggshell stickers,it would be custom with your own design

eggshell stickers,or our hot sale blank eggshell stickers.Like the photos show,it have one color or

many colors printing eggshell stickers with different designs,and also have plain blank eggshell

stickers,just tell us your ideal,we can custom blank eggshell stickers for any style.

Basic information:

Material:

Minrui Custom Various Design Breakable Vinyl

Eggshell Sticker Label

Adhesive:

Water-based,permanent adhesive after

48 hours' stick on something

Printing color:

can be customized

Color of materials:

silver,gold,blue,red,green and ec

Label content:

can be customized CDR/AI form document is ok

Label size:

can be customized

Brittle grade:

can be choosed

Packing:

on rolls or in sheet,then in cartons.

MOQ:

1000 pcs

Liners:

Glassine or common white liner

Feature:

Please check the instructions below

Sample time:

3-4 workdays by express

Delivery time

4-5 workdays,according to your quantity

Payment term:

T/T or west union

Shipment:

Express or flight or by shipping

Ps:

we are manufacture of the destructible

security label papers,our delivery time and quality can be promised.

What's more,our price is competitive for quality security labels

What we provide for Custom Various Design Breakable Vinyl Eggshell

Sticker Label

Various stocks to choose Various stocks for your different requirements.

Variable data printing Able to print sequential numbering, barcodes, and individual elements on each label.

Colours These labels could be printed with spot colours or full colours.

Die Cut Labels could be cut to rectangle, square, oval, circle or other shapes on request.

Lamination Gloss or matte finish to provide extra protection for the labels.

Packing Labels could be supplied on rolls or on sheets.

We are the manufacturer of eggshell paper in China,not only can supply you the eggshell stickers raw

materials,but also can custom eggshell stickers with your own design.Such as A4 size eggshell paper

are popular in all over the world,and have some customers required 54cmx200m per roll eggshell

paper materials.Just tell us your ideal,we can give you reply and prompt attention.




Application and Use :

* Gift,Name tags,Graffiti arts,doodles,Street Stickers,Outdoor Advertising

* Clean the surface of will be sticky object.

* Peeling the stick from the bottom liner,then sticky on the object surface,but please

confirm the location then sticky.

* Leave it 24-48hours...(important)

* Try to tampered with by nails,you can find it cannot peeling of the whole stick.

>>Custom Various Design Breakable Vinyl Eggshell Sticker Label with different designs as below:




We could print different Destructible Vinyl Labels for you, Destructible Address label,

Data label,VOID sticker,Warranty tags,Brand Labels,Barcode Labels and so on.




The process of ordering, welcome your qustions:

1.send inquiry to us by email:jessica(at)szminrui.com or skype:live:jessica_8358,the

requirment should be including size,material,colors, printing content and quantity.

2.design confirm

3.quotation

4.make payment

5.produce

6.take photos for confirm

7.delivery

8.after service

For Customers ( Inquiry Including Informations )

Material

Vinyl / Paper / Hologram / Void /

Ultra Destructible Vinyl ?

Design

Size / Shape / Colors / Printing Content ?

Quantity

What the quantity do your want ?

Useage

Will use on what products ?

Shipiping

Address

We only know the shipping address,then can

give you freight cost.

Special Requirement

Waterproof / UV resistant / High Security ?

For the benefit of the customer,we want to know these information then can

give you the accurate price,

so please kindly notes,when you send inquiry to us,please indicate the

above information.

Thank you in advance!^_^

We offer different sizes, colors, brittle,and pattern design to meet your satisfaction.

Please do not hesitate to ask any question that you may have. Waiting For your Contact:

Email:jessica(at)szminrui.com or Skype:live:jessica_8358




The procedure of Various Design Breakable Vinyl Eggshell Sticker Label




Our Service

1.We are one of the top manufacturer in Shenzhen China. We guarantee you high quality and

competitive price.

2. We offer Professional OEM services

3.Controlling of the cost and quality and delivery time to reach win-win cooperation.

4. Detailed photos of every process to make customer feel safe.

5. Tracking the package everyday to make sure arrive in time.




Below different brittle grade for your reference:

Frangile grade

Models

Suitable conditions

A

11A,11A0,DO,D4

for small sizes labels and for the straight

corners labels.These models

cannot be die cutting,because the

facestock is too frangible

B

11CA2,D3

can be die cutting by hands

(not by machine)

C

11CA4,D2

can be die cutting by MACHINE

D

12A3

for cold temperature

But it is not the absolutly situation,because the temperature also affect the grades for

the same models. Please just contact with us,we will introduce you the suitable models.

Shipping:







Company profile

As a professional manufacture of Ultra Destructible Vinyl Materials, Shenzhen Minrui

Adhesive Products Co.,Ltd covers an area of 20,000 square meters industrial park.




FAQ

1.Q: Can I get a free sample from your company?

A: Normally our samples are free of charge, but it should be collected by yourself.

2.Q: How can we get a quote?

A: Please offer the specification of the product, such as artwork of labels, label material, size, shape, color,

quantity, surface finishing, and usage of the labels etc.

3.Q:Can you offered custom service?

A:Yes,we also have years printing factory,help our clients custom security stickers,tamper evident labels,

destructible vinyl stickers and asset tracing stickers,eggshell stickers.

Any design are workable for us,just send your design in CDR,AI,PDF file for custom.

4.Q: What about the lead time?

A: As a general rule, it will take 2 weeks for us to produce your custom designed and printed products.

5.What's the payment term?

A:T/T, Western Union,PayPal

6.What is the shipment method can I choose? How about the shipping time of each option?

A:For small quantity shipment by Courier such as DHL , TNT, FedEx,UPS, Etc 3-7days

For big quantity by sea 4-7 days