Features of hydraulic shearing machine:
1:The machine is fitted with CNC controller special for shearing machines.
2:The position of rear stopper is displayed in real-time manner.
3:Multi-step programming function is available and the rear stopper is able for automatic operation and
continues positioning, to achieve an automatic adjustment for position of rear stopper.
4:It is provided with counting function for shearing , to display the shearing numbers in a real-time manner
,able for power-failure memory of position of rear stopper, procedures, and parameters.
5:Backgauge with precision ball screw and linear guide, to ensure the positioning precision, so that bring
the higher precision processing.
Parameters of shearing machine
Type

Cutting thickness(mm)

Cutting length(mm)

Angle range(°)

Material strength

Travel times

Power

Weight

Dimension

L*W*H*(mm)

4*2500

4

2500

1°30'

≤450

10

5.5

3800

3040*1610*1620

4*3200

4

3200

1°30'

≤450

10

5.5

5000

3840*1610*1620

4*4000

4

4000

1°30'

≤450

8

5.5

6500

4600*1700*1700

4*6000

4

6000

1°30'

≤450

5

7.5

11000

6460*2100*3200

6*2500

6

2500

1°30'

≤450

10

7.5

5000

3040*1610*1620

6*3200

6

3200

1°30'

≤450

9

7.5

6000

3840*1610*1620

6*4000

6

4000

1°30'

≤450

8

7.5

8000

4620*1750*1700

6*5000

6

5000

1°30'

≤450

6

7.5

10500

5400*1750*1700

6*6000

6

6000

1°30'

≤450

5

11

16500

6480*2100*2300

8*2500

8

2500

1°30'

≤450

10

7.5

6000

3040*1700*1700

8*3200

8

3200

1°30'

≤450

8

7.5

7200

3860*1700*1700

8*4000

8

4000

1°30'

≤450

8

7.5

8800

4640*1700*1700

8*5000

8

5000

1°30'

≤450

8

7.5

11500

5400*2400*2000

8*6000

8

6000

1°30'

≤450

8

11

18000

6480*2100*2350

10*2500

10

2500

1°30'

≤450

9

11

7300

3040*1700*1700

10*3200

10

3200

1°30'

≤450

9

11

8000

3860*1700*1700

10*4000

10

4000

1°30'

≤450

8

11

12000

4650*2100*2000

10*6000

10

6000

2°

≤450

5

15

24000

6500*2100*2300

12*2500

12

2500

2°

≤450

9

18.5

9000

3140*2150*2000

12*3200

12

3200

2°

≤450

9

18.5

10800

3880*2150*2000

12*4000

12

4000

2°

≤450

8

18.5

13000

4680*2150*2000

12*5000

12

5000

2°

≤450

6

18.5

16000

5900*2150*2000

12*6000

12

6000

2°

≤450

5

18.5

29000

6900*2600*2700

12*8000

12

8000

2°

≤450

5

18.5

465000

9000*3500*3500

16*2500

16

2500

2°30'

≤450

9

18.5

11000

3140*2150*2000

16*3200

16

3200

2°30'

≤450

8

18.5

13000

3880*2150*2000

16*4000

16

4000

2°30'

≤450

8

18.5

16300

4650*2150*2200

16*5000

16

5000

2°30'

≤450

6

18.5

20000

5900*2600*2700

16*6000

16

6000

2°30'

≤450

5

22

36000

6900*2700*2700

20*2500

20

2500

3°

≤450

8

22

15500

3440*2300*2500

20*3200

20

3200

3°

≤450

8

22

18000

4150*2350*2700

20*4000

10

4000

3°

≤450

5

22

21000

4850*2350*2700

25*2500

25

2500

3°

≤450

8

37

19000

3200*2700*2900

25*3200

25

3200

3°

≤450

5

37

23000

4200*2700*2900

25*4000

25

4000

3°

≤450

5

37

27000

3850*2700*2900

30*2500

30

2500

3°

≤450

5

37

23500

3300*2900*2900

30*3200

30

3200

3°

≤450

5

37

27500

4200*2900*2900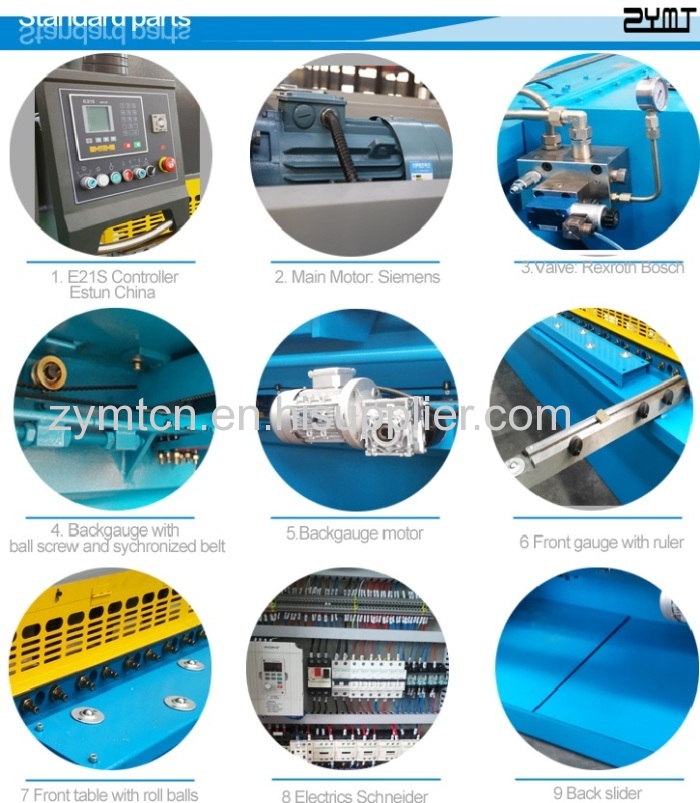 NO.

Parts name

Brand

Brand location

Model

1.

Main motor

Siemens

Germany




2.

Bacguage motor

Jiahuang

Hangzhou China




3.

Electrics

Schneider

France




4.

Oil cylinder

Yuhua

Maansh China




5.

Seal ring

Nok

Japan




6.

Hydraulic valve

Rexroth

Germany




7.

Pump

Hangfa

Shanghai China




8.

Controller

E21

Nanjing China




9.

Blades

Jinshan

Shanghai China




10.

Pipe connector

EMB

Germany




11.

Footswitch

Karcon

South Korea




12.

Ball screw

Hiwin

Taiwan




13.

Controller with moveable arm

YES

14.

Front and back protection fence

YES

15.

Backguage with ball screw

YES

16.

Backguage travel

500MM

17.

Shadow line lighting

YES

18.

Emergency button

YES