Powder management center is conceived for simple and clean handling of the coating powder
Powder transport

Conveying performance 230 g/min.
Recovery max. 3.5 kg/min.
Electrical data

Connected load 1x230 V
Frequency 50/60 Hz
Protection type IP54
Pneumatic data

Input pressure min. 6.5 bar
Compressed air consumption during coating
operation 15 Nm³/h
Compressed air consumption during cleaning
(incl. OptiSpeeder and guns) 350 Nm³/h
Compressed air consumption during cleaning
of the PP06 hose to the cyclone 120 Nm³/h
Water vapor content of compressed air max. 1,3 g/m³
Oil content of compressed air max. 0,1 mg/m³
The powder feed central system provides fast color change. The automatic spray gun, various
powder hoses, and injectors will stay clean automatically during color change. A filter system
maintains a comfortable indoor environment by transferring dusts during cleaning. The unit is fully programable.
the powder position sensor will detect the position of the powder. A lack of powder will signal a warning which will fluidized the powder barrel: 100 liter capacity. The cover extends the capacity and will prevent the powder from wafting.
Shake table: If you do not use the fluidized powder box, the powder can also be placed directly in the original packing carton shock stage.
From there the powder can be pumped directly from the carton supply to the powder gun. It does not require cleaning when changing the powder coating box.
The automatic sifter contains a screen which removes impurities contained in the recovered powder.
Control System: Touch screen operator panel and keyboard input Increase the supply of new
powder automatically.
The powder center application with cyclone recovery spray booth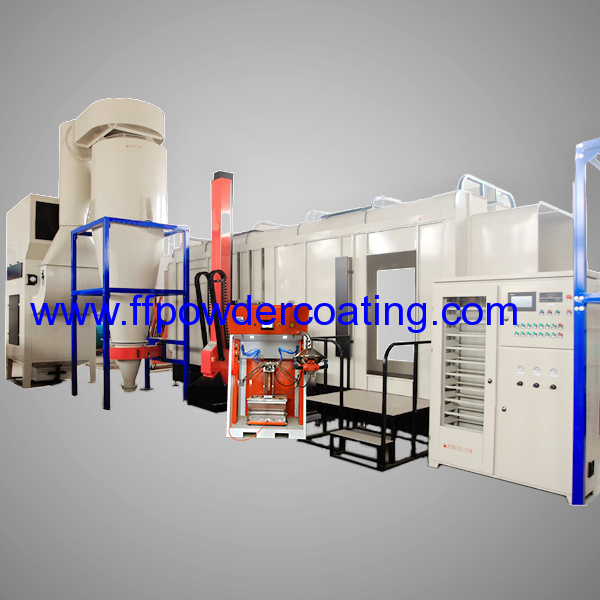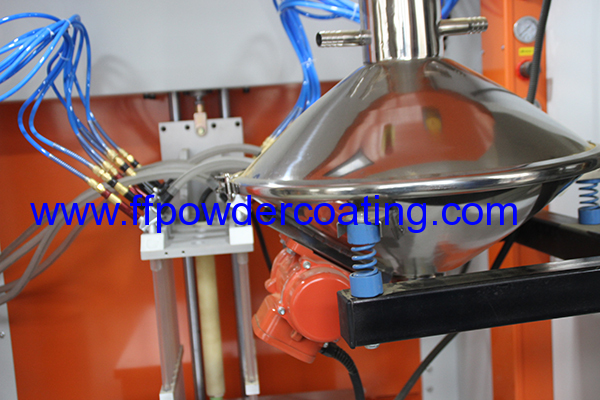 Automatic matching of old and new powders together.