Battery charging station for testing EV car battery
Neware Battery Testing System series is a general purpose, multi-channel battery testing system for Li-polymer, Li-ion, Ni-MH, Ni-Cd, etc, batteries. This system provides most applications in battery testing fields such as materials research, battery performance test, small-scale battery formation, capability grading, battery pack testing, etc.
According to the international standard design, each channel of the system has an independent constant-current source and a hardware constant-voltage source. Constant-current source and constant-voltage source can be programmed and controlled as desired. In addition, an independent pulse source is added to each battery channel to meet with the requirements of dynamic internal resistance measurement.
Neware Battery Testing System series adopts module construction. With plug-and-play design, the user can freely remove and load the module units under a nonstop status without interrupting other module units' normal running. This function is convenient for the system's maintenance.
Performance
Each module provides 8 independent programmable channels
With built-in power supply, and complete controllable circuit, each module can work independently. Each channel can set different working modes. Channels are completely independent.
BTS-5V100A
Battery Testing System
Model:
BTS-
5
V
100
A
Material Code:
CT-4008
-5V100A
-
NTA
-
P
Description
Product Specification
AC Input
AC 380V ±10% / 50Hz
Power
7467
W
Resolution
AD: 16bit; DA: 16bit
Impedence Input
≥1MΩ
Voltage
Measuring Range
Charge: 25mV~5V
Dischrge: 25mV~5V
Discharge Min Voltage
2.5V
Accuracy
± 0.1% of FS
Stability
± 0.1% of FS
Current
Range
Charge: 500mA~100A Discharge: 500mA~100A
Accuracy
± 0.1% of FS
Stability
± 0.1% of FS
Power
Output Power Per Channel
500W
Stability
±0.2% of FS
Time
Rise Time
20ms (10%FS~90%FS)
Step Time
≤ (365*24) hours/step
Time Format 00:00:00:000 ( h:min:s:ms )
Aux Channel
Aux Input
Temperature
Temperature
﹣25℃~110℃
Temperature Accuracy
±2℃
Temperature Resolution
0.1℃
Voltage Range


Voltage Accuracy


Data Accquisition
Intervals
Time Interval Δt: (100ms~60000s)
Voltage Interval ΔU: (10mV~5V)
Current Interval ΔI: (200mA~100A)
Frequency
10Hz
Charge
Modes of Operation
CCC, CVC, CC & CVC, CPC
End Conditions
Main Channel: Voltage, Current, Test Time, Capacity
Aux: Temperature
Discharge
Modes of Operation
CCD, CPD, CRD
End Conditions
Main Channel: Voltage, Current, Test Time, Capacity
Aux Channel: Temperature
Pulse
Charge
CCC
Discharge
CCD
Minimum Pulse Width
500ms
Automated Switch
Automated switch from charge to discharge for each pulse
End Condition
Voltage, Test Time
Cycle
Cycles
Max 65535
Steps
254
Nested Fuction
Max three levels of loops
Protective Function
Software
● Power-off data protection
● Off-line Operating
● Main Channels: user-defined safety(upper and lower)tolerance of current, voltage and delay time
●Aux Channels: User-defined safety (upper and lower) tolerance of temperature
Hardware
Reverse-connecting protection
Channel Features
Independent pairs of closed loops for constant current source and constant voltage source
Channels
Independent Control
Detection and Sampling
4-wire Connecting
Noise Density
<85dB
Data Management
MYSQL Database
Communication Means
TCP/IP Protocol
Export Formats
EXCEL2003,2010,TXT,Graph
Communication Interface
Ethernet Port
Number of Channels Per Cabinet
8
Assignable Aux Temperature Per Channel
Max 248




Neware customer list: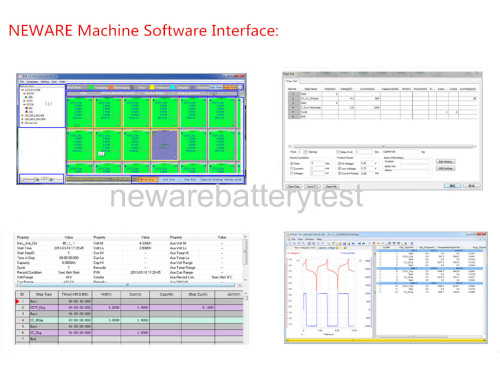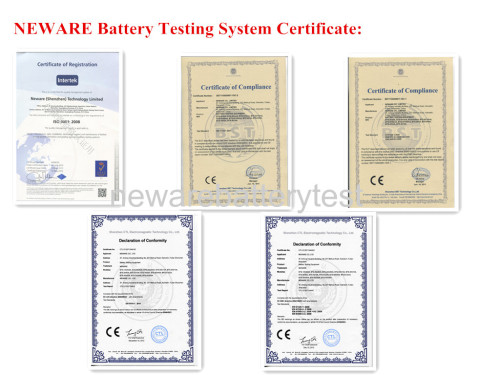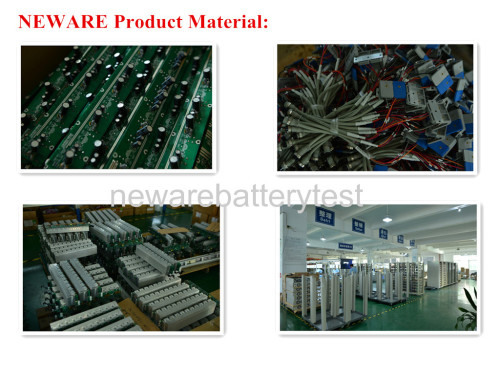 Our advantages:
All kinds of types are manufactured for a range of current from 1mA to 1000A, a range of voltage from 5V to 500V to meet customers' special needs. We also provide the BTS which can test the voltage of 0 V or even lower.
1.Reasonable Price, standarbale and Reliable Product.
2.Improve the quality and life expectancy of your products
3.Work Performance more effective and efficacy
4.17years innovation guarantees you a in better future.
Warranty and Customer Service:
Neware warrants its equipment for 1 year from shipment, to be free from defects in workmanship and material. For some other consumptive materials, like battery clamps, we provide a 3-month warranty. This warranty, including customer service support and software licenses, is not transferable. Meanwhile, we provide lifetime software update
service to help your equipment optimized in its best status.
We provide below customer services:
1.Free Technical Training.
2.Free Service Call Service.
3.Testing Service.
4.Calibration Service.