Automatic Hook Type Armature Winding Machine
This armature winding machine is used for automatically hook type commutator armature winding, it is suitable for winding medium and big wire diameter armature. Automatic feeding, winding,indexing and wire cutting, only load and unload armature from material loader. Equipped with touch screen and PLC, winding parameter could be set and modified on the screen. We also have armature winding machine equipped with conveyor, operator only need to put several pieces of armature on the conveyor at one time, then machine will finish all the armatures automatically. Below parameter is our standard machine, we could produce machine according to customer's armature accordingly.
Automatic Hook Type Armature Winding machine
Technical Parameter of rotor winding machine:
Item

Specification

Wire diameter

Magnetic hysteresis method:0.16~0.55mm

Electric control method:0.30~0.85mm

Armature O.D range

20~60mm

Stack length

10~60mm

Shaft diameter

3~17mm

Shaft length

Less than 300mm

Armature slot

Odd, Even slot

Turn number

0~9999

Commutator diameter

18~40mm

Winding speed

0~3000 rpm

Winding motor power

1.5KW * 2

Angle detecting speed

0~3000 rpm

Angle detecting motor power

0.75KW *1

Air supply pressure

4~6 Kg/cm2

The machine total power

4.0 KW

Voltage

Three phase AC380V50/60Hz

Weight

1200Kg

Dimension

2000(length)X1300(width)X1800(height)mm
Production efficiency of this machine
Around 1000pcs/8 hours,it is only a rough idea, depends on the armature slots number and turn number.

The operation steps of this machine
Load armature on the shuttle manually, press START button,shuttle will deliver the armature to the winding position, and automatic winding, indexing and wire cutting,after completing, the shuttle will take out the finished armature from winding position, operator unload the finished armature, one cycle is completed.

Common malfunction of this machine
Sometimes, there is servo alarm displayed on the touchscreen. In this case, there will be error code displayed on the servo driver(at the backside of machine), you could identify the problem according to the error code. The most common malfunction is the encoder cable which connects the servo driver and servo motor is loose, just need remove and reinsert the encoder cable again, problem will be solved.
The rotor winding maching picture show
1.the coil winding machine Surface structure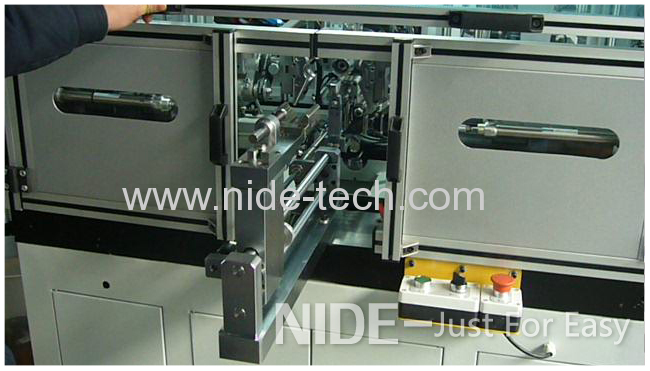 2.The rotor winding machine Internal structure
3.The rotor windingn machine parts display