AC Servo Small Wire Automatic Armature Winding Machine For DC Motor AC Motor

Quick Detail:
1. This armature winding machine is suitable for samll wire armature.
2. It can automatically wind armature.
3. Machine is controlled by Mitsubishi PLC.
4. This machine is easy for operation.

Description:
LAW-2 series automatic AC servo armature winding machine adopts international advanced technology that use AC servo for winding and indexing. Also, this series of armature winding machine uses colorful LCD which is easy for users to change the parameter, and improve the efficiency largely. It is suitable for small wire diamter winding. It is a good choice for motor manufacturer.

Techinical parameter:
Item

Specification

Wire diameter

0.08~0.30mm (Mechanical type)

0.16~0.55mm (Hysteresis)

Winding slots

Odd/even number

Commutator diameter

8~40mm

Armature diameter

20~60mm

Armature stack length

10~60mm

Winding motor speed

0~3000 rpm

Control system

Mitsubishi PLC control

Air supply pressure

5~7 Kg/cm2

Voltage

AC220V 50/60Hz

Weight

500Kg

Dimension

1800(length)X800(width)X1500(height)mm

Rotor armature winding machine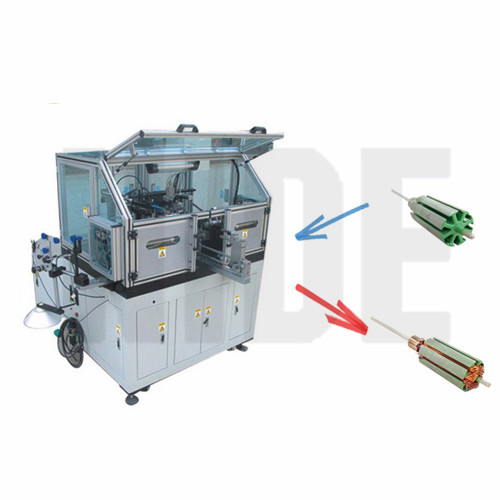 Information needed for Armature Winding Machine inquiry
It will be better if customer could send us detailed drawing including below information.
1. Rotor lamination drawing
2. Rotor assemble drawing
3. Rotor stack drawing
4. Rotor winding diagram drawing: with rotor wire diameter and turn number
5. Commutator drawing
6. Required productivity
7. Other technical requirement
If possible, it will be better if customer can send us samples.