Petrol Engine Compression Tester Set
Auto Diagnostic Tools & 8 pcs Petrol engine compression tester kit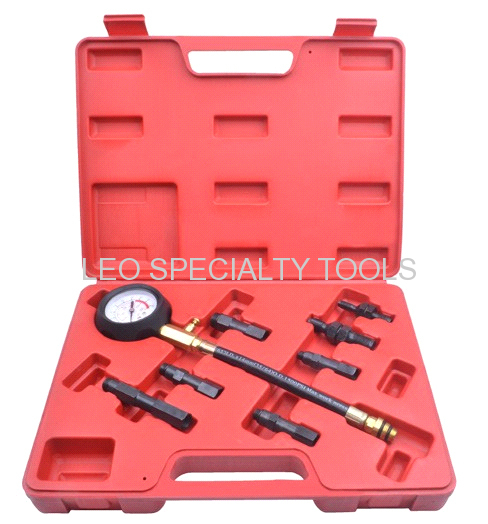 Features:
Easy to use.

For use on engines with deep seated plug ports with difficult access. Built-in pressure relief valve enables repeat tests without removing the gauge.

Adaptive Inside: 10*1,12*1.25,14*1.25,18*1.5;


M10*M18 Screw repire driver;

M14*M18 Screw repire driver;

Production of high quality steel;

Packing&shipping International standard packing ensures your products arrive safely.

For Petrol Engine

Cooper Adaptor

Engine Pressure Tester
Specifications:
Dual scale guage

Thread chasers M10,M12,M14 and M18

Extensions M10,M12,M14 and M18 includes five adaptors and two thread chasers covering four plug thread size

Diameter 57mm gauge fitted with heavy rubber bumper 150mm hose

Scale read 0-20bar(0-290psi)
Description:
Comperhesive kit based on petrol comperssion tester for vehicles with M10.M12.M14 and M18 spark plug threads complete with extensions. thread chasers and service kit.
Easy to use.
Checks codition of valves, piston rings, gaskets & cylinder heasds.
Used on cars, vans & motorycles.
Pressure relief valve enables repeated testing of a cylinder without removing the gauge.
Petrol engine compression tester set
1.Petrol engine compression tester set
2.Adaptive inside: 10 x 1, 12 x 1.25, 14 x 1.25 and 18 x 1.5
3.M10 x M12or M14 x M18 screw repair driver
Easy to hook up and use
Includes hose and all adapter clamps
Applications:
Cylinder pressure gauge is measuring engine cylinder compression force of tools.

When measuring the first to heat engine make water temperature reaches 70-80 °C flameout and measurement.

When measuring diesel engine for its compression force big, must the pressure multiplier closely fastening in installation of the injector position can measure.

Measuring gas automata compression force is relatively small, usable hand holding the pressure gauge, the direct roof in spark plug hole measurements. The best measure 2 -- 3 times, take its average, and the type of cylinder pressure regulating compared, general gasoline engine shall be not less than 20% of the required standard, shall not be less than 15% of diesel engine standard.

Each cylinder pressure between poor: shall not exceed 5%, diesel engine shall not exceed 8 percent.
Packing details:
| | | | |
| --- | --- | --- | --- |
| QTY(SET) | G.W.(KGS) | N.W.(KGS) | MEANS(CM) |
| 6 | 12.5 | 11.5 | 58*38*24 |
Related photos: